Many readers that come looking for easy classical guitar sheet music and other materials and free sheet music so I've decided to offer a post just for them. When I refer to beginners I am thinking of a player who has figured basic first position notes and simple time and key signatures. I'll include material from this site but also from other sites on the web. I've actually had a bit of hard time finding quality material for free, if you know of some great online sheet music for beginners leave a comment on this post.
Also see:  Sheet Music Archive or the Lesson Archive
Premium eBook Collection
Easy Classical Guitar Music for Free
Recommended from Amazon
Classical Guitar Sheet Music For Beginners (from elsewhere)
Free Classical Guitar Methods:
Classical Guitar Sheet Music for Beginners – Repertoire:
---
Recommended from Amazon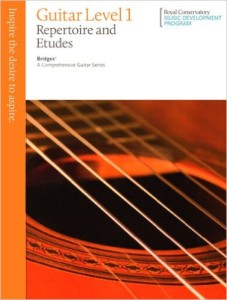 Bridges Graded Guitar Series (Royal Conservatory of Music)
This is the introductory book from the Royal Conservatory of Music. If you don't have many books in your music library the RCM books are a good place to start. You'll have a variety of works right at your own level. Innovative in its structure, Bridges® supports students from the beginner to advanced levels with carefully sequenced repertoire, etudes, and technique. Each of the Repertoire and Etudes books in the series spans all major style periods and a variety of genres, presenting an organized compilation of pieces appropriate for that level of technical development. Nine progressive levels of Repertoire and Etudes scaffold student learning at every stage of musical development. Each book contains a balanced and representative selection of works from the Renaissance, Baroque, Classical, Romantic, and contemporary style periods.
You can read a full review of the RCM Bridges Series here.
---