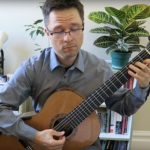 Lesson: Nocturne No. 1, Op. 4
by Johann Kaspar Mertz (1806–1856)
for Classical Guitar
Free Sheet Music PDF or TAB: Nocturne No. 1, Op. 4 by Mertz
Level: Intermediate, RCM Grade 6
This lesson is for my graded repertoire lesson series which you can find halfway down the lesson archive page. This one is a free lesson and sheet music edition of Nocturne No. 1, Op. 4  by Johann Kaspar Mertz. Mertz was a Hungarian guitarist and composer who wrote many concert works for guitar as well as some easier collections including Op. 4. This is a great work and, to my ears, very influenced by Schubert and Romantic lieder. It's a more mature work that nicely transitions intermediate players into more advanced works. I've made a free copy to attract guitarists to the site and a tablature (tab) version for those who need it. Join the Email Newsletter to get updates on free sheet music and more.
Video Link & Source: https://youtu.be/4QhydQylUwg