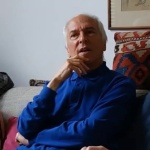 Short but nice interview with John Williams by Classical Guitar Magazine editor Guy Traviss via his Vimeo channel.
Some views on his career, new music, and the future. Here's the vid description: "While talking to John Williams about his latest disc, Concerto, I learn about his views on new music, the end of John's solo-concert career, and plans for the future."
Link/ Source: John Williams Interview from Guy Traviss on Vimeo.