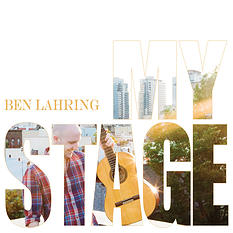 My Stage by Ben Lahring
benlahring.com
Buy or listen to samples on Amazon: My Stage
The debut album by New York based guitarist Ben Lahring. The album is a mix of well known classics, some welcomed folk-based arrangements, and original compositions by Lahring. Lahring was born in Canada, raised in Australia and now lives in NYC where he teaches, gigs.
Album Tracks:
Prelude, BWV 1007 – Bach
Spatter the Dew – Trad. arr: D. Russell
The Fair Haired Boy – Three Little Drummers – Trad. arr: D. Russell
Niel Gow's Lament for the Death of his Second Wife – Trad. arr: D. Russell
Puppy Dance – Lahring*
Danza Brasilera – Morel
Milonga – Cardoso
Natalia (Vals Venezolano) – Lauro
Spanish Fantasy – Moran*
Asturias (Leyenda) – Albeniz
Cavatina – Myers
Recuerdos de la Alhambra – Tarrega
A La Nanita Nana – Celi arr. Lahring*
* premieres
What I liked:
The arrangements and original tracks are where Lahring does best. His performance of the David Russell arrangements are fun and enthusiastic. I would happily have heard a themed album of these types of celtic tunes by Lahring.The more that I blog and review albums the more I enjoy hearing original content. When I hear original works, regardless if I like them or dislike them, I enjoy hearing the personality of the composer/performer shine through. The latin works also sound right up Lahring's alley as he has a natural feel for the music and presents them honestly and playfully. I can't stand it when pretentious virtuosos try to pull off latin works just because they think their audience wants them included. Lahring pulls off a sincere performance nicely.
His playing is musical and he has some nice moments, particularly in slow melodic sections. He also has the speed and chops to pull off the works. However, in some faster textures his right-hand tone starts to have some troubles and occasionally the tempo goes astray. He does add some nice colors to the textures to great effect.
You'll read below about what I thought of the larger concert works and classics. However, before you do I want to mention that his Cavatina was a beauty! Congrats.
Improvements:
I didn't much care for the classic works such as the Bach Prelude, Asturias, or Recuerdos. These tracks have been recorded and heard thousands of times by the greatest guitarists. Lahring does fine with them but the Albeniz and Tarrega were a bit of a struggle and the tempos and balance of the right-hand suffered. Plus, the serious vibe didn't mix with the rest of the album. I understand the need to include some concert works on one's first album but it just didn't do it for me.
The sound quality comes and goes but after five minutes one gets used to it. I could be wrong – I'm not expert – but the recording sounds like one close mic with some decent digital reverb. I would have much preferred a mix with more sound from the hall mic. I like the Naxos recordings for this aspect, I think they reach a good balance between the close mic and the natural sound of the hall. Here, Lahring's close mic has picked up a bit too much fingernail noise and the sound of the instrument could be improved by a mic further away.
Conclusion:
I really enjoyed the spirited and playful works on this album as well as the compositions by the performer himself. I didn't love the classic works but they will serve him well on his first recording. It's always nice to show up to gigs with some classics on your album. I will look forward to hearing a themed album by Lahring. In particular, an album of arrangements or original works would be welcome.
Buy the album or listen to examples on Amazon: My Stage