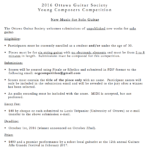 OGS Composition Competition
CALL FOR SCORES
2016 Ottawa Guitar Society
Young Composers Competition
New Music for Solo Guitar
Official Website: ottawaguitarsociety.ca
The Ottawa Guitar Society welcomes submissions of unpublished new works for solo guitar by Canadian composers.
Eligibility:
Participants must be currently enrolled as a student and/or under the age of 30.
Pieces must be for six string guitar with no electronic elements and must be from 5 to 8 minutes in length. Submissions must be composed for this competition.
Submission:
Scores will be created using Finale or Sibelius and submitted in PDF format to the following email: ocgcompetition@gmail.com
Scores must contain the title of the piece only with no name. Participant names will only be included in the submission email and will be revealed to the jury after a winner has been selected.
An audio recording must be included with the score. MIDI is accepted, but not preferred.
Entry Fee:
$40 by cheque or cash submitted to Louis Trépanier (University of Ottawa) or e-mail transfer to the above submission e-mail.
Deadline:
October 1st, 2016 (winner announced on October 22nd).
Prize:
$400 and a premier performance by a select local guitarist at the 12th annual Guitare Alla Grande Festival in February 2017.
* The jury's decision will be final.
Additional Stipulations (June 2016)
All applicants must pay the registration fee prior to the competition deadline.
The jury reserves the right to declare a no-contest.
The organization committee reserves the right to cancel the competition should a minimum requirement of entries not be met. In this event, applicants will receive a full refund.
Any unforeseen circumstances will be referred by the jury to the executive committee of the OGS for a final decision.