Mel Bay sent me this cool wall chart (poster) in the mail today along with some great books to review. Good poster for the teaching studio or practice room. The difference sections it includes are: Body, Saddle and Bridge, Headstock and Tuners, Soundboard bracing patterns, Rossette,  Nut, Strings, Neck and Fingerboard, Predecesssors, Baroque Guitar, and of course many labels related to the big image.  Neato.
You can buy the poster at Amazon…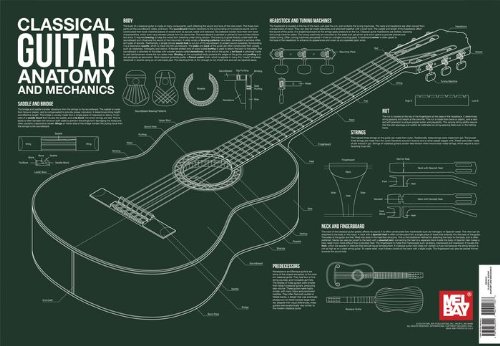 From Mel Bay:
Classical Guitar Anatomy and Mechanics Wall Chart (Wall Chart)
by Charlie Lee-Georgescu
This wall chart is a comprehensive visual map of the classical guitar. It includes a large diagram of the instrument and detailed views of its parts. Each part of the instrument is described, exposing the elegant simplicity of the guitar's construction. This poster is a great visual for anyone interested in the classical guitar.