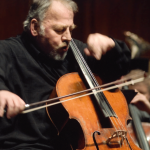 Check out this great article article via THE STRAD by cellist Heinrich Schiff regarding scales and exercises. "Not all players regard exercises as important, but without a sound technical basis you cannot achieve your expressive potential, writes the cellist." I was listening to a podcast not long ago and David Russell was saying that if he had one piece of advice for the average student it was to dedicate at least 20min or more a day to exercises to develop your technique, sound, and expressive range. Well, he said something like that anyway. I agree. Here is another excerpt from the Schiff article:
Some 25 years of teaching have taught me that we players must always define what each of our motions at the cello represents – this is essential in order for us to be efficient artists capable of technical ease, great stamina, physical power and musical depth. To have control I must develop the ability to use my physical gestures economically and unconsciously. Craftsmanship – the non-musical aspect of playing, such as finger velocity, bowing technique, shifting and so on – should be studied separately from musical expression. Expressive possibilities are limited if the player is not at home with the instrument, and the further one goes away from 'home' the more the basics are needed.

READ THE FULL ARTICLE via THE STRAD.