Classical Guitar Spotlight & Interview: Chaconne Klaverenga. You might have seen Klaverenga recently in Soundboard, at festivals, or on her YouTube channel. A captivating artist who balances a busy concert schedule along with university studies. Get to know her now and follow her career over the many bright years that surely await her. Don't forget to like her facebook page and check out her recordings!
---
Chaconne Klaverenga, guitarist
Website | Facebook | YouTube | Twitter |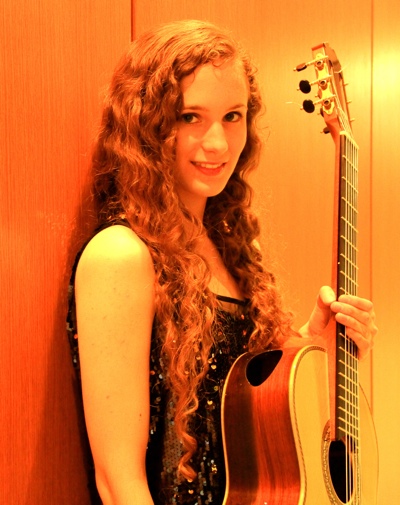 ---
Interview
July 24th, 2012 by Bradford Werner
Bradford: When did you start playing guitar and how did your first few years progress on guitar?
Chaconne: I started playing piano at two and guitar at six years old. Both of my parents are professional musicians and music educators, so I progressed through method books.
Bradford: As a teacher I often try to find music that will appeal to my youth students, while you were growing up was there any particular composers or types of music you found inspiring? Maybe it was a particular aspect of classical guitar that really sparked your interest such as ensemble playing?
Chaconne: I had typical tastes as a young classical musician. I liked fast, flashy music! I liked Bach Allegros and the fast Spanish music most guitarists would play, like Sevilla by Albeniz. As a pianist at the time, I also really liked pieces from composers like Rachmaninov and Liszt. I enjoyed anything that would get me excited.
Bradford: What has it been like studying at the Cleveland Institute of Music with Jason Vieaux?
Chaconne: I love it. It has been an amazing experience so far. I have learned so much and I'm excited to see the effect it's having in my artistic growth.
Bradford: There are many young guitarists that find both your young age and wonderful musicianship very inspirational. What advice would you give young guitarists aspiring to improve or become concert players?
Chaconne:
1. Practice smart. Use the time you have wisely. This is a difficult thing to do. Know what your most important pieces are. Practice even if you don't want to.
2. Do work on technique, but don't forget to work on musicality. Technique is the pathway to achieving musicality, and I feel that many guitarists today value one over the other instead of achieving a healthy balance.
3. When working on performing on stage, play for people for practice before doing the real thing. Performance classes are really good for this.
4. Try to predict what kind of pieces your audience would like to hear. If your audience is new to classical guitar, include some well-known melodic works. If you are playing for a lot of guitarists, newer or more unusual pieces are appreciated.
Bradford: Are there any players you recommend we check out? Who are some of your favorite players?
Chaconne: My favorite guitarist is Julian Bream; I just love the magical old recordings that he made, there is nothing else like them. I like listening to past teachers, like Denis Azabagic, and current teachers like Jason. I also have recently been enjoying the recordings and videos of SoloDuo and Johannes Moller. I also encourage other guitarists to not get trapped in just guitar music. There are many other instruments out there and works by great composers not just for guitar; it is important to experience other things.
Bradford: What are your plans for the future?
Chaconne: I had the opportunity to perform several concerts this year and to premier a wonderful new guitar concerto written for me by Rene Schiffer!!!! I'm a sophomore at the Cleveland Institute of Music this year, so I'm planning to finish my Bachelor's Degree in Classical Guitar performance, do more concerts, then either sign with management and/or do grad school.
---
Recordings:
Check out Chaconne's recordings on Amazon!
Plays Chaconne & Spanish Favorites (2009)
---
Biography:
via www.chaconneklaverenga.com/Biography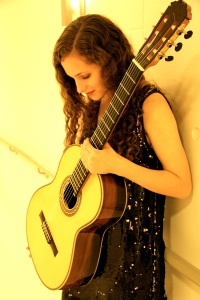 International classical guitar champion Chaconne Klaverenga (b. 1992) was named for J.S. Bach's Chaconne BWV 1004, which is one of her favorite pieces to play. She began studying piano at age 2 and guitar at age 6 with her parents, both professional musicians. She began competing internationally in classical guitar and performing solo concerts at age 14. To date, she holds 13 national and international championship titles in junior, senior and collegiate divisions, seven of which are first place finishes.
Her first place finishes include the Society of American Musicians Competition, Chicago, IL (twice, senior and collegiate divisions — youngest collegiate winner in history); Rantucci International Competition, Buffalo, NY; East Carolina University Competition, Greenville, NC (twice, junior and senior divisions); Appalachian State University Competition, Boone, NC; and the Boston GuitarFest International Competition, Boston, MA. She was a finalist and has received prizes from the Christopher Parkening International Competition, Malibu, CA; three times from the Guitar Foundation of America International Competition: Ithaca, NY; Austin, TX; and Columbus, GA; Columbus State University International Competition, Columbus, GA; and Guitare Montreal International, Montreal, Ontario. After her success in Chicago, she has maintained a prize-winning position in virtually every competition she has participated in.
Ms. Klaverenga has performed numerous solo concerts, including the New York Classical Guitar Society's Second Sunday Series at the Roger Smith Hotel in Manhattan (sold out); Purdue University's Discovery Series, Lafayette, IN (824 in attendance); Indiana University Purdue University Indianapolis, Indianapolis, IN; and has been featured on National Public Radio's From the Top with Maestro JoAnn Falletta and the Buffalo Philharmonic, Buffalo, NY.
In 2010 Ms. Klaverenga was honored by the Indiana State House of Representatives for her many accomplishments in the world of classical guitar with best wishes for future success and many thanks for her contributions to the Indiana art community. On 8/3/2010, 9/29/2011 & 1/18/2012 Ms. Klaverenga was a featured soloist for American Public Media's Performance Today, which is broadcast on 245 public radio stations across the country and is heard by 1.3 million people each week.
On April 14, 2012 Ms. Klaverenga presented the World Premier of the Guitar concerto in A Minor by Rene Schiffer with the 77-member Lafayette Symphony Orchestra in Lafayette, Indiana, USA. The concerto was commissioned by the Lafayette Symphony for performance with Ms. Klaverenga. After performing the 24-minute concerto to a sold-out crowd of 1,200, Mr. Schiffer, a founding and current member of the Cleveland Baroque Orchestra Apollo's Fire, presented the concerto to Ms. Klaverenga as a gift for her to use alone in concert and refused payment for the composition. They had worked together 2 years' previously in a concert in Toledo, Ohio.
Ms. Klaverenga lives in Lafayette, Indiana and studied privately with Denis Azabagic in Chicago from age 13 to 18. She is now continuing her studies in Classical Guitar Performance at the Cleveland Institute of Music with Jason Vieaux. She has studied privately or received masterclasses from Eliot Fisk, Sergio Assad, Pavel Steidl, Lorenzo Micheli, Matteo Mela, Jason Vieaux, David Tanenbaum, Adam Holzman, Anne Waller and many others. Ms. Klaverenga has recorded two CDs which are sold world-wide and endorses for Oasis Humidifiers and Accessories.
Ms. Klaverenga's guitars include a 2011 Steve Connor and the 2004 Thomas Humphrey Millenium Thunderbolt.
---
---