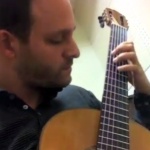 This video is another casual good one from the great Tariq Harb who is almost up to 1000 subscribers on his YouTube. Help get him pass the thousand mark! You can learn more about the Costa Rican composer, Edín Solís, at his website. Just a nice melodic and jazzy piece that meanders with a good sense of direction. The composer's website site has quite a bit of stuff to explore in case you are interested in his stuff. Costa Rica, not to be forgotten!
Video & Quote Link: http://youtu.be/FZo89Lh5ANM
Tariq Harb plays this gorgeous prelude composed by Edín Solís, a Costa Rican composer and guitarist. This is the first movement from his "Pasaje Abierto". I hope you enjoy it!