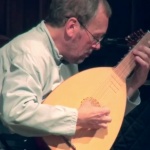 Here's some more from Nigel North from the same concert as last week's post. Here he performs Ricercars 14 & 75 and Fantasias 64 & 25 (Ness edition numbering) by Italian composer/lutenist Francesco da Milano (1497–1543), also known as Il divino.
The recording was made during his concert at the 2014 LSA Lute Festival at Case Western Reserve University in Cleveland. Via the Lute Society of America YouTube channel.
FYI, I have some free sheet music by Francesco da Milano here on the site if you're interested.

Video Link & Source: http://youtu.be/b2yg-6FhGvc