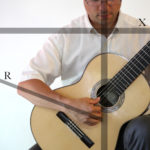 Learn classical guitar with free classical guitar lessons, tutorials, and practice advice. I've also created a small curriculum to help guide beginner students through the early learning process. Many of the lessons are from professional guitarists while some of the more specific lessons are by your host here on the site, Bradford Werner. Bradford teaches classical guitar privately and at the Victoria Conservatory of Music, in Victoria, BC, Canada. He also offers Video Response & Skype Lessons.
---
Classical Guitar Lessons – Step by Step 
---
Classical Guitar Lessons (Reference as Needed)
Lessons for my eBooks
Video lessons for my ebooks are listed below the product description and buying info and are free to watch.
Graded Repertoire Video Lessons
The grades here are loosely based on the RCM Toronto. The grades are preparatory to grade 10 and then the ARCT. Keep in mind that there is no such thing as grades in music, pros play from a variety of levels. Many pieces could go in different grades depending on the quality and speed you want to play it at. However, the intention is to help students find repertoire appropriate to their level. 'Book' refers to hardcopy links.
Lessons from my eBook: Ten Classical Etudes
Approximately Grade 3-7 RCM
Lessons from my ebook: 20 Favorite Exercises
Brouwer Etudes (Estudios Sencillos)
Pumping Nylon Video Lesson
 Ricardo Iznaola's Kitharologus: The Path to Virtuosity Video Lesson
Lessons from my eBook: Major Scales for Guitar
Flamenco Influenced Lessons
General topics in music:
Recommended Methods & Books