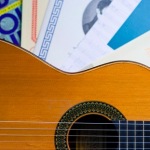 Free classical guitar lessons, tutorials, and practice advice. I've also created a small curriculum to help guide students through the early learning process. Many of the lessons are from professional guitarists while some of the more specific lessons are by your host here on the site, Bradford Werner. Bradford teaches classical guitar privately and at the Victoria Conservatory of Music, in Victoria, BC, Canada. I also set people up with Webcam Skype Lessons.
---
Lessons for Classical Guitar – Start Here
What you need to Start Playing Classical Guitar
Essentials – Setting Up Your Guitar and Hand Positions
Basic Technique Overview Video – Slideshow of Photos, Tips, & Diagrams
Posture and Sitting Position for Classical Guitar – Video, Photos, Tips, Diagrams
Right Hand Position for Classical Guitar – Video, Photos, Tips, Diagrams
Left Hand Position for Classical Guitar – Video, Photos, Tips, Diagrams
Tips and Advice for Beginner Classical Guitarists – Video, connects the above lessons
Learn to Play & Read Music with Method Books & Video Lessons 
Classical Guitar Method Book Vol. 1 – Free 100 page PDF method with 20+ video lessons for beginners. Focus is on reading music and playing melodies and arpeggios.
Classical Guitar Method Book Vol. 2 – Solos, duets, chords songs, 15+ video lessons. The main focus is on reading in different keys but also introducing slurs, half barres, rhythm, and some upper positions.
Tips & Techniques for Reaching Higher Levels
Approaching the Mid-Intermediate Level
Classical Guitar Method Book Vol. 3 – 12 solo pieces with written lessons to boost your level to intermediate. Includes video lessons for each piece. – Coming 2018.
---
Classical Guitar Technique Lessons
Lessons for my eBooks
Lessons for my ebooks are listed below the product description and buying info.
Graded Repertoire Lessons for Classical Guitar
The grades here are loosely based on the RCM Toronto. The grades are preparatory to grade 10 and then the ARCT. Keep in mind that there is no such thing as grades in music, pros play from a variety of levels. Many pieces could go in different grades depending on the quality and speed you want to play it at. However, the intention is to help students find repertoire appropriate to their level. 'Book' refers to hardcopy links.
Lessons from my eBook: Ten Classical Etudes
Approximately Grade 3-7 RCM
Lessons from my ebook: 20 Favorite Exercises
Brouwer Etudes (Estudios Sencillos)
Pumping Nylon Video Lesson
 Ricardo Iznaola's Kitharologus: The Path to Virtuosity Video Lesson
Lessons from my eBook: Major Scales for Guitar
Other Repertoire Lessons
Masterclasses
Flamenco Influenced Lessons
General topics in music:
Recommended Methods & Books (Amazon)
The Bible of Classical Guitar Technique by Hubert Käppel. This book is like Pumping Nylon on steroids. 245 pages of exercises and excellent text advice, photos, explanations, and tons of exercises. This is a huge contribution to the guitar world and I'm only just starting to dive deep into the ideas. Also great practice tips and general musical advice. 

Highly recommended.
Kitharologus: The Path to Virtuosity by Ricardo Iznaola – Progressive: from beginner to extreme advanced. Very good technique book and the progressive sections are a great idea to help organize students. Covers technique exercises and also a significant amount of fingerboard knowledge. Beware however, although the book starts out super easy (open strings) but it gets very difficult fast. This is not a criticism but you should know that you will not just zoom through the book.
Iznaola on Practicing: A Manual for Students – A great but little book on how to practice well. Many students of guitar are not going to read a huge book so this concise little booklet is perfect for getting a grounding in good practice habits and philosophy. 
Scale Pattern Studies for Guitar by Aaron Shearer– Sight reading skills and scales..no BS! Nearly 300 pages of scales and sight reading. Learn the scale then learn how to read music using the scale. This connection between reading and scales is very important. Highly recommended.
A Tutor for the Renaissance Lute (Poulton) – Fantastic! Learn how to read Renaissance lute tablature and the techniques and performance practices that go along with it. Keep in mind that this is an actual lute book so you have to transfer the knowledge to guitar (maybe for more advanced players).
The Techniques of Guitar Playing by Seth F. Josel & Ming Tsao – A fantastic book on modern and historical guitar techniques geared towards composers. For advanced students interested in contemporary music. Read my Full Review.