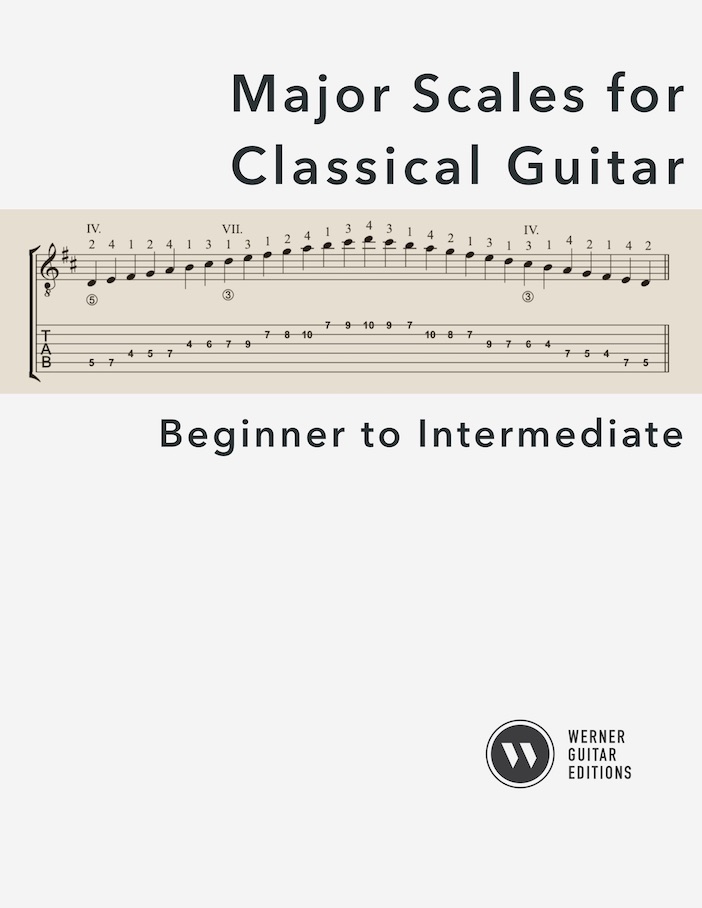 Major Scales for Classical Guitar – PDF Sheet Music and Tab for Classical Guitar. Beginner to Intermediate Classical Guitar. PDF includes notation, TAB, fingering, some diagrams, tips, and more. 32 pages. 2019 Edition.
Buy the PDF at My Sheet Music Store
Includes: Common open and closed scale patterns up to four sharps or flats, two octaves (some three octaves), and examples of open string shifts. Also includes the five closed major scale patterns over the entire fretboard. Video lessons for the book and all scales via YouTube.
What is this book? This book is for the development of fretboard knowledge and technique for beginner to intermediate classical guitar. It is a manageable amount of information intended for students looking for a foundation in major scales. If a student can gain a foundation in major scales they will be much more prepared for the extensive world of minor scales and modes. I highly recommend you study Aaron Shearer's Scale Supplement following the completion of this book to continue your progress and reading skills.
How comprehensive is it? I wanted this book to be straight-forward and manageable. Therefore, I've only included common scale patterns up to two octaves, except where three octaves are feasible. I have also limited the book to key signatures containing no more than four sharps and flats. That said, the final section of this book covers the entire fretboard and represents a significant study of major scales on the guitar. I hope these pages will introduce students to a number of concepts before studying other books and music theory.
YouTube Video Lessons for the 2019 Edition
How should I study this book? Students with more experience may wish to start their study with the final section of this book on the Five Closed Major Scale Patterns Over the Entire Fretboard. This is an intense amount of information but will be relatable to all the scales in this book. Beginners can start by simply playing only the open position scales in each key.
Recommended Followup Books by Other Publishers
Scale Pattern Studies For Guitar, Supplement 3 by Aaron Shearer – I highly recommend using this method during or after you feel confident with the patterns in my book. Shearer's book is excellent and reinforces solid melodic sight reading and usage of scales in both major and minor keys.
RCM Theory Books – I recommend using theory books with a teacher to gain a real understanding of music theory. For just an overview or self study you could try the Berklee Theory Book or the Hal Leonard Music Theory for Guitar which includes guitar diagrams etc but it's very difficult to retain the info in overview books or without a teacher.
Jazz Books – Another excellent way to gain scale and fretboard knowledge is through jazz books. Jazz and improvisation in general is a great way to engage with scales in a meaningful way.