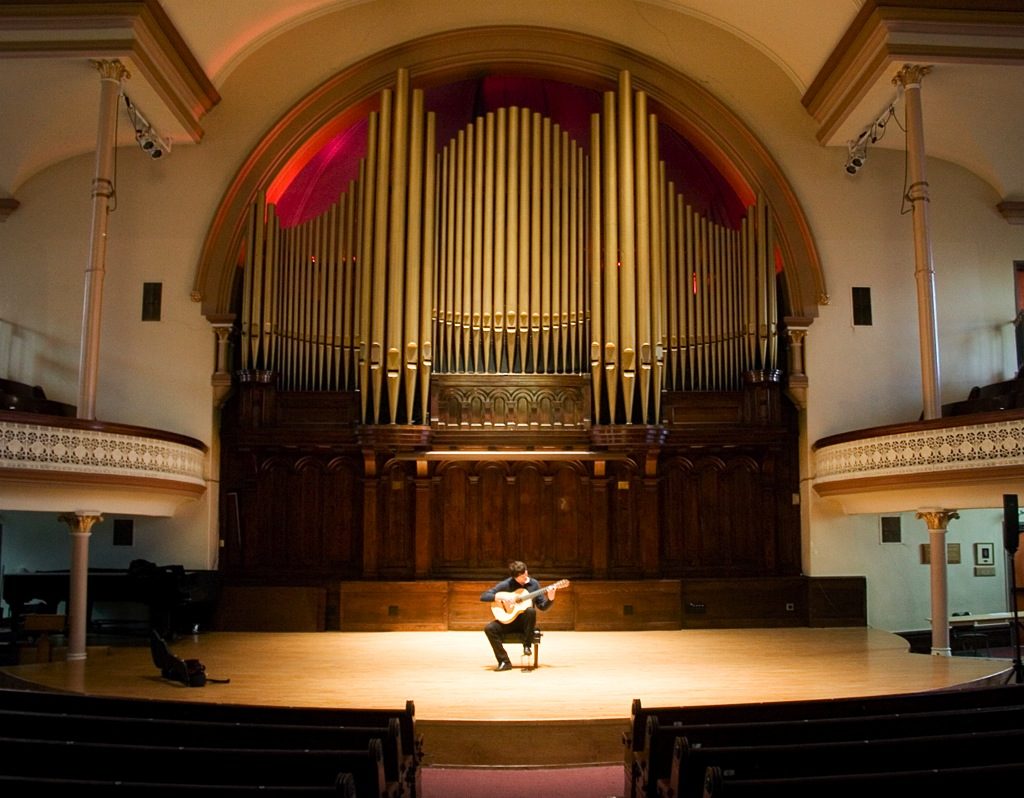 Prominent Post-Secondary Classical Guitar Programs at Colleges, Universities, Schools, and Conservatories. Looking to study toward a undergraduate, masters, or doctorate in music degree in classical guitar? Check out these great classical guitar programs at the university of your choice. Here's a list of potential schools and their faculty.
This page is being populated slowly, check back often.
I'm starting with Canada and the US first, I'll get around to the whole world soon.
So far I'm starting with established or famous faculty and schools first.
Links go to the Faculty of Music or guitar program page.
I'll try to list faculty but beware of changes or inaccuracies. Not all the faculty mentor post-secondary students, some just teach courses or are loosely affiliated.
Canada
Concordia University (Montreal, Quebec)- Tariq Harb, Patrick Kearney, Tim Brady (electric)
McGill University (Montreal, Quebec) – Jérôme Ducharme, Patrick Kearney, Steven Cowan, Garry Antonio, Timothy Dobby
University of Ottawa (Ottawa, Ontario) – Philip Candelaria, Patrick Roux, Louis Trépanier
University of Toronto (Toronto, Ontario) – Jeffrey McFadden, Rob MacDonald
More coming soon
United States of America
Cleveland Institute of Music (Ohio) – Jason Vieaux, Colin Davin
The Juilliard School (New York, NY) – Sharon Isbin, Mark Delpriora, Tali Roth
Manhattan School of Music (New York, NY) – David Leisner, Mark Delpriora, Oren Fader, David Starobin
Mannes School of Music (New York, NY) – Frederic Hand, Michael Newman
New England Conservatory (Boston, MA) – Eliot Fisk
Oberlin College and Conservatory (Oberlin, Ohio) – Stephen Aron
Peabody Institute, Johns Hopkins (Baltimore, MD) – Manuel Barrueco, Thomas Viloteau, Zane Forshee, Julian Gray
Purchase College (New York State) – Oren Fader
San Francisco Conservatory of Music – David Tanenbaum, Judicaël Perroy, Richard Savino, Marc Teicholz
University of Southern California – Scott Tennant, Brian Head, William Kanengiser, Pepe Romero
The University of Texas at Austin – Adam Holzman
More coming soon