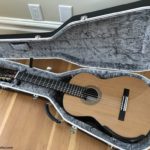 Classical Guitar Reviews, Gear, & Accessories. This page links to full reviews I've made for the site or to Amazon or other places you can purchase gear. None of this is paid placement, I just review stuff as I try it out. I'm always curious: If your products aren't listed here I'm always interested in trying out new ones. I'm open to sponsorship from companies but only if I actually like your product. If you want something reviewed you can contact me to discuss the details. Contact me: bradford@thisisclassicalguitar.com
See Reviews & New Release Category – all my reviews for album recordings, books, sheet music, and more. Below is just a list of gear.
Bradford's Current Gear
Guitar Reviews & Guitars For Sale
See my full page: Guitars for Sale and Reviews.
Guitar Supports & Footstools
See my full article of various Reviews and Recommended Guitar Supports. From suction cups, to clamps, to magnets there is a guitar support for everyone. At home I use the ErgoPlay Troster. Below are some quick amazon links.
ErgoPlay Guitar Support – Recommended for students, I use the

Tröster

model.
GuitarLift – Recommended for pros, not for everyone but nice and secure.
Accessories (Tuners & Metronomes, etc)
Classical Guitar String Reviews
See my full review of multiple strings and brands here. Below are some common picks. Beginners: I'd recommend you use a basic and affordable string set such as D'Addario Pro Arte (either normal or hard tension). Don't get bogged down with string choices, just get a standard string and focus on playing and practicing. That said, below are my personal preferences.
Aquila Zaffiro – These are my primary strings for recording and playing these days. They have pretty good projection and intonation and sounds somewhere between nylon and carbon. Neither super sweet or dull but balanced and bit woody.
Augustine Imperial/Red Medium – I use these on occasion for my videos. Nice gentle full sound.
Savarez New Cristal Creation – I use these occasionally for recording or live settings. Creation combo with Alliance (carbon) G string. Cantiga basses. Nice warm and legato but pretty clear for a nylon set.
Savarez Corum Alliance – I use these for chamber music. A carbon string, with increased brightness/projection. Might be too intense and bright for some guitars and players. Brings the guitar to life.
Recording & Gig Gear for Guitar
Fun Extras
Yamaha Guitalele – 6 strings but Uke size. I love this little guy, use it ALL the time for vacations and beach fun
Classical Guitar Books
See my full list of books on the Book Review Page. These are not sheet music or method, see the Sheet Music Page. Below are my top picks.
Ricardo Iznaola on Practicing – How to practice well. Good habits and philosophy.
Playing with Ease: A Healthy Approach to Guitar Technique by David Leisner – I haven't read this yet but I've heard great things and Leisner is good.
On Competitions: Performance Stress by Azabagic – stage-fright advice from a master.
The Great Vogue for the Guitar in Western Europe: 1800-1840 by Christopher Page, Paul Sparks, and James Westbrook
Guitar and Its Music (Oxford) by Tyler/Sparks – Expensive, slightly academic, but excellent.
The Guitar in History and Performance – History and Performance Practice from 1400 to Today
The Contemporary Guitar by John Schneider – in-depth, knowledgeable, plus survey. Read My Full Review Here.
A Tutor for the Renaissance Lute (Poulton) – Fantastic! Learn how to read Renaissance lute tablature and the techniques and performance practices that go along with it. This is actually for lute but intermediate students can tune down the 3rd string of the guitar to F# and go for it.
Continuo Playing on the Lute, Archlute and Theorbo: A Comprehensive Guide for Performers by Nigel North. Contains excellent info on continuo playing and realization but also a wealth of performance practice.
The Techniques of Guitar Playing by Seth F. Josel & Ming Tsao – A fantastic book on modern and historical guitar techniques geared toward composers.