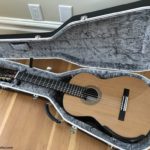 Classical Guitar Reviews, Gear, & Accessories. This page links to full reviews I've made for the site or to Amazon or other places you can purchase gear. None of this is paid placement, I just review stuff as I try it out. I'm always curious: If your products aren't listed here I'm always interested in trying out new ones. I'm also open to sponsorship from companies, as long as I like your product I'd be happy to add your logo and credit you in my videos and posts. Contact me: bradford@thisisclassicalguitar.com
See Reviews & New Release Category – all my reviews for album recordings, books, sheet music, and more. Below is just a list of gear.
Bradford's Current Gear
Guitar Reviews & Guitars For Sale
See my full page: Guitars for Sale and Reviews.
Guitar Supports & Footstools
Accessories (Tuners & Metronomes, etc)
Classical Guitar String Reviews
See my full review of multiple strings and brands here. Below are some common picks. Beginners: I'd recommend you use a basic and affordable string set such as D'Addario Pro Arte (either normal or hard tension). Don't get bogged down with string choices, just get a standard string and focus on playing and practicing. That said, below are my personal preferences.
Recording & Gig Gear for Guitar
Fun Extras
Classical Guitar Books
See my full list of books on the Book Review Page. These are not sheet music or method, see the Sheet Music Page. Below are my top picks.