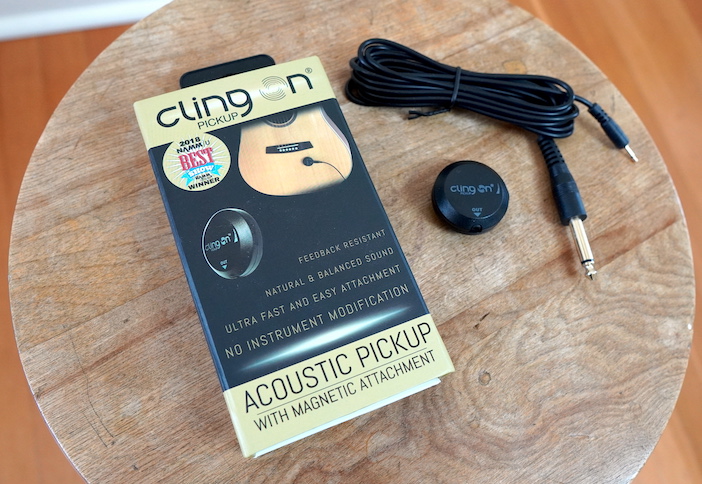 Cling On Acoustic Pickup with Magnetic Attachment
Plus the additional direct cable and extra magnets
Learn more or buy at the Cling On Official Site or Amazon
I was excited to try out this magnetic pickup for acoustic instruments by Cling On. I've been trying a bunch of pickups lately, so check out my comparison review. However, two elements really interest me about this one: the magnetic attachment so I can avoid putty or annoying installs, and the volume dial on the actual pickup. I've seen similar contact mics but anyone who's ever played gigs knows that quick access to the volume controls is essential. We can't always be right next to our amps. This is why guitarists often prefer the onboard electronics when playing casual background music gigs. This is a classic example of innovation for the right reasons: take something that already exists and make it better for the user. The additional magnets and direct to amp cable are extra but you can use the one included if you already have a cable for your amp. They won a Best in Show for their category at NAMM 2018 with both of their products (they have a magnetic tuner as well).
Setup and Magnets – Setup was easy, although it depends on how far back you want to place it and the size of your hand and soundhole. I wanted the magnets to eliminate the putty of other mics but here it is again. I don't love the idea of the putty inside my guitar even though I know it comes off easily but you don't have to use it. You probably should use the putty because you'll be in trouble if the pickup comes off and the magnets fall into your guitar so I recommend you install it as they advise. But at least you have the option of avoiding putty if you choose. You can certainly get away with just what is included in the box, especially as a classical guitarist who sits in one place. However, the extra magnets are helpful to keep it in place and reduce the chance of it coming off if you accidentally step on the cord or something.
Are magnets better than putty or bridge systems? Magnets are certainly cleaner but not everyone is going to want to put the putty on the inside of their nice guitars, or even a magnets. Contact mics that use putty on the outside sound pretty similar and if you use some protective vinyl they work fine. That said, I imagine the magnet system gets a better and more direct contact with the wood so likely sounds better and has a stronger signal. The Kremona behind the bridge system is pretty good and is an innovative design as well but I admit that it is annoying to loosen all your strings.
Volume Dial – Works great and is super convenient. This is the reason I wanted to try this and I think every company should do this. It's an essential feature when playing gigs. This option makes this a winner when comparing it to the competition.
How Does it Sound? The sound is pretty good for a contact mic, I'd say it is as good as any I've tried. As usual with all contact mics on classical guitars, the bass is boomy and it has a slight artificial quality so you'll have to adjust the EQ on your amp to compensate. Otherwise it is nice and warm and has a good output volume and no feedback. I'd be happy to play casual background music gigs with this (cocktail party style). There are more expensive options for gigs but they either cost a lot of money or involve a bunch of gear and cables and plugins which can be annoying so this will do the trick for many people.
Conclusion – The addition of magnets and the volume dial make this contact mic a winner over the competition. From now on, any company who makes these little mics without a volume dial is going to be losing customers. The magnets work but not everyone will want to get inside their guitar, although I found it easy. There are better and more expensive mic solutions out there but for the price and convenience this will get you playing gigs with minimal setup, hassle, and cost.
A note from the maker – After talking with the maker, I got some more useful info to pass on: "Stacking magnets makes sense for instruments with thicker soundboards (harps, dulcimers, or a flat bridge on a steel string guitar) to increase the magnetism. Other than that, the extra magnetic bases are for: 1) Those musicians that have multiple instruments. One pickup and extra magnetic bases is all they need. They can pre-install the magnetic bases on all instruments they wish to amplify and use one pickup on all of them. No need to buy multiple pickups. 2) Another use of additional magnetic bases is to pre-install a couple of them in different locations of their instrument. That allows the user to quickly change the location of the pickup during performance if they choose to do so…"
Here is the Cling On Installation Guide (Recommended)
Promotional Text from Cling On
QUICK and EASY magnetic attachment. It's all thanks to our patented magnetic design that allows the pickup to attach and detach in a snap. No cumbersome installations or adhesive stickers necessary.

NO INSTRUMENT MODIFICATION REQUIRED – With the Cling On Pickup there is no need to drill or modify your instrument in any way. There are no permanently glued, bolted-on or screwed-on parts. A professional pickup installation will cost you north of $150. The Cling On Pickup is ready right out of the box.

​DISCREET attachment of magnetic base – The Cling On Pickup comes with a very small and very light magnetic base that is attached underneath the soundboard on the inside of the guitar via sticky putty. This ONE-TIME non-permanent discreet installation prepares the instrument for the pickup. It's removable, reusable and can be easily re-positioned.

NATURAL & BALANCED SOUND – The magnets have a dual purpose. Not only do they make attachment super easy, but they also create constant pressure on the soundboard, resulting in a more sensitive, balanced and accurate sensing of the vibrations. Other guitar pickup systems on the market use foam adhesive stickers that are a barrier between the instrument and the pickup, which results in a muffled and flat sound.

VERSATILE – Multiple magnetic bases can be pre-attached on different locations, such as the soundboard or the bridge, giving you a different sound.

DETACHABLE AUDIO CABLE – The Cling On Pickup comes with a mini audio jack, which allows for the audio cable to be detached, making it a lot easier to use compared to permanently soldered cables.

ON-BOARD VOLUME CONTROL – You are in control of your sound level at all times. You can also completely mute the pickup to avoid loud popping noises associated with attaching or detaching the pickup or the cable.

PROTECTIVE SILICONE RUBBER PAD – A very thin and soft silicone rubber pad protects the finish of your instrument. No messy adhesive stickers or sticky putties damaging your instrument.

PLUG AND PLAY READY – Elegant package with magnetic closure includes everything necessary to amplify one instrument: 1 x pickup, 1 x audio adapter for a 1/4″ guitar cable (guitar cable not included), 1 x magnetic base, putty for magnetic base.