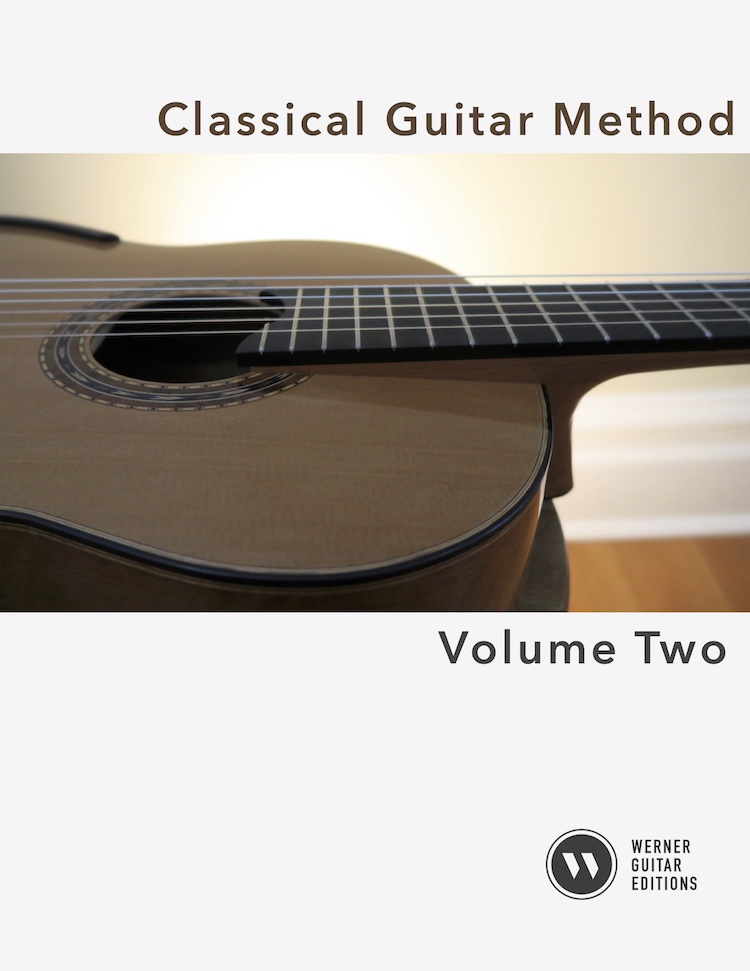 Classical Guitar Method – Volume Two by Bradford Werner 
For classical and fingerstyle guitar
This book teaches classical and fingerstyle guitar skills with a focus on reading tonal music. It includes solos, duos, chords, and exercises, giving students a well-rounded and enjoyable musical experience. Designed as a manageable amount of material, it supplements weekly lessons and prepares students for early intermediate repertoire. The four sections of study allow students to focus on specific strengths and weaknesses in the learning process. YouTube video lessons provide students extra help with musicality and guitar technique. Also see the free 100 page Volume One Method Book.
Classical Guitar Method – Volume Two (PDF Download): $9.99
Werner Guitar Editions is my dedicated store for free and premium guitar editions. Includes instant access to PDFs, the best security, search functionality, and payment options.
Hardcopy Print Edition
Free PDF Samples
Updates
Jan. 2018 – Four part chord progressions removed, additional fingering and chord diagrams added for better comprehension.
Video Lessons for Vol. 2 (Links to YouTube)
Big thanks to Natasha for recording the duets.
Student FAQs
What kind of time management should I use when practicing? 
If you practice 60min a day I would divide your time in this way and order: 10min to part 4 (technique), 10min to part 2 and 3 (rhythm & upper positions), 20min to part 1 (pieces, duets, reading), and 20min for your own interests and past pieces you can play well. End with pieces you can play well can be a nice way to finish your practice session with a positive and happy feeling about music.