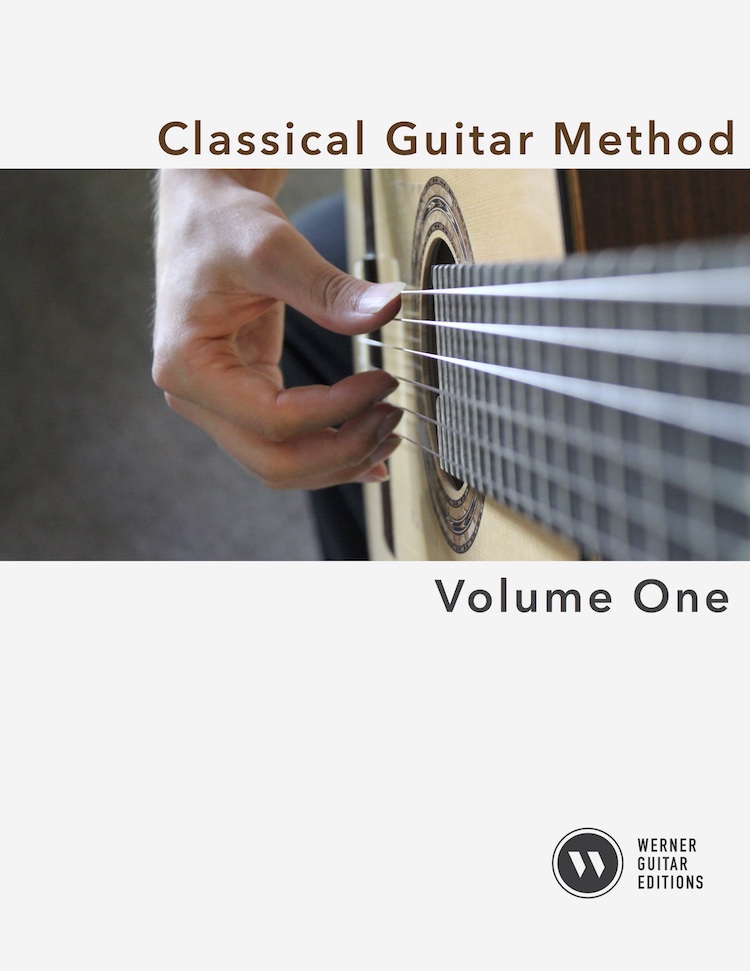 Classical Guitar Method – Volume I by Bradford Werner 
Free PDF Download (100 pages)
For beginner classical or fingerstyle guitar
This book teaches classical and fingerstyle guitar skills with a focus on the rich pedagogical tradition of classical guitar. Most learning objectives are covered through pieces and duets allowing students to perform full pieces from the first lesson. A qualified teacher and the lesson videos should provide students with a healthy start. Also see Volume Two for more theory, exercises, and reading skills. Help support the site, free music, and lessons.
Download the Free PDF (no sign up required)
Hardcopy Print Editions
Recent Updates
Corrected Page 60 error: Info for Low Open E (Feb. 2018)
Video Lessons for this Method
Visit the Lessons Page for more videos that compliment this book. Also see the small free youth supplement.
---
More books from this site:
Other Recommend Books (via Amazon):
The Bible of Classical Guitar Technique by Hubert Käppel. This book is like Pumping Nylon on steroids. 245 pages of exercises and excellent text advice, explanations, and tons of exercises. This is a huge contribution to the guitar world and I'm only just starting to dive deep into the ideas. Highly recommended.
Pumping Nylon by Scott Tennant (new 2nd edition) – Physical workouts to train those muscles and gain finger independence and dexterity. Very popular book and good memorable exercises for warm ups. It's kind of the perfect size book for students to simply get to work. Highly recommended.
Iznaola on Practicing: A Manual for Students – A great but little book on how to practice well. Many students of guitar are not going to read a huge book so this concise little booklet is perfect for getting a grounding in good practice habits and philosophy. 
Student FAQ:
How much should I memorize the pieces and what should I keep in my repertoire? I would memorize a few pieces that you find easy to play so you can look at your hands carefully as you play them. That said, balance that with keeping your eyes on the music for other pieces so you learn to trust your hands and build sight reading skills. Near the end of the book I always have students memorize and perform well: Leyenda (melody in the bass) and Siciliano (Melody in the top voice) as a basic requirement before moving to the next book.
---