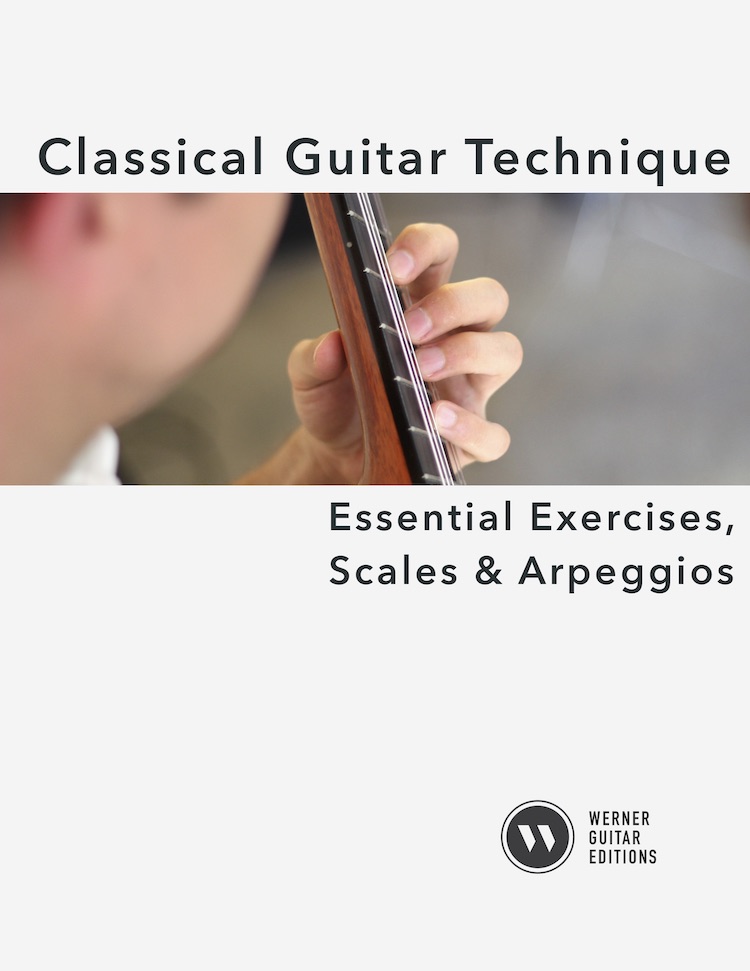 Classical Guitar Technique: Essential Exercises, Scales, and Arpeggios
Notation Only with Fingering, String Numbers, and Positions
PDF Download or Hardcopy, 122 Pages. 2019 Edition.
By Bradford Werner
Buy the PDF Download from Werner Guitar Editions (my dedicated sheet music store)
Buy Hardcopies via Amazon: Amazon.com | Amazon.ca | Amazon.co.uk
Includes: Practice Routines, Tips, 100 Open String Exercises, 120 Giuliani Arpeggios, Selected Scales (Major, Minor, 3rds, 6ths, Octaves, 10ths), Slur Exercises, Shifts, Finger Independence, Alignment, Stretch, Barre, Tremolo, Common Harmonics, Speed and Relaxation, and more. View the Table of Contents
Info: This book focuses on essential exercises for the development of classical guitar technique. All the exercises from the headings of the table of contents progress from easy to advanced in a progressive format. Although this is a book of exercises rather than a method, I have included many helpful tips throughout the book to aid students. As with all my materials, the video lessons are an added educational advantage.
Level: Intended for beginner to early-advanced classical guitar students (approximately RCM Toronto Grade 1-9). As a basic prerequisite students would have completed both Volume One and Two of my beginner method book series or an equivalent. There are a number of exercises in upper positions that include accidentals, therefore, additional reading experience is required if you wish to study the entire book. The inclusion of fingering, string numbers, and position marks should make the exercises easy to understand. The 100 open string exercises should be very accessible to beginners and advanced students alike.
Video Lessons for this Book
Technique Routines for Various Levels
Late-Beginner Routine – Coming Soon
Early-Intermediate Routine – Coming Soon
Intermediate Routine – Coming Soon
Late-Intermediate Routine – Coming Soon
Early-Advanced – Coming Soon
Part 1 – Right Hand Exercises
Part 2 – Left Hand Alignment, Shifts, and Scales
Part 3 – Slurs, Finger Independence, and Stretch
Part 4 – Additional Techniques
Customer Question & Answers
Does this book include TAB? No, it is notation only. However, I think you will find everything very easy to read since it is highly pattern oriented with fingering, string numbers and positions marks. Plus, the open string and arpeggio exercises are super easy to read. If you need TAB try my 20 Favorite Exercises Book.
How similar is this book to 20 Favorite Exercises? This book has hundreds of exercises and the full extent of what I teach my students when it comes to technique. 20 Favorite Exercises is pretty small but it includes tab which some people will want. Most of the 20 Favorite exercises are included in this book although some are altered.