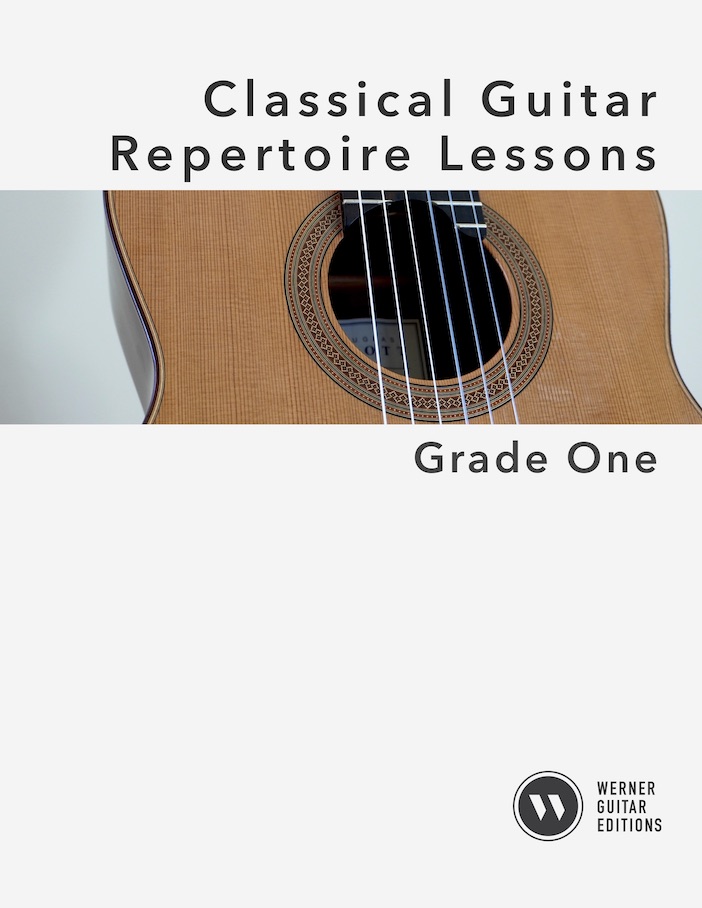 Classical Guitar Repertoire Lessons Grade 1 – PDF or Hardcopy Method Book with dedicated lessons and pieces in notation with fingering. There is also a TAB supplement at the end which includes pieces (not the lessons). Watch the free video lessons. This item is a PDF Download. 39 Pages. 2019 Edition. By Bradford Werner.
Buy the PDF at My Sheet Music Store
Hardcopies (Grade 1-2) via: Amazon.com, Amazon.ca, Amazon.co.uk, or your country's Amazon.
About & Level: This book teaches classical guitar repertoire at approximately the grade one level. This level is appropriate for students who have completed both my Volume 1 and Volume 2 method books. The pieces in this book appear in a progressive order starting with easy pieces and slowly introducing new techniques, oddity fingerings, or increased activity. The main goal is to teach students how to practice their repertoire by breaking it down into separate elements. Check out the samples in the image gallery on Werner Guitar Editions. Keep in mind that this book has no connection to other graded systems, some selections are harder or easier for variety and skill development.
Contents – Each piece has two or three pages of lessons followed by a proper performance edition of the piece.
The Spanish Pavin (Anonymous) – Melody-focused Renaissance dance
Lección 75 by Julio Sagreras – Melody combined with arpeggios and chords (Argentina)
Lección 70 by Julio Sagreras – Three-voice texture with a clear melody (Argentina)
Ècossaise Op.33, No.2 by Mauro Giuliani – Simple slurs and muted bass strings
Lección 19 by Dionisio Aguado – Arpeggio etude with three-voice chords
La Tirantine by Adrian Le Roy – Renaissance dance with melody and full chord shapes
Andantino Op.241, No.5 by Ferdinando Carulli – Increased activity, melody and alberti bass
Exercise No.11 by Napoléon Coste – A brief foray into upper positions
Video Lessons for this Book
Student FAQ:
Should I memorize the pieces and should I keep them in my repertoire? Although I'm not strict about memorization with my students, I do believe that we play better when the piece is memorized. Also, our brains seem to get used to it as a habit and memorizes more efficiently if we do it regularly. So, I highly recommend you memorize your pieces but don't be too hard on yourself, just do a little bit of memory work everyday and see how it goes.
When should I move onto the next piece? Aim for a confident playing of the piece. As a basic check you might put a metronome on and be able to play through it as that is a common issue. Aim for an even rhythm, nice tone, arched phrases, and a prominent melody. I encourage students to stick with pieces for awhile to see how they 'settle' into the piece in terms of relaxation. It's important to dive deeper into musicality after you have accomplished the basic physical movements. A large part of what teachers do is to just raise the musical bar and get students to strive for higher levels of musicality so you'll want to push yourself in that regard to ensure you are not just settling for a past standard (up your personal level every piece). In the end it's up to you but try to feel confident and happy with your performance.
More books from this site
Education Series (Methods & Technique)
Classical Guitar Method – Vol. 1, Video Lessons, 100 pages, Free PDF
Classical Guitar Method Vol. 2, Video Lessons, 89 pages
Classical Guitar Technique: Essential Exercises, Scales, & Arpeggios – 122 pages, video lessons
20 Favorite Exercises, Notation + TAB, Video lessons, Gr.1-6
Ten Classical Etudes, Gr.4-7, videos lessons