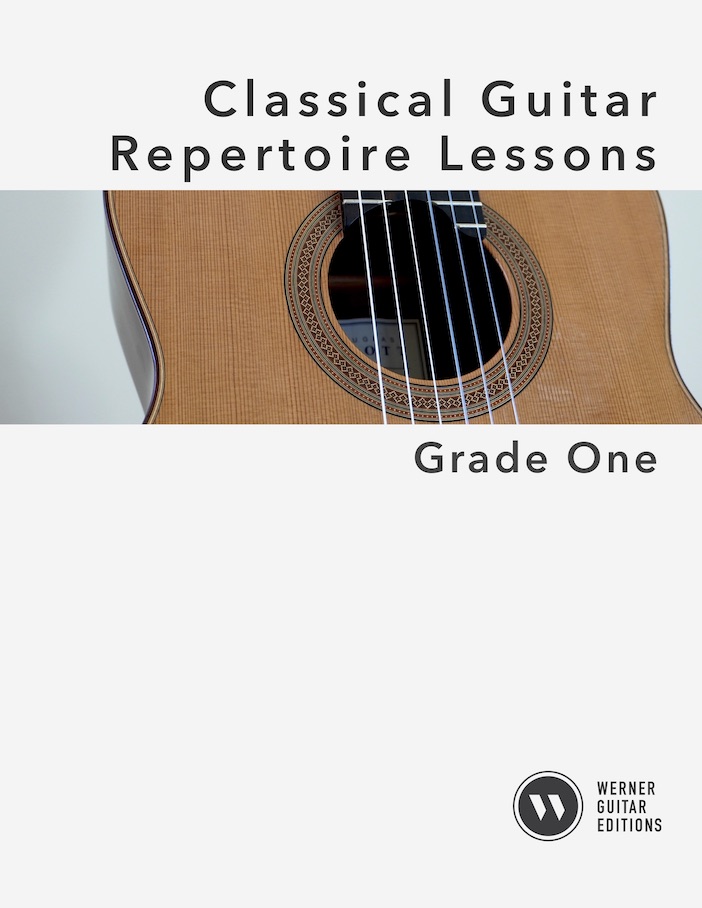 Classical Guitar Repertoire Lessons Grade 1 – Lessons and pieces in notation only with fingering. There is also a TAB supplement at the end which includes pieces (not the lessons). Watch the free video lessons. This item is a PDF Download. 39 Pages. 2019 Edition. By Bradford Werner.
Buy or learn more at my store: Classical Guitar Repertoire Lessons Grade 1 from Werner Guitar Editions
About & Level: This book teaches classical guitar repertoire at approximately the grade one level. This level is appropriate for students who have completed both my Volume 1 and Volume 2 method books. The pieces in this book appear in a progressive order starting with easy pieces and slowly introducing new techniques, oddity fingerings, or increased activity. The main goal is to teach students how to practice their repertoire by breaking it down into separate elements. Check out the samples in the image gallery on Werner Guitar Editions. Keep in mind that this book has no connection to other graded systems, some selections are harder or easier for variety and skill development.
Contents – Each piece has two or three pages of lessons followed by a proper performance edition of the piece.
The Spanish Pavin (Anonymous) – Melody-focused Renaissance dance
Lección 75 by Julio Sagreras – Melody combined with arpeggios and chords (Argentina)
Lección 70 by Julio Sagreras – Three-voice texture with a clear melody (Argentina)
Ècossaise Op.33, No.2 by Mauro Giuliani – Simple slurs and muted bass strings
Lección 19 by Dionisio Aguado – Arpeggio etude with three-voice chords
La Tirantine by Adrian Le Roy – Renaissance dance with melody and full chord shapes
Andantino Op.241, No.5 by Ferdinando Carulli – Increased activity, melody and alberti bass
Exercise No.11 by Napoléon Coste – A brief foray into upper positions
Video Lessons for this Book