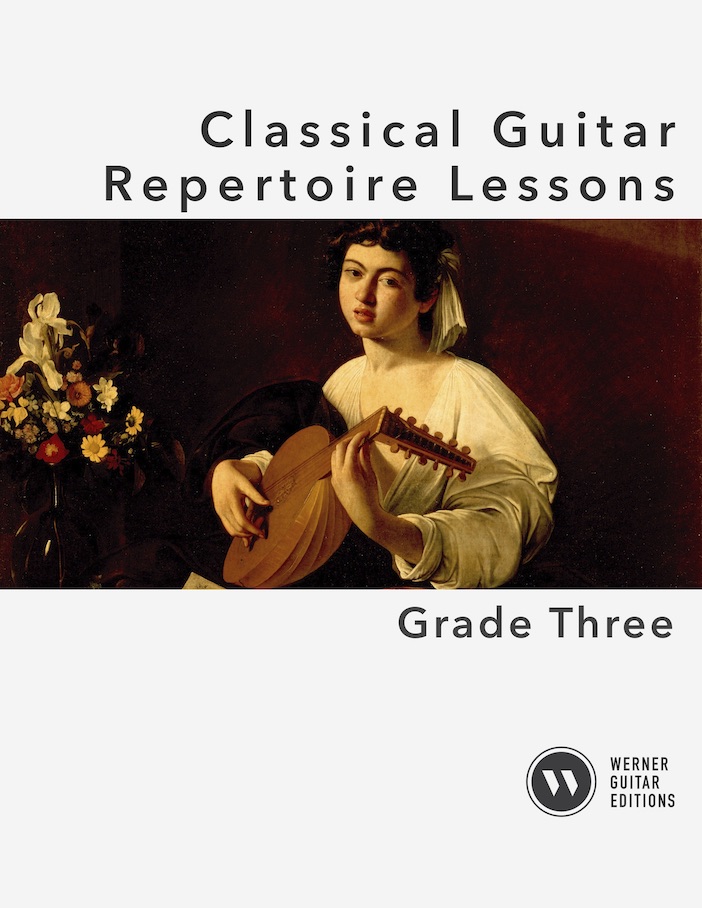 Classical Guitar Repertoire Lessons Grade 3 – PDF or hardcopy method book with dedicated lessons and pieces in notation with fingering. A TAB supplement at the end includes the pieces (not the lessons). Before each performance edition there is one or two pages of lesson material to teach you concepts and prepare you to play the piece. Watch the free video lessons for even more insight. 41 Pages. 2019 Edition.
Buy the PDF at My Sheet Music Store
Hardcopy Print Editions on Amazon
This book teaches classical guitar repertoire at approximately the grade three level. This level is appropriate for students who have completed my two Method Books and the Grade One and Grade Two Repertoire Lesson books. This book introduces some common tunings for classical guitar repertoire and further develops technique skills, fingering choices, and musical ideas. The image samples on your left show examples. That said, students should continue to play the melody and chord shapes using the knowledge they gained in grade 1.
Contents and Lesson Topics – Each piece has one or two pages of lessons followed by a proper performance edition of the piece.
Bella Gioiosa by Fabritio Caroso – Renaissance Lute Work, Relative Lute Tuning
Tanz (Supplement) by Georg Leopold Fuhrmann – Renaissance Lute Work, Drop D Tuning
Allegro, Op.50, No.10 by Mauro Giuliani – Classical Era, Slurs, Muting
Andantino Op.44, No.3 by Fernando Sor – Classical Era, Two Voices, Right Hand Fingering
Study in C Major by Francisco Tárrega – Romantic Era, Barre, Pivots
Lección No. 86 by Julio Sagreras – Romantic Era, Barre, Left Hand Navigation
Ejercicio No. 2 by José Ferrer – Romantic Era, Thirds, Grace Notes, Harmonics
Video Lessons for this Book
More books from this site