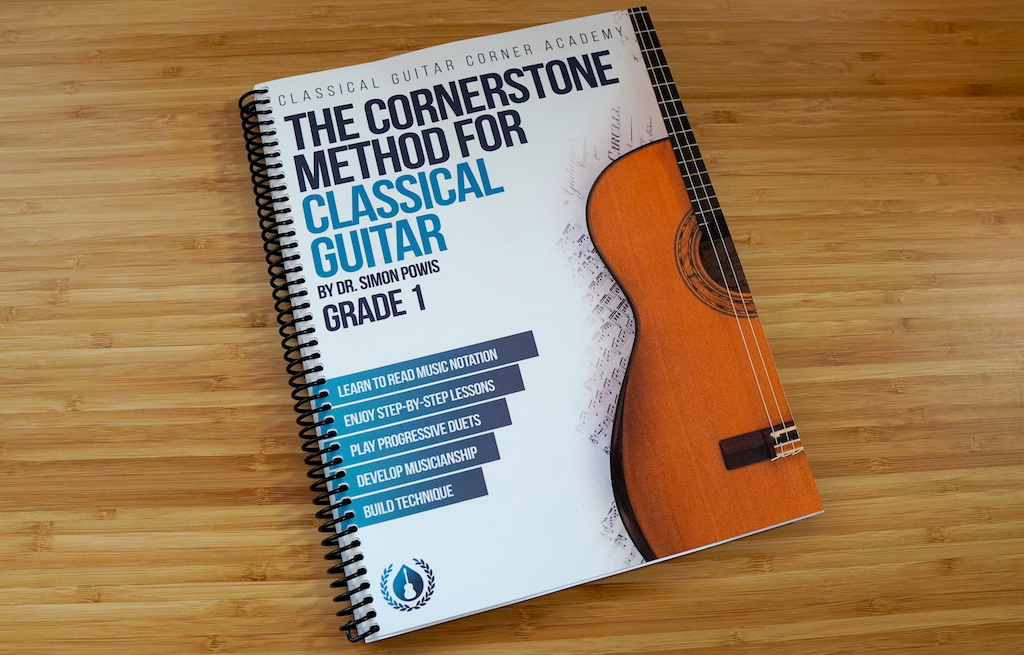 The Cornerstone Method for Classical Guitar: Grade 1
By Dr. Simon Powis via the Classical Guitar Corner Academy

Learn more or buy the book via CGC Publishing

Print copies outside the US can use Amazon.com or the Amazon for your country.
I'm very excited to introduce you to a new beginner method book by Simon Powis via his excellent website and learning academy Classical Guitar Corner. I've followed Powis online for over a decade and if I had to sum up his teaching and resources with two words I'd say: thoughtful and caring. Not only does he present a super high quality and refined looking product but he offers all his knowledge and expertise with a progressive plan and a supportive and positive demeanour. Quality pedagogy and the well-being of the student come first with Powis. He's built an incredible online community of students along with managers Nicoletta Todesco and David Belcher and other teachers. The tag line from his site says it all: "Learn Classical Guitar with a structured curriculum, dedicated teachers, and a supportive community."
I was super interested to see the The Cornerstone Method both for my own interest in pedagogy but also because I knew that Powis would create something outstanding. The tricky thing about designing a method book is balancing the large amount of information needed without smothering enthusiasm and real musical experience. This is where the Cornerstone method shines. The abundance of guitar exercises, musicianship, and conceptual information is always followed by musical playing examples and duets to ensure the student will develop musically. Ensemble playing is an essential aspect of learning natural musicianship skills at early levels so it's great to see so much of it.
You can watch the video below to learn more about the book but I think it's worth mentioning that one of Powis's strengths is that he's publishing the book himself. Many publishing houses and methods need to have flashy marketing to make up for the lack of solid pedagogy. At 164 pages, he knows that building foundational classical guitar skills takes time and students need solid materials to accomplish the task. I would say 90% of methods out there move way too fast and are geared toward crossover students. This method is progressive, thoughtful, and thorough but with a balance of musical experiences to keep it feeling fresh and exciting. Plus, his original repertoire ensures the material is perfectly suited to the concepts being studied.
Although you can use this book on its own or with a teacher (better), you can also supplement the learning experience with additional video resources via his site to cover the rudiments of notation, free stroke, hand positions, sitting position, and more. Furthermore, if you need extra help you can always consider signing up for the academy to get all the support you need.
Summary
The Cornerstone Method for Classical Guitar: Grade 1 by Dr. Simon Powis is one of the best classical guitar methods today. With a wealth of thoughtful and encouraging exercises and repertoire, students are guided through the learning process with all the information, musical experiences, and encouragement they need to succeed. They can also explore additional video resources and consider joining the online academy for feedback and support. Lucky are the students who start their musical journey with Simon Powis and Classical Guitar Corner.
Learn more or buy the book via CGC Publishing
---
For my followers and users of my method book
If you're currently using my method book volume 1 or 2, I highly recommend the Cornerstone method as an additional learning resource. We have very similar pedagogical approaches and none of the material or repertoire is duplicated making it an excellent resource for review, fresh insights, and a well-rounded and informed learning experience. There is nothing in the book that conflicts with my approach so go get your copy today!