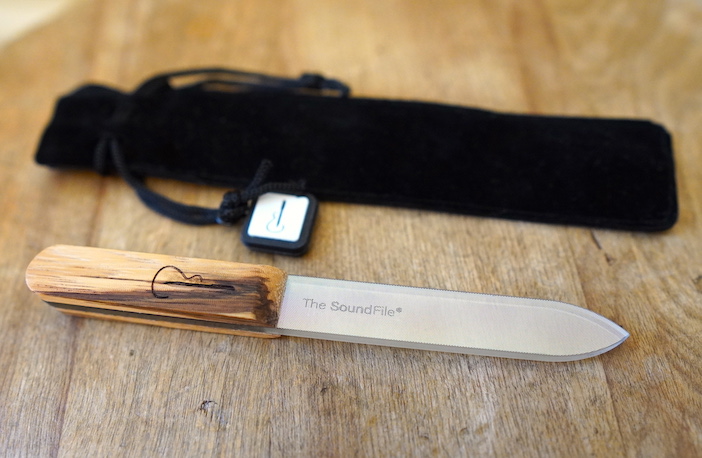 The SoundFile – Boutique Nano-Glass Nail Files
Visit The SoundFile Store to buy or learn more.
The SoundFile is more than an ordinary nail file, it is a dedicated tool for classical guitar players. Just as we want the best technique and instrument to make music, we also need dedicated tools to help us achieve and refine our goals. So, I was very excited to receive one for review.
When I first saw online pictures of The SoundFile I was a bit skeptical, I thought maybe it was just a fancy handle on a regular glass file. I was therefore very pleased to find that it was also a better file than my regular glass/crystal one and more of a dedicated tool for classical guitar. The founder, Max Brenner says it all, "We are a boutique accessory nail file company that makes the most precise performance nail files in the world for serious classical and fingerstyle guitarists." I think that is a pretty accurate statement. You can also see a number of glowing recommendations about files by artists such as Scott Tennant (Signature Series files), Mak Gregic, Vladimir Gorbach and more The SoundFile Store.
Is it good enough? Yes, it's better than my glass nail file that I currently use, although you'll still want some extra polishing tools around. It's a little bit of a finer grade so more appropriate for daily shaping before polishing. Nails are super important to the sound and control of our right hands, you can see my gigantic lesson on nails for classical guitar to see how much I care. I love glass and crystal files because they never wear out. I've had my glass nail file for around 10 years, you can see it in the picture below (it's some no name brand I think). My old file works as good as it was when it was new, it just doesn't wear out.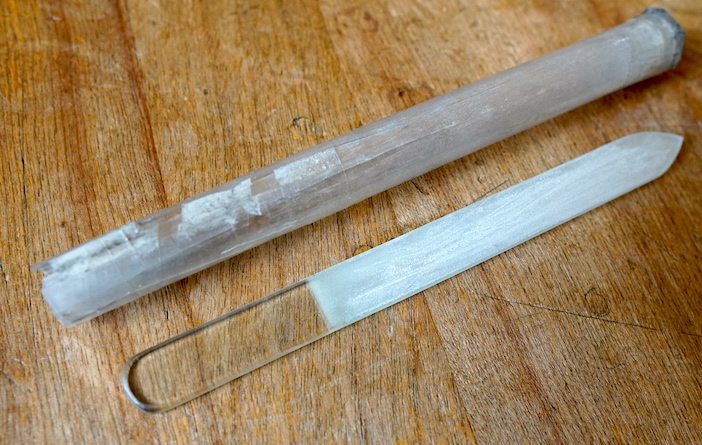 I find that glass files are better for shaping than the rough surfaces of some multi-sided files so it speeds up the process of getting it close to smooth. But you'll still need an additional polishing tool to get it to performance level. Micro mesh and multi-sided polishing is still essential even with glass files. The finest grade of polishing should feel like leather, you'll literally hear it squeak. Maybe, one day in the future a glass file can be so fine and graded that it will do the polishing step but for now we have to use two methods. That said, The SoundFile is my new choice for glass files.
Any criticisms? Nope, not really. Personally I don't need the thick wood handle but maybe some people will appreciate that more than me. Maybe they will make just a slim glass one with their logo on the glass instead of the wood. But that is not a criticism just a personal aesthetic thought.
Below – My current nail gear, I always start with a glass file (I'll use The SoundFile now) and then that micro-mesh stuff is a great finisher but I actually use those no-name brand multi-sided ones quite a bit.