Fingernail lesson for classical guitar. YouTube video link (4k). By popular demand, a lesson about filing and shaping your nails. This is all about how I shape my nails and might be of interest and a starting point for students. Make sure to see the bottom of the post where I have videos by pros that use the opposite shape. Like this lesson? Join the email newsletter or help support the site and free lessons.
No guitarist is the same – This is not a post on how to file your nails, this is only the way I file mine. This is not a definitive answer and is not a static or unchanging description. This post is how I file my nails for my guitar, sound, style, and personal preference.
Why Use Ramps? Whether your fingernails are curved perfectly in an arch or you create a long ramp, the idea is to have the string travel up the ramp and get pushed into the guitar. Just like a piano hammer pushes the string (rather than plucks it like a harpsichord), your nail directs the string in toward the soundboard when it moves into the palm. See the video above for clarification.
How to find the correct shape for you: Play a comprehensive range of guitar technique when filing your nails. For example: scales, arpeggios, slurs, rest-stroke, free-stroke, sweeping etc. Make sure you can play all the different techniques with ease. Beginner student's nails are often too long at first making rest-strokes or having a nice arched hand position too difficult. Listen to your tone and find out why/how different nail shapes affect your sound. Experiment with different shapes to discover what works best for you.
Photos & Diagrams
Contact Point – This is where the string makes first contact on the fingertip. I recommend you have both the flesh and the fingernail touch the string at the same time.
Release Point – After the string travels up the ramp of the fingernail it releases from the nail. You have to make sure it releases easily if you want a good tone and ease of playing.
String Direction – The direction the string travels up the ramp of the fingernail.
Below is a picture of my fingernails. You can see from the markings where the contact point begins and the release occurs. I've tried to keep the perspective from the player's view so if you hold your hand up in front of your face it will look the same. I've also added a flip view for clarity.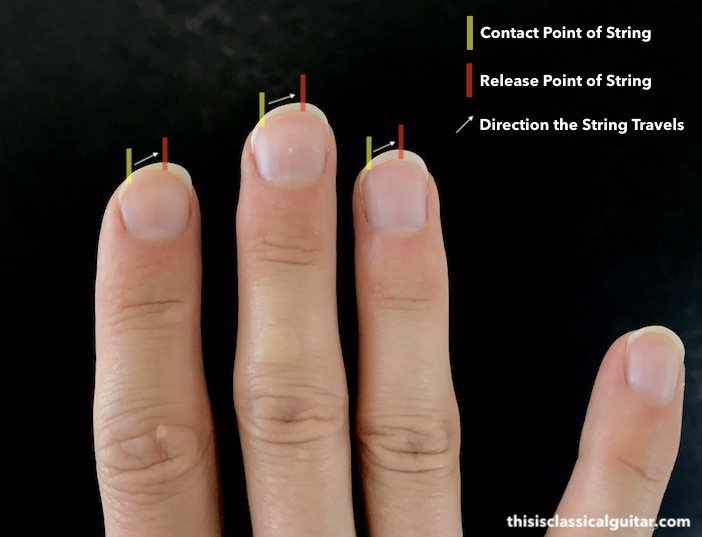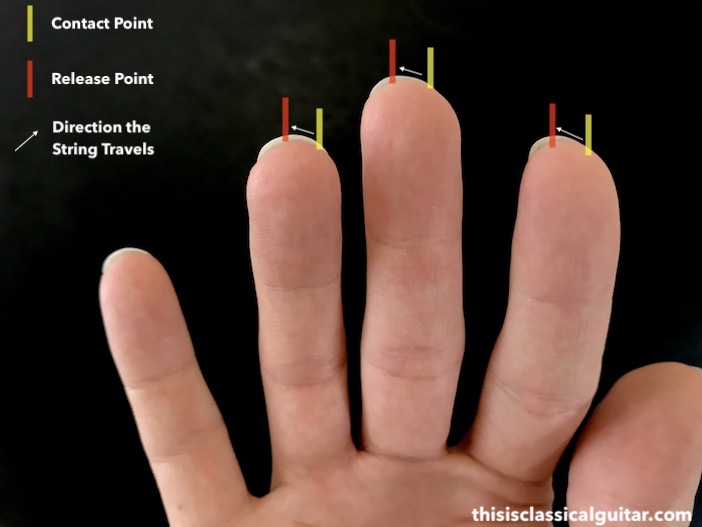 Below is the i fingernail contact point from the player's perspective followed by an outside view.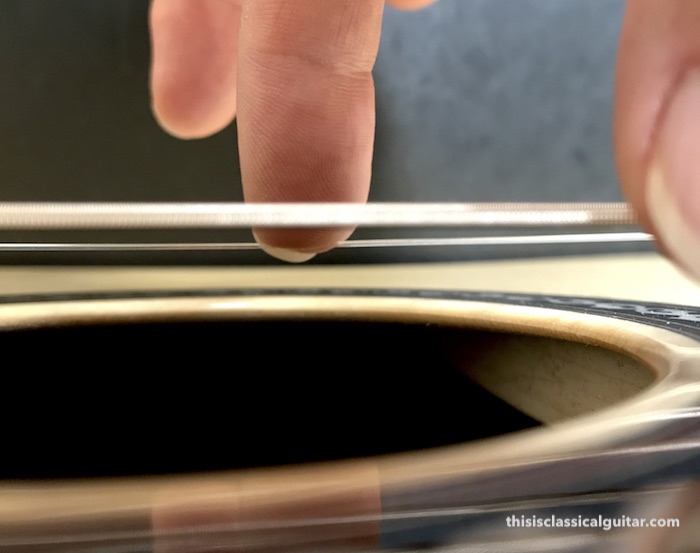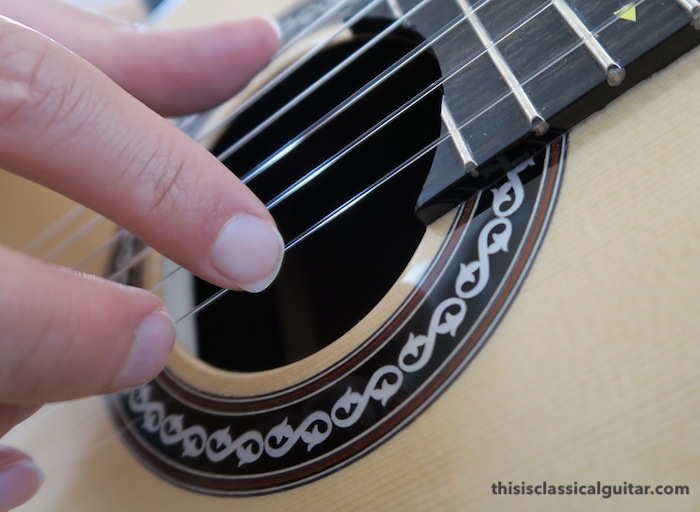 Below is the m fingernail contact point from the player's perspective followed by an outside view.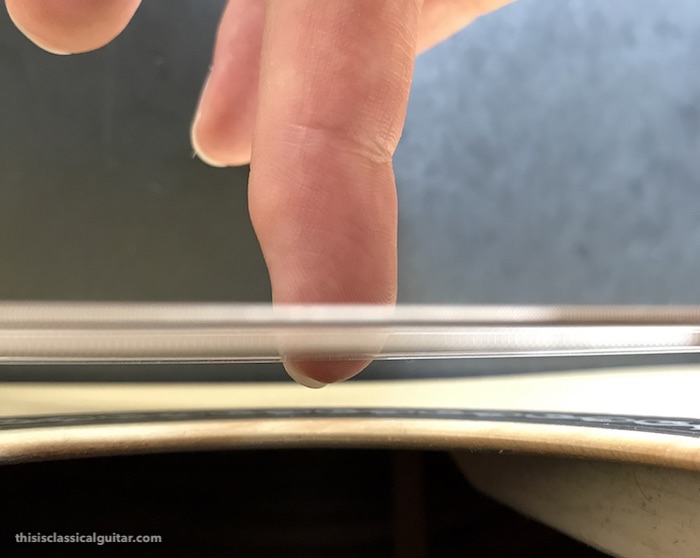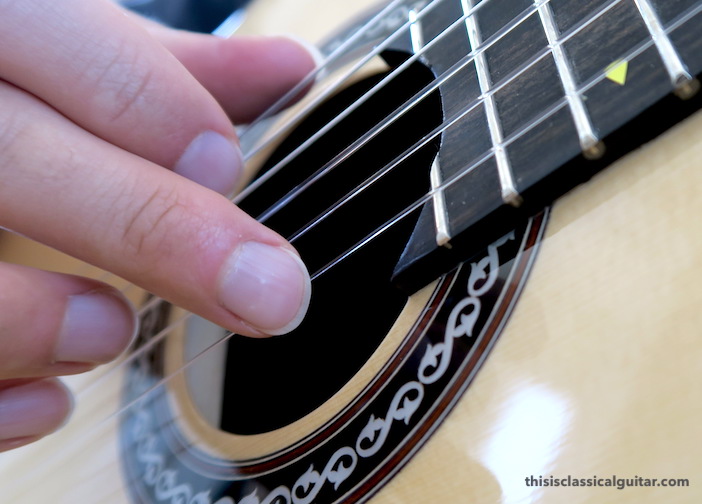 Below is the a fingernail contact point from the player's perspective followed by an outside view.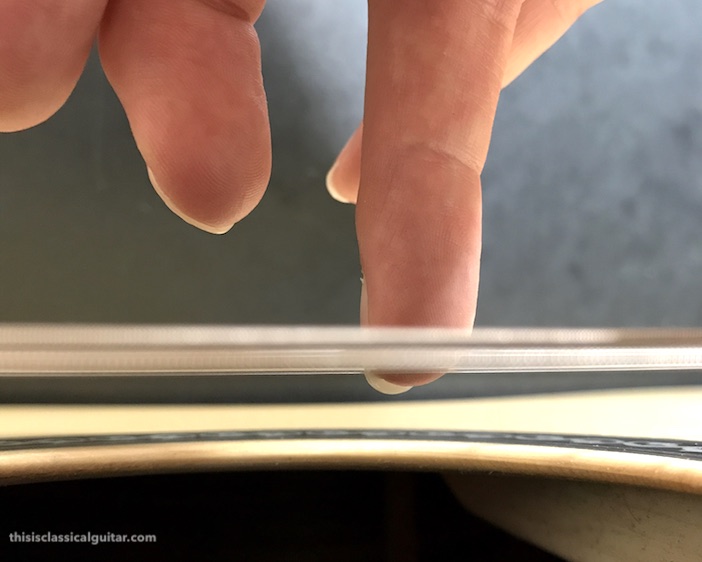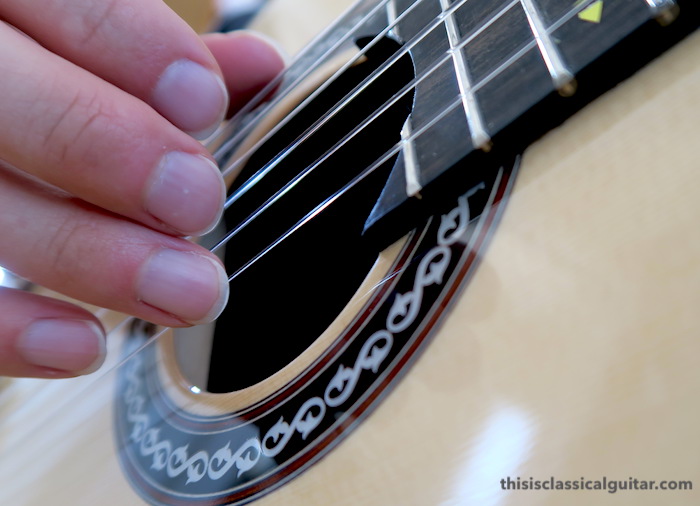 Thumbnail – Here is where players greatly differ on shaping style/direction. Actually, many of my favourite guitarists uses the opposite thumbnail shape that I use. Watch the below video to see my explanation. The reason I use this shape is that when I rest my nail on the string at the contact point it doesn't move up the ramp until I apply pressure to overcome the resistance. My thumb bends quite far at the tip joint, almost 90 degrees so my shape might differ from your as with the length of the ramp.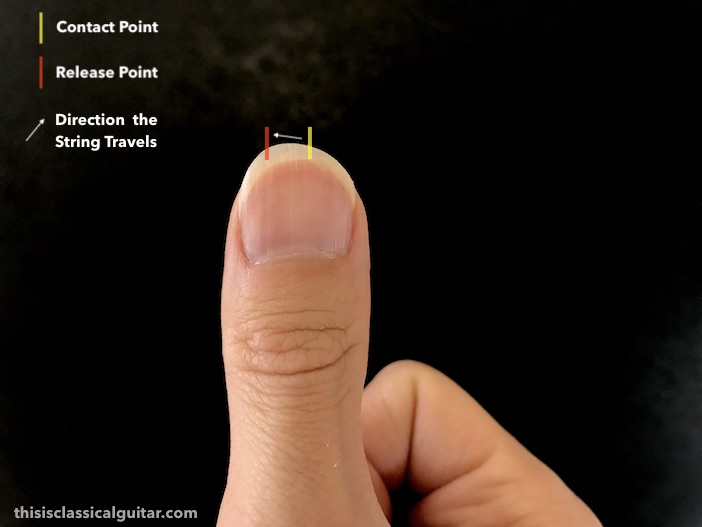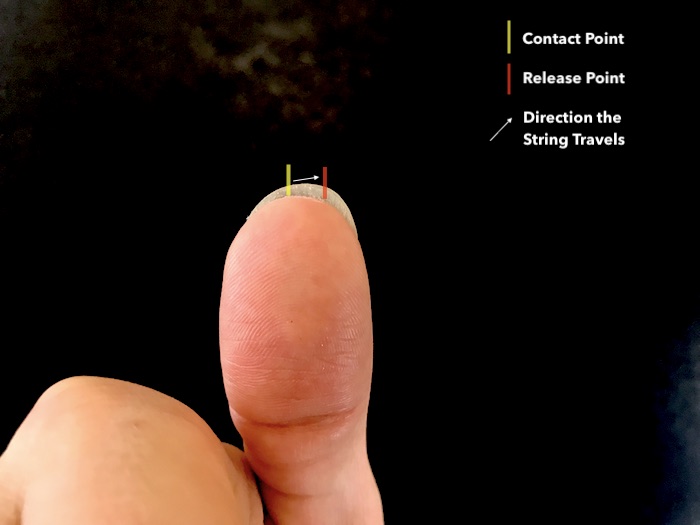 Below is the thumbnail (p) contact point from the player's perspective followed by an outside view.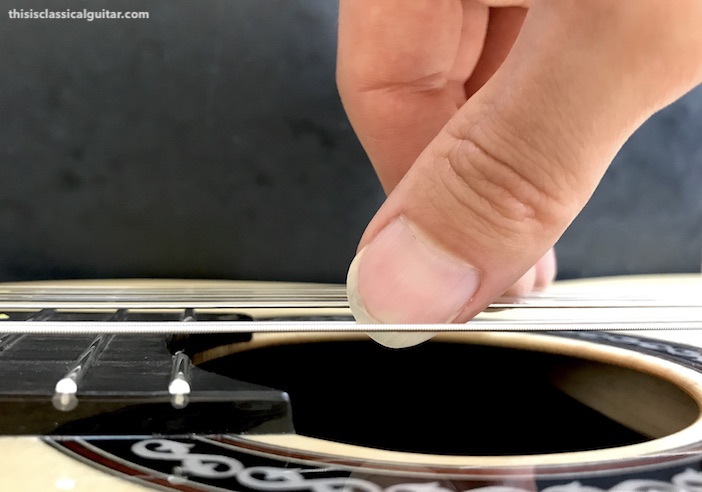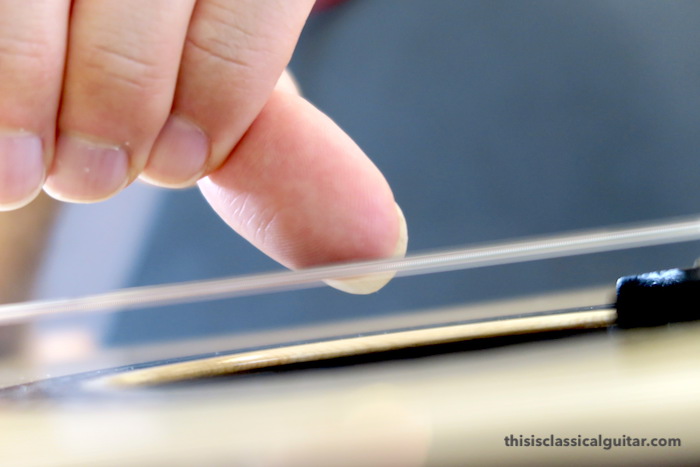 More Video Lessons on Fingernail Shapes & Filing
Matthew McAllister gives a lesson on filing the nails for classical guitar. This comes via the excellent Siccas Guitars and their fantastic YouTube channel. He has some excellent points about filing and interacting with the string during the process.
The Opposite Shape: A video by Thomas Viloteau with the opposite shape. This comes via his fantastic YouTube channel. One of my favourite pros, Viloteau talks about filing and shaping the right hand finger nails. He shapes his nails in the opposite direction to mine which is great as it shows the variety. Clearly it works for him!
Tatyana Ryzhkova gives a lesson on Nail shape, length, and care via her 'Ask Tatyana' segment on her YouTube. More of a discussion which is good because context is so important to understanding how to file your nails.
Fingernail Gear via Amazon
Crystal file: Crystal Nail File – I use this first instead of the 2 shaping sides below. Then polish with the buffer sides on the revlon shape & buff.
Multisided nail file: Any multi-sided file with a buffer will help shape and finish nails. I start with a crystal file to shape and then smooth and buff with a multi-sided buffer.
Micro Mesh: Even better, micro mesh papers seems to last longer and you can be more specific about the grit level. I like the 12,000 for buffing. Plus you can really get under the nail since it is so pliable.
Healthy Hoof: Healthy Hoof Intensive Protein Treatment – this is great for two reasons. One, it keeps the nails moisturized which will stop the nail from cracking or breaking. Two, the protein help the nail grow thick and strong.
Protect + Improve: Healthy Hoof Lacquer + Protein Treatment: high gloss protectant, leaves an ultra shiny, satin finish with a strong UV protectant for strong, healthy nails
Fingernail Health Supplements: Oral Supplements for Nails– Supports healthy skin, nails, and hair. Read the labels, ask your doctor, buy at your own risk…I just try to eat more healthy.
Books on classical guitar nail shaping: The Bible of Classical Guitar Technique by Hubert Käppel has a good three pages of excellent text, plus it's a great book to own anyway. Pumping Nylon by Scott Tennant has a good blurb on how to do the nails and accounts for different types and shapes of nails, although I've found it to be a bit confusing and not comprehensive enough.
Disagree?
I know many of you will completely disagree with my advice. However, please remember that this is how I shape my nails and I am not recommending you do exactly the same. Everyone's hands, technique approach, and sound are different so, therefore, our nails shapes must also be different. What's your thoughts and constructive criticisms on this?
More lessons
Find more free classical guitar lessons at the Lesson Archive Page.