Fingernail Lesson for Classical Guitar
By popular demand, a lesson about filing and shaping your nails. This is all about how I shape my nails and might be of interest and a starting point for students. Make sure to see the bottom of the post where I have videos by pros that use a different approach. If you like this lesson consider supporting the site and free lessons. You can watch the above video on my YouTube if you like.
No guitarist is the same – This is not a post on how to file your nails, this is only the way I file mine. This is not a definitive answer and is not a static or unchanging description. This post is how I file my nails for my guitar, sound, style, and personal preference.
Why Use Ramps? Whether your fingernails are curved perfectly in an arch or you create a long ramp, the idea is to have the string travel up the ramp and get pushed into the guitar. Just like a piano hammer pushes the string (rather than plucks it like a harpsichord), your nail directs the string in toward the soundboard when it moves into the palm. See the video above for clarification.
How to find the correct shape for you: Play a comprehensive range of guitar technique when filing your nails. For example: scales, arpeggios, slurs, rest-stroke, free-stroke, sweeping etc. Make sure you can play all the different techniques with ease. Beginner student's nails are often too long at first making rest-strokes or having a nice arched hand position too difficult. Listen to your tone and find out why/how different nail shapes affect your sound. Experiment with different shapes to discover what works best for you.
Also see my article about Playing Classical Guitar Without Nails.
Photos of Nails for Classical Guitar
Below is a picture of my fingernails. You can see from the markings where the contact point begins and the release occurs. I've tried to keep the perspective from the player's view so if you hold your hand up in front of your face it will look the same. I've also added a flip view for clarity.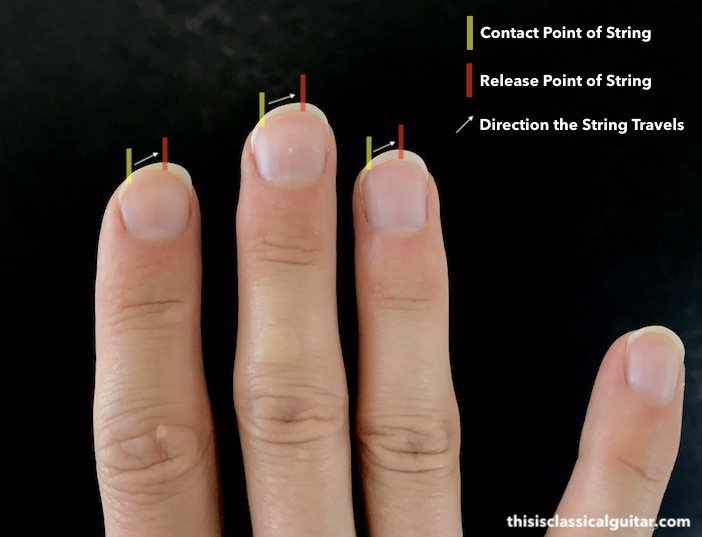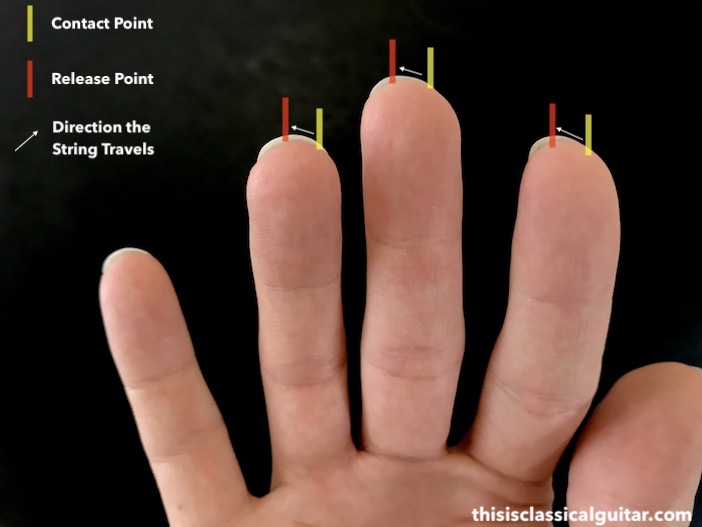 Below is the i fingernail contact point from the player's perspective followed by an outside view.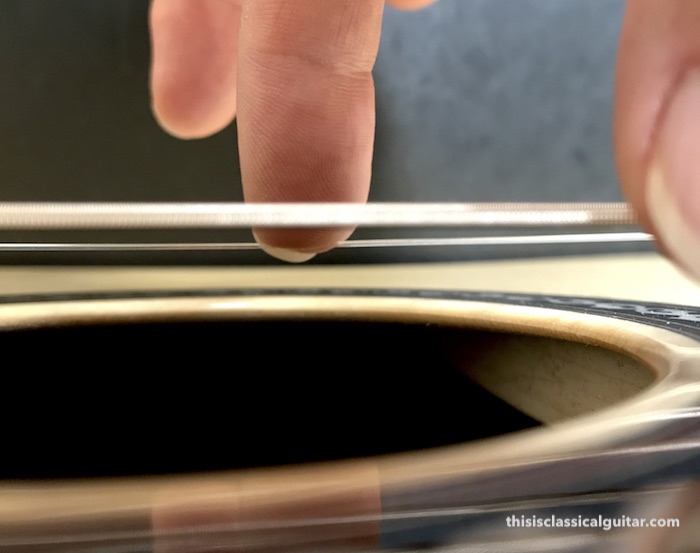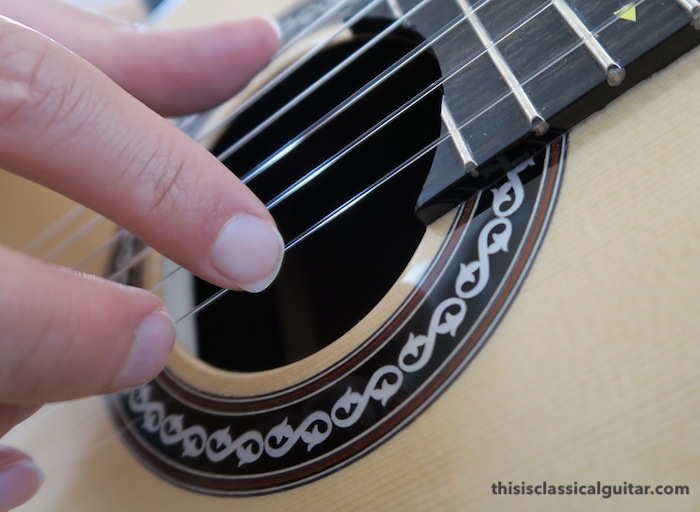 Below is the m fingernail contact point from the player's perspective followed by an outside view.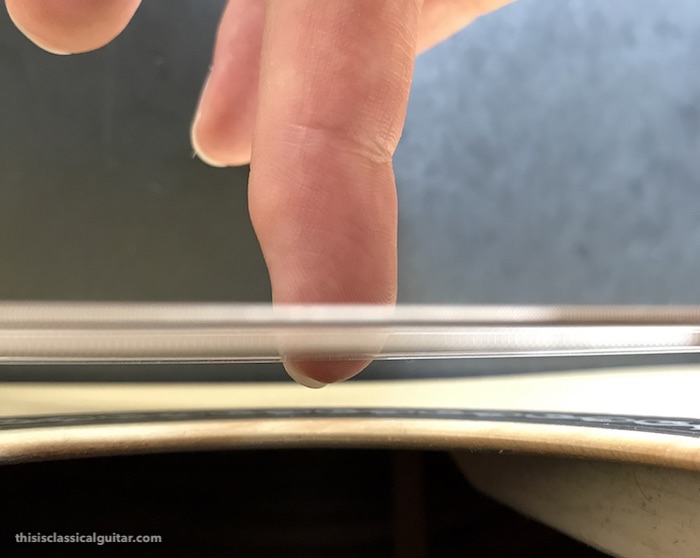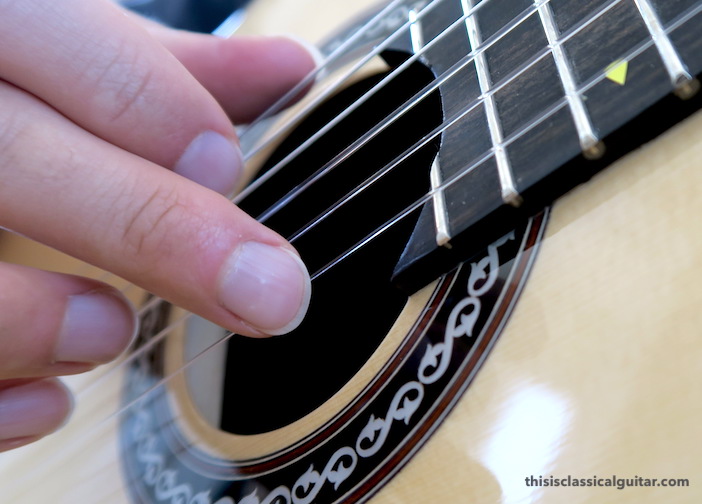 Below is the a fingernail contact point from the player's perspective followed by an outside view.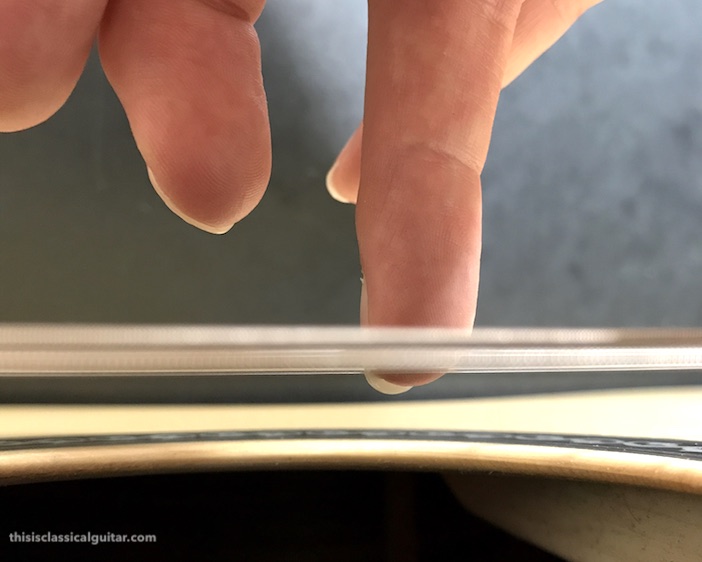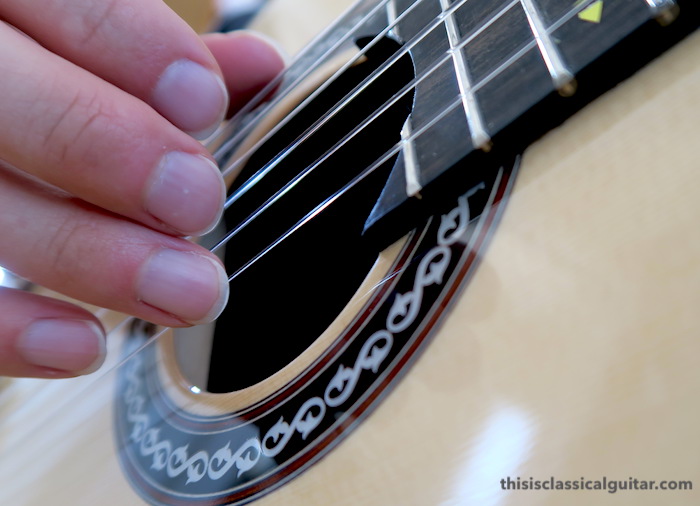 Thumbnail – Here is where players greatly differ on shaping style/direction. Actually, many of my favourite guitarists uses the opposite thumbnail shape that I use. Watch the below video to see my explanation. The reason I use this shape is that when I rest my nail on the string at the contact point it doesn't move up the ramp until I apply pressure to overcome the resistance. My thumb bends quite far at the tip joint, almost 90 degrees so my shape might differ from your as with the length of the ramp.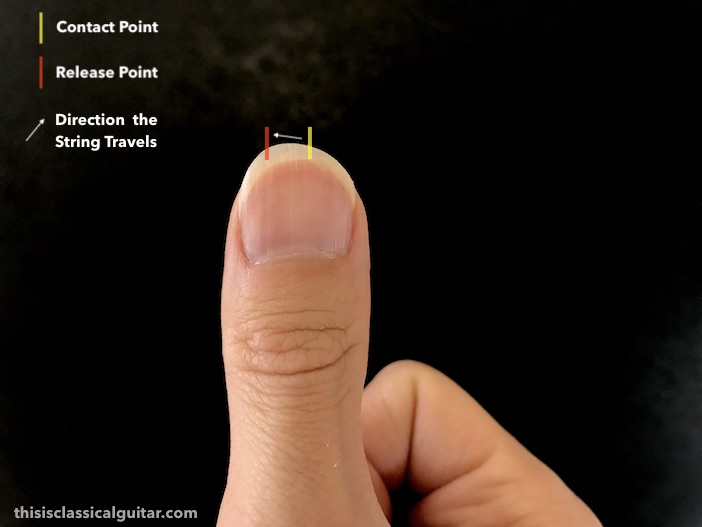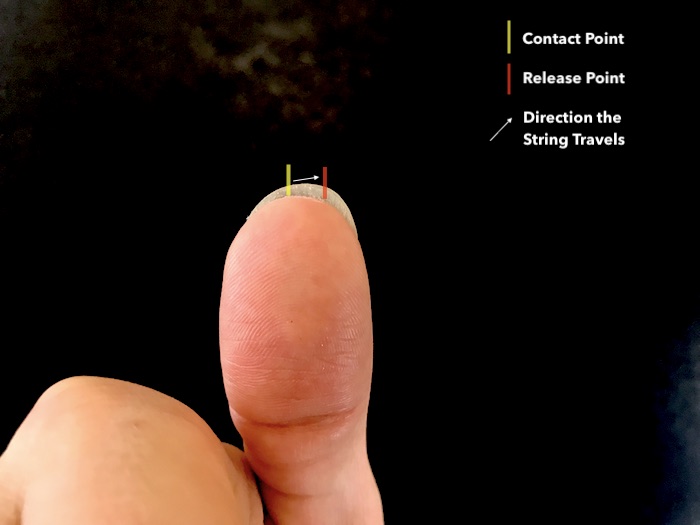 Below is the thumbnail (p) contact point from the player's perspective followed by an outside view.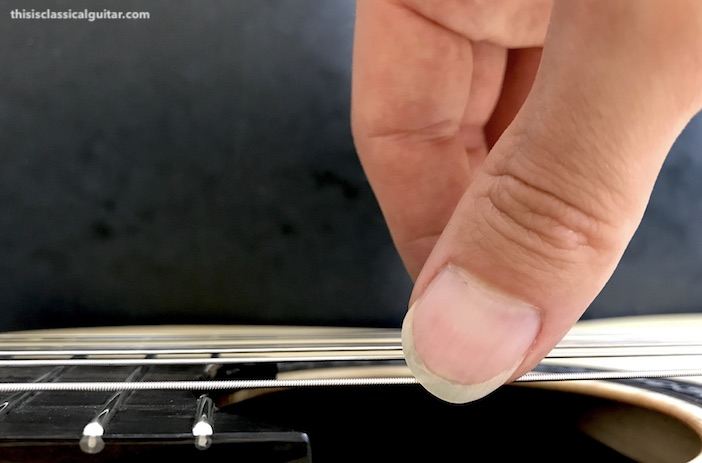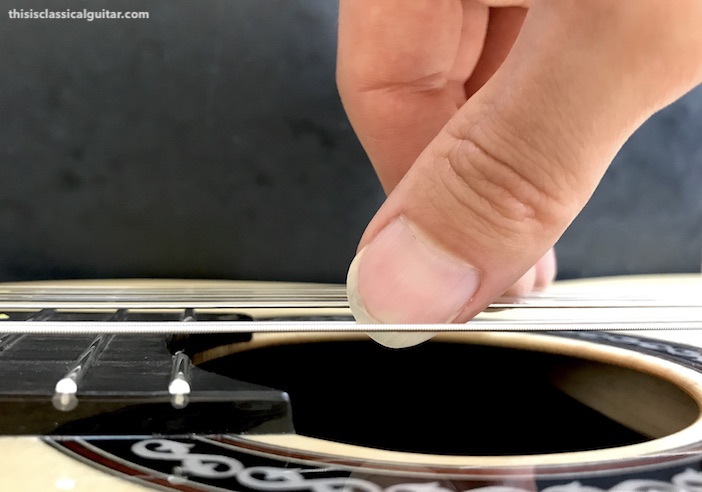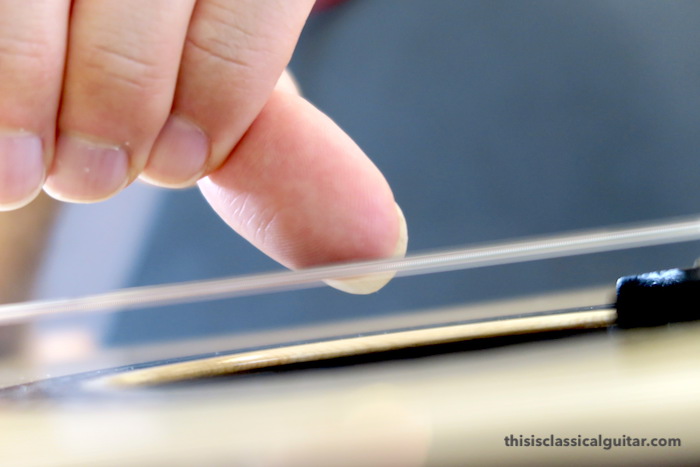 More Lessons on Fingernails by Others
Here's a Q&A lesson on nails and sound on the guitar via my YouTube.
Hannah Murphy via her YouTube channel. Great video, lots of solid points and I like the descriptions of the shapes at the beginning. The more high quality videos by pros the better people can find shapes specific to them.
Matthew McAllister gives a lesson on filing the nails for classical guitar. This comes via the excellent Siccas Guitars. He has some excellent points about filing and interacting with the string during the process.
The Opposite Shape: A video by Thomas Viloteau with the opposite shape. One of my favourite pros, Viloteau talks about filing and shaping the right hand finger nails. He shapes his nails in the opposite direction to mine which is great as it shows the variety. Clearly it works for him!
Tatyana Ryzhkova gives a lesson on Nail shape, length, and care via her 'Ask Tatyana' segment. More of a discussion which is good because context is so important to understanding how to file your nails.
Fingernail Gear via Amazon
Crystal file: Crystal Nail File – I use this first instead of the 2 shaping sides below. Then polish with the buffer sides on the revlon shape & buff.
Multisided nail file: Any multi-sided file with a buffer will help shape and finish nails. I start with a crystal file to shape and then smooth and buff with a multi-sided buffer.
Micro Mesh: Even better, micro mesh papers seems to last longer and you can be more specific about the grit level. I like the 12,000 for buffing. Plus you can really get under the nail since it is so pliable.
Healthy Hoof: Healthy Hoof Intensive Protein Treatment – this is great for two reasons. One, it keeps the nails moisturized which will stop the nail from cracking or breaking. Two, the protein help the nail grow thick and strong.
Protect + Improve: Healthy Hoof Lacquer + Protein Treatment: high gloss protectant, leaves an ultra shiny, satin finish with a strong UV protectant for strong, healthy nails
Books on classical guitar nail shaping: Most guitar technique books feature some info on nail shaping. You might want to check out Scott Tennant's Pumping Nylon or Kappel's Bible of Classical Guitar Technique. Check out the sheet music by other publishers on my sheet music page.
Disagree?
I know many of you will completely disagree with my advice. However, please remember that this is how I shape my nails and I am not recommending you do exactly the same. Everyone's hands, technique approach, and sound are different so, therefore, our nails shapes must also be different. What's your thoughts and constructive criticisms on this?
More Languages: Leçon sur les ongles: comment limer et façonner vos ongles pour guitare classique. Fingernagel-Lektion: So feilen und formen Sie Ihre Nägel für die klassische Gitarre. Урок по ногтям: как подать и придать форму ногтям для классической гитары. फिंगरेल लेसन: शास्त्रीय गिटार के लिए अपने नाखूनों को कैसे दर्ज करें और आकार दें। 爪のレッスン:クラシックギターの爪を削って形を整える方法。
More lessons
Find more free classical guitar lessons at the Lesson Archive Page.