There are many types of ergonomic guitar supports and footstools (foot rests). Guitar supports put the guitar into an optimal position but also to allow for proper posture. Having one foot up on a foot stool can strain the body. However, foot-stools are not on their way out, I for one still use a foot-stool regularly and recommend it for beginners. If you are a beginner you should get a traditional footrest because everyone should be able to use them: Foot Rests on Amazon.
Video of different guitar supports
Video Timings: Why Use 0:58; Suction Cups 2:55; Gitano 4:52; Tenuto (Lite and Slim) 7:40; Amy's 14:00, ErgoPlay 15:56; Murata 19:40; Sagework 24:16; Cushion 29:05; GuitarLift 29:35; Conclusions 30:16. You can jump via a link on the YouTube Link.
An in-depth review of classical guitar supports and rests including the footstool, Gitano Guitar Support, Tenuto Guitar Support (Lite and Slim models), Amy's Handmade Guitar Supports, Murata Guitar Support, Sagework Magnetic Guitar Support, ErgoPlay Guitar Rest. I briefly mention The Cushion, Guitarlift but I don't own them. I also discuss why guitar supports are useful and how to help the suction cups stick. The suction cup helpers and protectors I mention are: Kling-On Static Protectors and much cheaper Grafix ClingViynl which is working for me so far.
Quick Reviews:
---
Individual Guitar Support Reviews 
The Ergoplay Guitar Support (Most Popular)
Info/buy via Amazon: Ergoplay Guitar Supports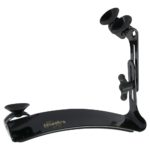 There are a number of Ergoplay guitar supports out there and this is just one of the more traditional looking ones. The Ergoplay device fastens on via suction-cups. Get some static cling wrap (Suction-Cup Protector) if need be as any tiny grooves in your polish can un-suction the suction. These feel pretty good, places the guitar in a nice spot and allows the guitar to be movable. Only problem might be if you have suction-cup problems during a concert. If the suction cup comes off on this one at least you still have gravity to help you compared to the Gitano et al.
---
The Gitano Guitar Support (My Favorite)
Info/buy via Amazon: Gitano Guitar Support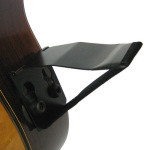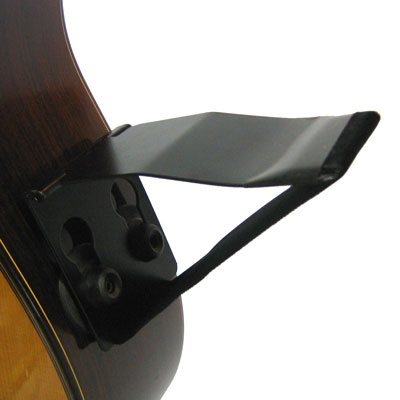 The Gitano Guitar Support is ultra simple and low profile so therefore my favorite and most used support. It also just feels more natural to me as my right shoulder isn't elevated too much. It's simple, small, and can fit in your guitar case. I love it for practicing but I'm too scared to perform with this one. If the suction cup comes loose there is no gravity to keep your guitar up, everything will crumble. It actually only rarely comes off with my static suction cup protector mentioned above… Still a great buy and I would buy it again for teaching and practicing. I use this support regularly and more than any other on this page because simple is good. The Tenuto has four suction cups which might be slightly safer…
---
Tenuto Guitar Support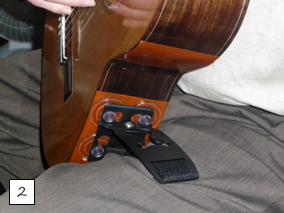 Looks similar to the above model but adds more suction cups. I like how it folds over so it might fit in some cases. Order them from their website (tenuto.ca) via Calgary up here in Canada. I have two models from them, the Tenuto Lite (pictured on your left) and the Tenuto Slim. Also good is that the strap is adjustable so you can get micro adjustments going. PLUS, it has a pivot adjustment for angling your guitar inward to your liking. Depending on your guitar, two of the Tenuto Lite's suction cups don't always stay on as well as the others. Maybe because the wood of the guitar curves there is more pressure or not the correct angle on some of them? I really like the Slim though with their two giant suction cups. I love my Gitano for it's small profile and simplicity but these Tenuto's are really the superior product.
---
Barnett Guitar Supports (now called Sagework) – Best Design
Buy or learn more via Amazon: Sagework Guitar Support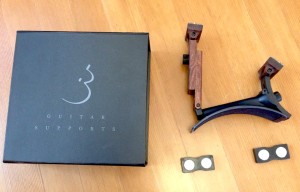 Say goodbye to suction cups or clamps! This guitar support uses magnets to keep your guitar support in place. You can read the full Review: Barnett Guitar Support Here. Innovative and one of the best solutions with altering the guitar.
Pros: It will not come off in performance. Clean and beautiful aesthetic. Very adjustable. Great design and build quality. The cork will not damage your finish. It is generally cooler than the other guitar supports out there.
Cons: Maybe the adhesive thing. You might have to bit careful when placing and removing the support but you should with any product near your guitar. Otherwise, none that I can see.
---
Murata GR-2B, Guitar Rest
I've written a review of these: Review: Murata Guitar Rests (Ergonomic Guitar Support). Overall this is one of the better ones I've tried but I don't much like the fastening device which constantly frightens me into thinking I'm crushing my guitar. Plus, if you have a raised fingerboard where the body of your guitar is not uniform then this is a pain. Here's the quick of it:
Pros: simple, small, durable (metal all around), ergonomic sitting position, clamps are better than suction-cups
Cons: not highly adjustable (can't seem to get a steep enough angle), heavy, the body of my guitar is not an even width due to my raised fingerboard so I had to place foam supports on one side to make it work. Might wear down my french polish. Comes off sometimes. However, if you have a normal guitar it should work very well.
---
Oasis Guitar Support (apparently also the Flanger Guitar Support)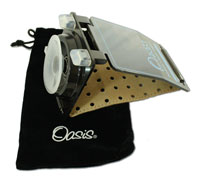 Don't buy this, although for $10 it's okay. I recently bought the Oasis Guitar Support but also found the identical product (for a fraction of the price too) called the Flanger Guitar Support ($10), or 'utility guitar accessory.' Looks like they outsourced it and slapped on their brand. Anyway, regardless of the name, this support has a locking mechanism that really super sucks the suction cup onto the guitar. Be careful to not push the suction cup on hard and then use the clamp as it's a lot of pressure on the guitar. Just lightly place the suction cup on the guitar and then use the clamp. Too bad the clamp is made of cheap plastic, although mine has not broken. There is more flex compared to the Gitano as there is a spring attached to the suction cup that bends, however, I kind of like that despite some small instability. Having only one suction cup means that in that one comes off you are in big trouble. The Tenuto has four! Overall, I think we can do better than this one but I appreciate the innovation and effort. Sorry!
---
Dynarette Guitar Cushion (Small)
People seem to love the Dynarette & Other Brands of Guitar Cushion but it's not for me personally. All I can say is I don't like the idea of having a loose object sandwiched between my guitar and my leg. I want to move the guitar up and down and side to side and not worry about loosing the cushion. Plus walking out on stage with it could be awkward. And it I think it looks dumb. It also makes squeeky sounds against the guitar polish. There should be a Seinfeld episode: "The Cushion". Nevertheless they are popular with everyone from professionals to students and I think it's a great solution for practicing. It's also super simple so WILL work.
---
EFEL guitar support

Again, there are many varieties of these and this is just one. The EFEL guitar support seems like a good idea although I mistrust anything that doesn't rely on gravity to some extent. If the suction-cup comes off on this one your finished! However, many players have told me this is the most optimal for their positions making it an option for players that the ergoplay does not agree with. I haven't tried this one and probably won't unless they send me one.
---
NeckUp Guitar Support
Looks similar to the two above but has a cow attached, that is, something classier than plastic. Haven't tried it, looks like it might be too flimsy but can't tell from the picture. Would leather make me cool? Can find this online anymore…hmmm..
A-Frame Guitar Support
I have to say that this looks as though it could be a poor choice. However, I've never tried the A-Frame Guitar Support so I shouldn't judge. That said, I will say that it looks a bit flimsy, not very adjustable, and like it takes up too much space. I don't know anyone who recommends these. If you've used one please leave a comment below.
Update: see comment section below for two people who like the A-frame and pretty much counter all the comments I said. They are say it's very adjustable and folds up nicely. 
Also see these specific reviews:
---