Here are some of the best guitar supports I've played on and reviewed. There are many types of ergonomic guitar supports and footstools (foot rests). Guitar supports put the guitar into an optimal position but also to allow for proper posture. Having one foot up on a foot stool can strain the body. However, foot stools are not on their way out, many pros still use a foot-stool and I still recommend it for absolute beginners. If you are a beginner you should get a traditional footrest because everyone should have one and at least be able to use it: Foot Rests on Amazon.
The main options for supports
Foot Stools
Suction Cups
Clamps
Magnets
Straps
Cushion or Foam Riser
Recommended First Guitar Support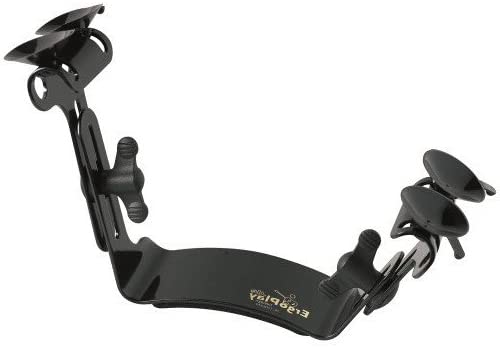 Ergoplay Tröster Support – You'll probably end up trying or using more than one guitar support for various reasons. Everyone wants something different from a support. Some want it to be strictly secure while others want maneuverability. Some want a small support to throw in their bag, others don't care about the size. That said, I'd recommend the Ergoplay Guitar Support (Amazon) as a starting point. I use the Tröster model and really like it but the Tappert model is okay too. The Tröster model is very adjustable, the suction cups are easy to use, and it's readily available. I really appreciate the close angle it brings the guitar into my body, I just can't seem to get that out of other supports. I don't love suction cups but I need the perfect positioning of the guitar above all else. I use this in almost all my videos these days.
My two favourite supports these days are the ErgoPlay Troster and the Guitarlift Support. I might be slightly more willing to trust the GuitarLift in concerts due to it's secure feel and reliable suction cups but I still mainly use the Ergoplay. Regardless, I highly recommend the ErgoPlay to students who are just starting out with supports.
A note about suction cups: Keep them clean by occasionally washing them with dish soap and warm water. It really helps. If you have issues with air gaps in your finish try a non-adhesive protective vinyl material. I use a non-guitar one called Grafix ClingViynl. I've used it on French polish and polyurethane finishes but I've been told not to use on lacquer finishes so use at your own risk, ask your luthier or maker. Also, I often use a black cloth/foam on my right leg to keep the guitar from slipping, just a basic Shelf Liner.
---
A Few More Favourites
This is an older video before I started heavily using the ErgoPlay Troster. Favourite Guitar Supports for more info on which ones Bradford likes the best and why. Most suction cups work really well especially with cling vinyl on the guitar. One note, if you have a matte or very porous finish on your guitar and can't get suction cups to work even with the cling vinyl stuff, I recommend you go with a clamp system such as the HB or Murata or the magnets of the Sageworks. A little update, I've also really been enjoying the newer Murata GR-1 with suction cups.
FYI, the non-adhesive protective and suction enhancing vinyl material I mention in the video is a non-guitar one called Grafix ClingViynl. I've used it on French polish and polyurethane finishes but I've been told not to use on lacquer finishes so use at your own risk, ask your luthier or maker. Also, I often use a black cloth/foam on my right leg to keep the guitar from slipping, just a basic Shelf Liner.
Links to My Full Reviews
Mentions (links to purchase)
---
Below is some older info from years ago but maybe still relevant to some people.
The Ergoplay Guitar Support (Most Popular)
Ergoplay Guitar Supports (Amazon) – There are a number of Ergoplay guitar supports out there and this is just one of the more traditional looking ones. The Ergoplay device fastens on via suction-cups. Get some static cling wrap (Suction-Cup Protector) if the tiny grooves in your polish cause reduced suction. These feel pretty good, places the guitar in a nice spot and allows the guitar to be movable. If the suction cup comes off on this one at least you still have gravity to help you compared to the Gitano et al. It's the most logic choice for the average person so choose this one if you don't know which support you should get. Recommended for students, I currently like the Tröster model.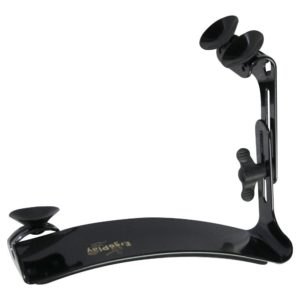 ---
The Gitano Guitar Support
Gitano Guitar Support (Amazon) – The Gitano Guitar Support is ultra simple and low profile so therefore one of my favourite and most used supports, especially for on-the-run rehearsals etc. It also just feels more natural to me as my right shoulder isn't elevated too much. It's simple, small, and can fit in your guitar case. I love it for practicing but I'm too scared to perform with this one. If the suction cup comes loose there is no gravity to keep your guitar up, everything will crumble. It only rarely comes off with my static suction cup protector mentioned above. Still a great buy and I would buy it again for teaching and practicing. I recommend this as an option to have around but not as your primary support..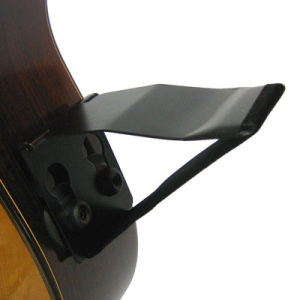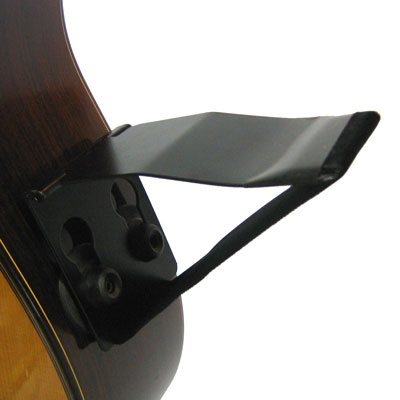 ---
Tenuto Guitar Support
Looks similar to the above Gitano model but adds more suction cups. Sadly the one with four cups doesn't fit my smaller guitar very well. I like how it folds over so it might fit in some cases. Order them from their website (tenuto.ca) via Calgary up here in Canada. I have two models from them, the Tenuto Lite (pictured on your left) and the Tenuto Slim. Also good is that the strap is adjustable so you can get micro adjustments going. PLUS, it has a pivot adjustment for angling your guitar inward to your liking. Depending on your guitar, two of the Tenuto Lite's suction cups don't always stay on as well as the others. Maybe because the wood of the guitar curves there is more pressure or not the correct angle on some of them? I really like the Slim though with their two giant suction cups but there is some flex to the large suction cup material that some people will not like. That said, it's an awesome support and feels good, I'd be happy using it.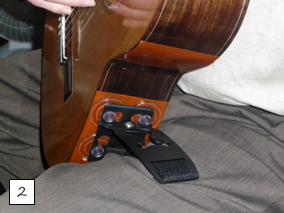 ---
Sagework Guitar Supports (Barnett)
Sagework Guitar Support (Amazon) – Say goodbye to suction cups or clamps! This guitar support uses magnets to keep your guitar support in place. You can read the full Review: Barnett Guitar Support Here. Innovative and one of the best solutions with altering the guitar.
Pros: It will not come off in performance. Clean and beautiful aesthetic. Very adjustable. Great design and build quality. The cork will not damage your finish. It is generally cooler than the other guitar supports out there.
Cons: Maybe the adhesive thing. You might have to bit careful when placing and removing the support but you should with any product near your guitar. Otherwise, none that I can see.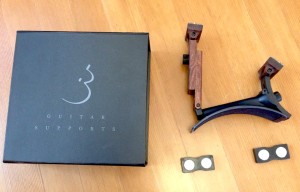 ---
Guitarlift
See my full review here or buy from their site. I love the Guitarlift for how stable it feels and how I can get the perfect playing position. A solid guitar support that feels great to play. It's on the big side but that is a small price to pay for something that works this well.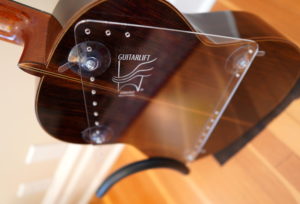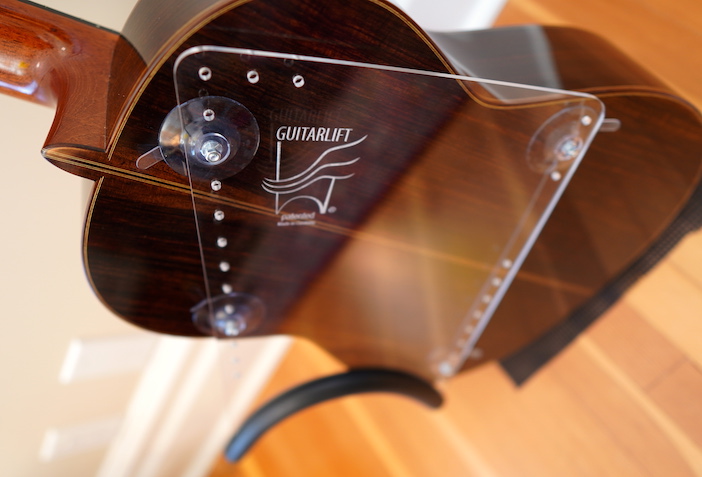 ---
HB Guitar Support & HB Lite Guitar Support
See my Full Review Here to learn more or buy.
I've been looking for a trustworthy support for performance using clamps instead of suction cups for a long time. I used to love my Murata but because the clamps are so wide they don't work on my raised fingerboard guitar because the top slopes down. Luckily, both the HB Support and the HB Lite support both work on my guitar since they attach lower on the instrument and the clamps are closer together. Read about the pros and cons at the full review.
---
Murata GR-2B, Guitar Rest
I've written a review of these: Review: Murata Guitar Rests (Ergonomic Guitar Support). Overall this is one of the better ones I've tried but I don't much like the fastening device which constantly frightens me into thinking I'm crushing my guitar. Plus, if you have a raised fingerboard where the body of your guitar is not uniform then this is a pain. Here's the quick of it:
Pros: simple, small, durable (metal all around), ergonomic sitting position, clamps are better than suction-cups
Cons: not highly adjustable (can't seem to get a steep enough angle), heavy, the body of my guitar is not an even width due to my raised fingerboard so I had to place foam supports on one side to make it work. Might wear down my french polish. Comes off sometimes. However, if you have a normal guitar it should work very well.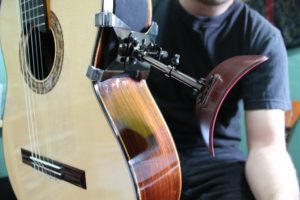 ---
Dynarette Guitar Cushion
People seem to love the Dynarette & Other Brands of Guitar Cushion but it's not for me personally. All I can say is I don't like the idea of having a loose object sandwiched between my guitar and my leg. I want to move the guitar up and down and side to side and not worry about loosing the cushion. Plus walking out on stage with it could be awkward. And it I think it looks dumb. It also makes squeeky sounds against the guitar polish. There should be a Seinfeld episode: "The Cushion". Nevertheless they are popular with everyone from professionals to students and I think it's a great solution for practicing. It's also super simple so WILL work.
---
Also see these specific reviews:
---