Trying out my new Murata GR-2B, Guitar Rest. I've always hated the ergoplay supports because I think suction-cups are a ridiculous thing to use in a concert situation. Violinist's have been using clamps for chin-rests for decades but the guitar world is just catching on now.
Pros: simple, small, durable (metal all around), ergonomic sitting position, clamps are better than suction-cups
Cons: not adjustable enough (can't seem to get a steep enough angle). The body of my guitar is not an even width due to my raised fingerboard so I had to place foam supports on one side to make it work (not great though). It will work better on normal guitars without a sloping top. Might wear down my french polish. Update: I put some extra washers under the screws and the angle is now great! Also, the original angle actually works well for most people and students.
Suggestions for Murata: just use a thick plastic clamp, it would reduce the weight. Instead of one big clamp with 4 legs, use 2 sets of legs that adjust independently so more people can use this on various guitar designs. Build in more adjustable angles, this will complicate the device, I appreciate the current simplicity, however, people want 'their' angles and sitting positions and may not conform to the 'closest thing'. Also, include English in the manual, Japanese is a bit hard to read…or at least one other language.
Conclusion: It is positive step in the right direction and I like it.  However, I look forward to improvements to its adjustability and a lighter weight model.
ps. The black felt on the bottom of my guitar has nothing to do with the support. It is for when I use footstools. It called: Kling-on: Non-Slip Stabilizer. Also notice the 'produce of Japan' on the box which makes me think its fresh veggies in there!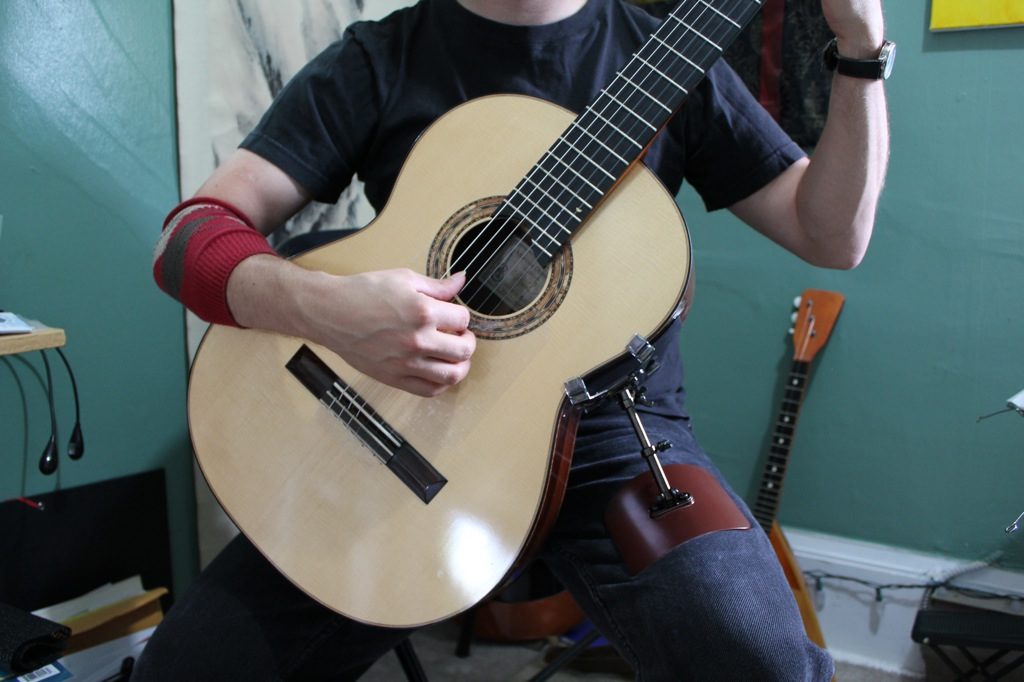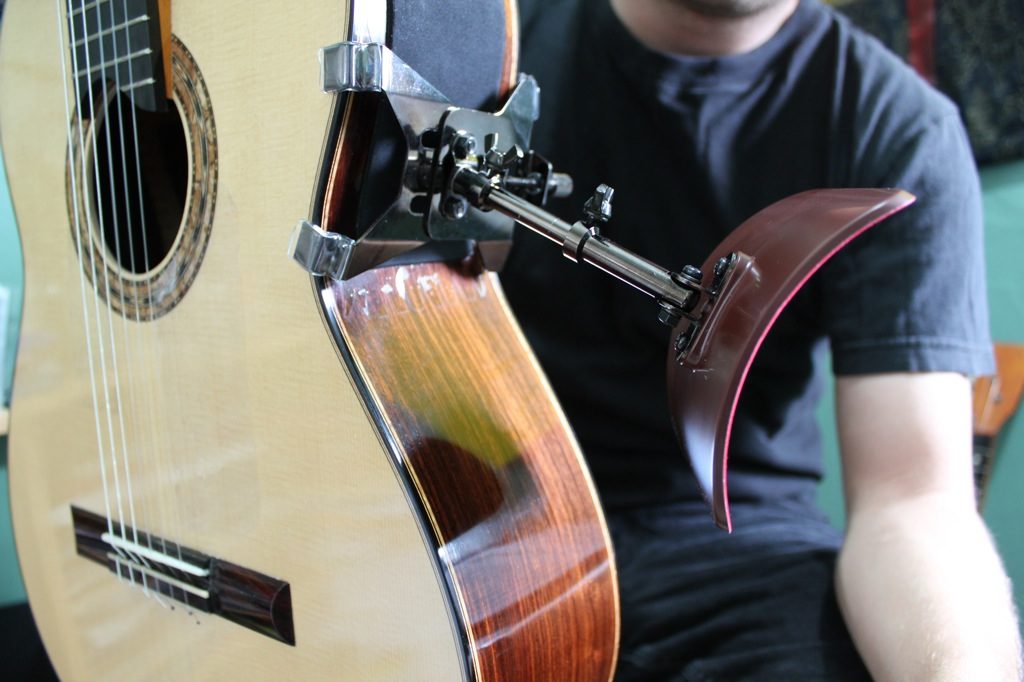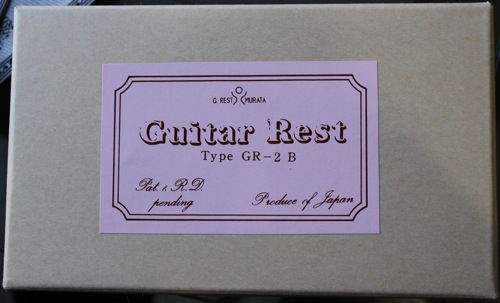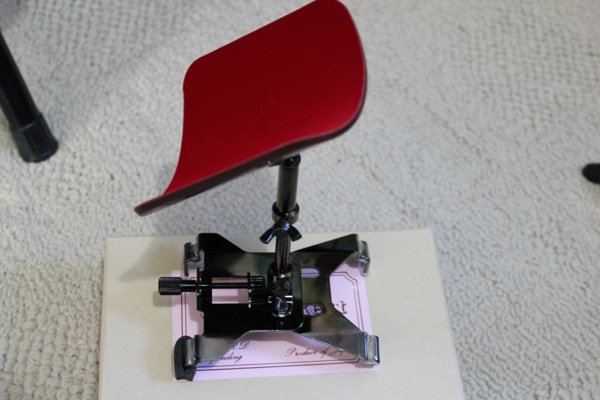 Here's what Strings by Mail has to say:
Murata GR-2B, Guitar Rest with adjustable feet, Black

$77.99

An excellent alternative to a footrest offering less stress on the lower back by helping to maintain a good solid playing position. Compact and portable, the GR-2 attaches to the base of the instrument with 4 rubber feet. The width of the feet is adjustable. The comfortable, molded plastic platform rests on your leg and is lined with fabric to prevent slipping. Its height is adjustable. The Murata Guitar Rest's (aka Aria Guitar Rest) collapsible, compact design can be stored in most guitar cases. Both right hand or left hand players will benefit from this wonderful guitar support.Minimum height +4″
Maximum height +5″
Note: Adjustment shaft can be cut down to a lower custom height.
Note: Will not fit correctly on guitars with tapered bodies as the support arms are square.