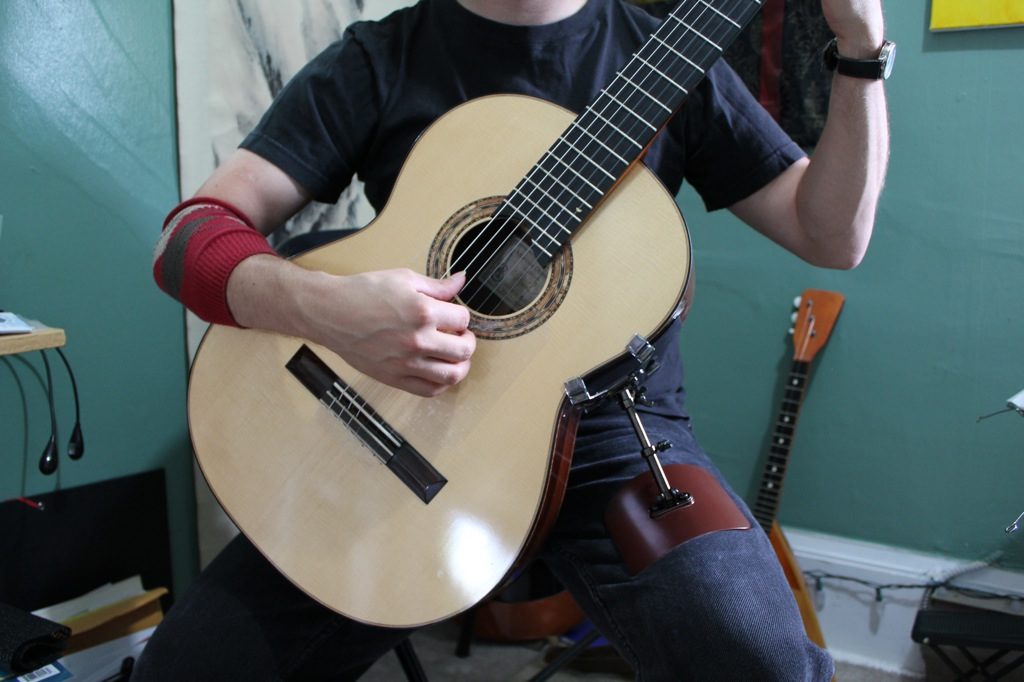 A review of the Murata GR-2B, Guitar Rest. Clamps instead of suction cups make a ton of sense. Violinist's have been using clamps for chin-rests for decades but the guitar world is just catching on now.
Pros
Relatively simple and small design. I love minimal.
Durable
Ergonomic Position
Clamps are better than suction-cups
Feels secure and solid, completely trustworthy in performance
Cons
Not adjustable enough. The body of my guitar is not an even width due to my raised fingerboard so I had to place foam supports on one side to make it work (not great though). It will work better on normal guitars without a sloping top.
TAKE NOTE: Murata now has a suction cup version which is probably very good. Because the angle is straight up and down I think the suction cups will hold well. I have it on order and will review it soon.
If you are worried about your guitar's finish, try a non-adhesive protective vinyl material. I use a non-guitar one called Grafix ClingViynl. Just put it on the guitar where the clamps attach. I've used it on French polish and polyurethane finishes but I've been told not to use on lacquer finishes so use at your own risk, ask your luthier or maker. Also, I often us a black cloth/foam on my right leg to keep the guitar from slipping, just a basic Shelf Liner. 
Suggestions for Murata: Make an adjustable clamp like the Woodside Guitar Support. Build in more adjustable angles, this will complicate the device, I appreciate the current simplicity, however, people want 'their' angles and sitting positions.
You can also check out my dedicated page for Guitar Supports and all my other reviews.