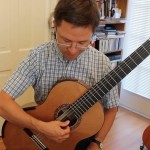 This is a new video lesson for my ebook: 20 Favorite Exercises for Classical Guitar – For beginner to intermediate classical guitarists (Includes: notation, TAB, fingerings, practice tips). I've been meaning to re-record some of these with better video quality.
This exercise, No. 8 – Right Hand Cross-String Exercises (open strings) for Classical Guitar, aims to expose the beginner player to what is required of alternating fingers during awkward string crossings.Because the right-hand approaches the strings at an angle, certain fingers are closer to certain strings. However, we often need to alternate the fingers so awkward fingerings appear often. This exercise is designed to get you comfortable with the cross-strings. Use one right-hand position only, that is, don't change your hand position when the patterns change. Try all free-stroke but then try a light rest-stroke in the thumb while maintaining free-stroke in the fingers. I walk through the exercise and then give a lesson with a few tips.
When watching the video click the cog button to view in HD.

Video Link & Source: This is Classical Guitar on YouTube