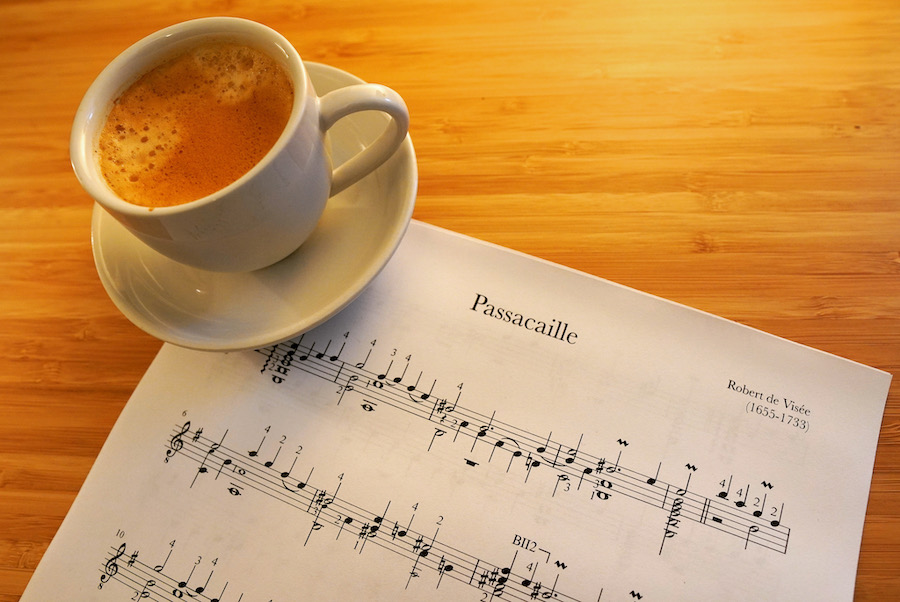 Classical Guitar Courses – Video lessons and sheet music organized into flexible courses of study. Also see my Lesson Page which lists all the individual lessons and organizes them by topic or the Sheet Music Page for my books.
How it Works
I offer books with free video lessons as courses of study. All the video lessons are free, offering more flexibility than a monthly subscription site. For as little as ten dollars for the book you'll receive months to years of practice and access to the material forever. For a more detailed outline of how to learn from my series of books and videos see my page on How to Use my Educational Series.
Classical Guitar Courses for Beginners
Classical Guitar Method – Vol. 1 (

Free PDF

) – My beginner method has video lessons for everything. This represents at least 6 months to a year of study for the absolute beginner. Less time will be needed for students that have more experience.
Classical Guitar Method Vol. 2 – This is a continuation of the above book and also has video lessons. This is a study of common key signatures and styles of playing as well as a rhythm section and more.
Classical Guitar Courses for Intermediates
These books are for students who have completed my method books and want to be guided through repertoire as they progress. This is a natural way to learn and very focused on learning to play pieces and gradually acquiring new skills. The aim here is to improve while enjoying great repertoire. You may want to pair these with my technique book to create a comprehensive routine.
Technique and Etude Courses for Classical Guitar
Classical Guitar Technique: Essential Exercises, Scales, & Arpeggios – 122 pages, Video lessons. You can start this book anytime after Volume 2 method and continue with repertoire lessons. This book focuses on essential exercises for the development of classical guitar technique. All the exercises from the headings of the table of contents progress from easy to advanced in a progressive format. Although this is a book of exercises rather than a method, I have included many helpful tips throughout the book to aid students. As with all my materials, the video lessons are an added educational advantage.
20 Favorite Exercises, Notation + TAB, Video lessons, Grade 1-6. Great for crossover students or a boost. Not as comprehensive as my full technique book but this is perfect for some people that want a more compact set of exercises and need tab.
Fretboard Orientation Exercises – Coming Soon
Ten Classical Etudes, Grade 4-7, videos lessons, Notation or TAB. This is a great book for intermediate students who want to progress through a set of pieces designed with specific educational and musical goals in mind.
Repertoire Courses for Classical Guitar
All of these have videos to watch, notation editions, and TAB editions. These can either supplement my method books or just be an enjoyable way to learn through repertoire.
Free multi-part or long lessons
See the lesson page for tons more.