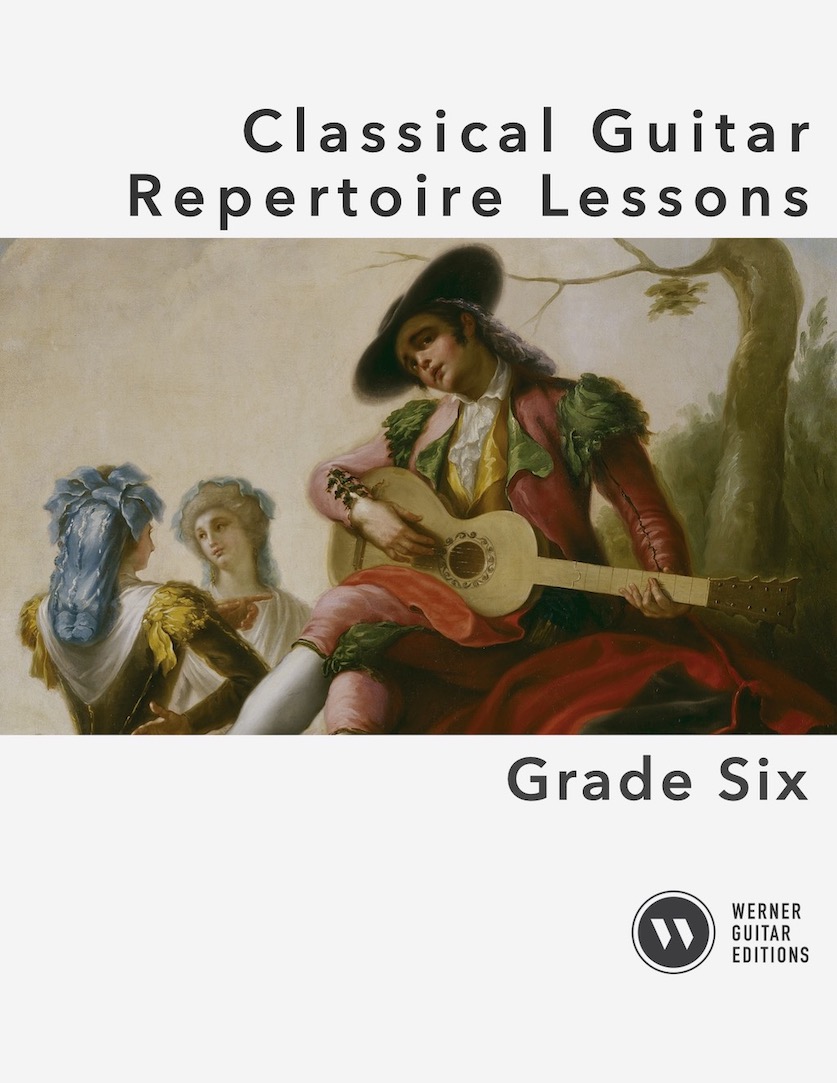 Classical Guitar Repertoire Lessons Grade 6 – PDF or Hardcopy Method Book with dedicated lessons and pieces in notation with fingering. A TAB supplement at the end includes the pieces (not the lessons). Before each performance edition there are two or three pages of lesson material to teach you concepts and prepare you to play the pieces. Watch the free video lessons for each piece in the book. This item is a PDF Download. 55 Pages. 2021 Edition.
Buy the PDF from My Sheet Music Store
Hardcopy Print Editions on Amazon
This book teaches classical guitar repertoire at the grade six level. The level is appropriate for students who have completed my Grade 1 to 5 Repertoire Lesson books. Although the technical requirements of this grade are higher than grade five, there are fewer new concepts and techniques to introduce so the focus will be on interpretation, historical awareness, and technique exercises that help you prepare the music.
Repertoire – Each piece has two or three pages of lesson material followed by a proper performance edition.
Fortune, My Foe by John Dowland (1563-1626)
Preludio from Sonate VII by Ludovico Roncalli (1654 – 1713)
Study No.15, Op.35 by Fernando Sor (1778-1839)
Caprice No.13, Op.100 by Mauro Giuliani (1781-1829)
Nocturne Op.4, No.3 (Maestoso-Vivace) by Johann Kaspar Mertz (1806-1856)
Video Performances and Lessons for this Book
---
Cover image is for promotion only, the PDF is a plain text cover. Image: El majo de la guitarra by Ramón Bayeu (1744-1793) and is in the public domain.