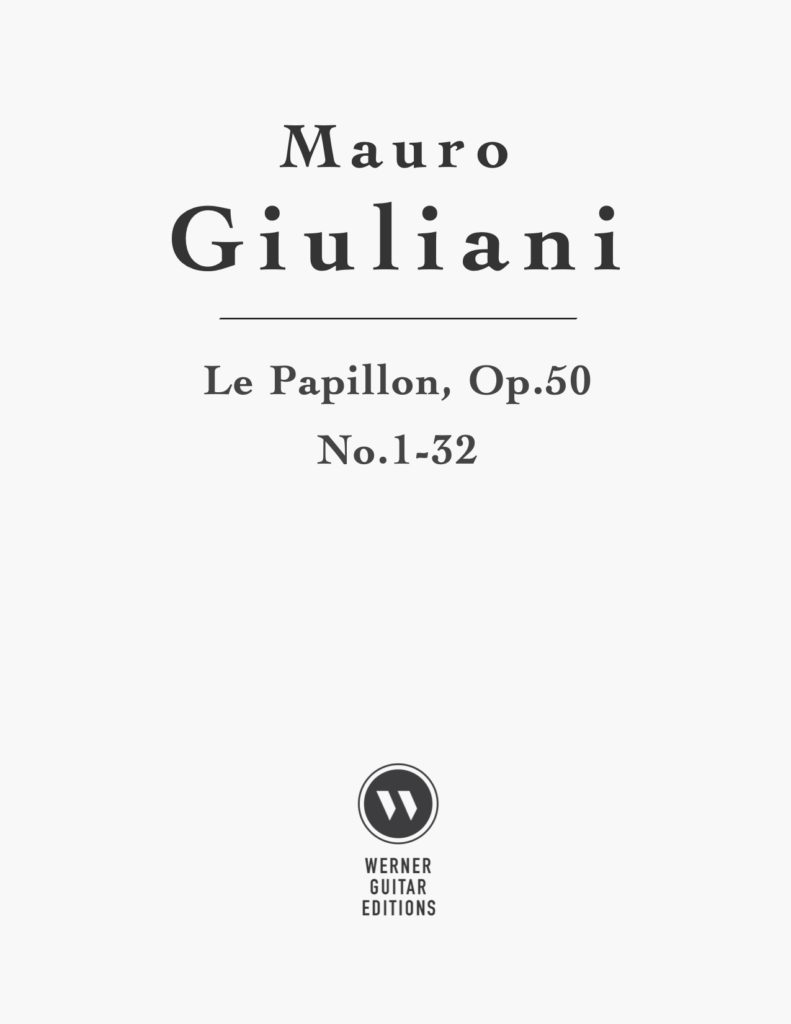 Le Papillon, No. 1-32, Op.50 by Mauro Giuliani (1781-1829) – PDF Sheet Music for Classical Guitar. Includes both a notation-only edition and tab edition. Easy to mid-intermediate level, approximately grades 1-7 with the majority of the works in the grade 3 -5 range. 116 pages. PDF download.
My PDF Sheet Music Edition
Hardcopies via Amazon: Amazon.com, Amazon.ca, Amazon.co.uk or your country's Amazon.
Le Papillon (The Butterfly), Op. 50 by Mauro Giuliani consists of 32 pieces published by Giuliani in Vienna in 1815. The works are presented progressively from easy to mid-intermediate depending on the tempo. Le Papillon is a beautiful set of works which are perfect for students, professionals playing gigs, or players looking for nice intermediate pieces to practice or perform.
Video Performances and Lessons
I'll be completing these videos over the next few months. Grading is very flexible depending on your tempo and technique level.
No.1, Op.50 – Andantino – Grade 1
No.2, Op.50 – Grazioso – Grade 2
No.3, Op.50 – Allegretto – Grade 3
No.4, Op.50 – Grazioso – Grade 4
No.5, Op.50 – Allegretto – Grade 4
No.6, Op.50 – Allegro – Grade 6
No.7, Op.50 – Andantino – Grade 5
No.8, Op.50 – Allegretto – Grade 5
No.9, Op.50 – Andantino – Grade 5
No.10, Op.50 – Allegro – Grade 5
No.11, Op.50 – Grazioso – Grade 2
No.12, Op.50 – Allegretto – Grade 3
No.13, Op.50 – Allegro – Grade 3
No.14, Op.50 – Andantino – Grade 3
No.15, Op.50 – Allegretto – Grade 4
No.16, Op.50 – Vivace – Grade 3
No.17, Op.50 – Allegretto – Grade 5
No.18, Op.50 – Allegretto – Grade 4
No.19, Op.50 – Tempo di polacca – Grade 4
No.20, Op.50 – Allegretto – Grade 3
No.21, Op.50 – Andantino – Grade 4
No.22, Op.50 – Allegretto – Grade 4
No.23, Op.50 – Grazioso – Grade 4
No.24, Op.50 – Allegro – Grade 4
No.25 – Andantino grazioso – Grade 7
No.26 – Allegro – Grade 7
No.27 – Andantino
No.28 – Andantino
No.29 – Allegretto
No.30 – Andantino
No.31 – Allegretto
No.32 – Allegro
Promo Images and Samples