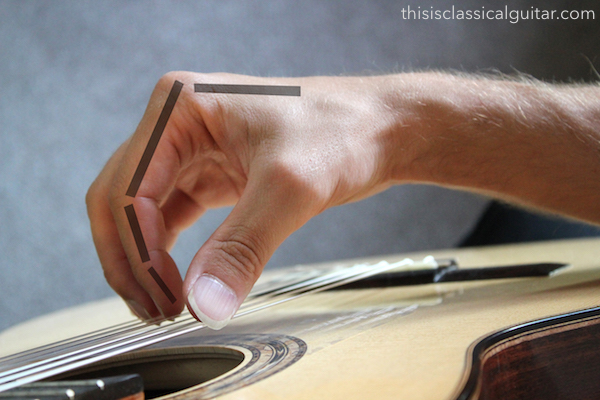 Question from a reader:
Is it ok to collapse the fingertip joint in the right hand when playing guitar? He had seen one of my videos and saw me do it.
Answer:
For me, and my students, I believe that as long as your fingers are relaxed and moving from the main top knuckle (attached to palm), that is, the fingers are moving inward, toward the palm, it is ok to collapse, especially when playing slower and lighter.
I will say, however, that when playing faster and more forcefully I do not collapse. In the videos, because I'm playing slowly and somewhat light I collapse the tip joint since I'm relaxed. It makes no sense for me to force myself or students to not collapse the tip joint while simultaneously telling them to relax and not tense up. I recently had a student who spent the summer trying to not collapse and couldn't do it at slower speeds, however, she had no problems with her playing. She had someone tell her to not collapse so she tried to avoid it. I suppose if a student was collapsing while I told them to play loud or fast I might object to the collapse as it is a loss of energy due to the reduced power ratio when a joint collapses. Take the analogy of holding a heavy grocery bag with your fingers extended or curled. The curled fingers have a much higher power ratio. However, that does not mean they are relaxed.
So I suppose my answer is YES and NO.
I recommend you focus most on using a healthy hand position, moving the fingers in toward the palm, and relaxation. Let the tip joint do as it may but realize that there is some power loss there. I think the upper knuckle should be the primary focus but if you want a good power ratio you probably should not collapse. I'm not very picky about the tip joint but very picky about the finger movement.
Just remember, there is no question that you do not collapse in the LEFT hand! Don't ever confuse that one!
You can find more free lessons at the lesson archive page. For more free weekly lessons join the Email Newsletter for updates and please consider donating to the site or sharing this post.
Books to consider