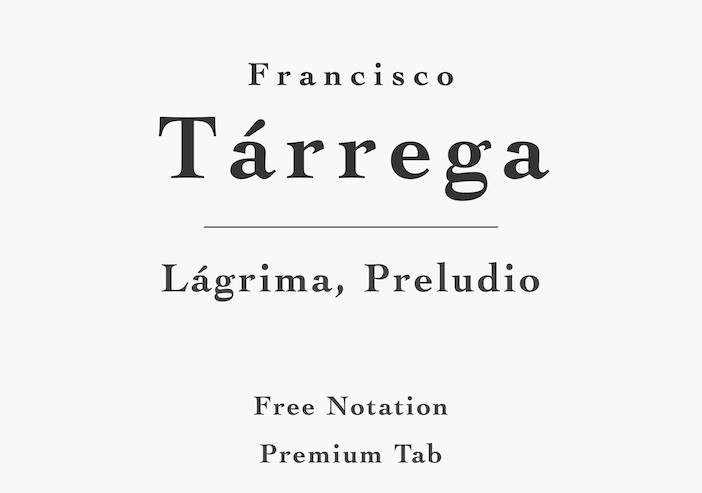 Lágrima, Preludio by Francisco Tárrega (1852–1909) – Free Sheet Music for Classical Guitar in Notation or Notation + Tablature (TAB) Edition. Level: Intermediate (Grade 4). YouTube Lesson Video Link. Here's a free sheet music edition of one of the most beloved works in the repertoire, Lágrima [Tear] – Preludio by Francisco Tárrega (1852–1909). It has become one of the most famous works in the repertoire. I've made a free copy to attract guitarists to the site and a tablature (tab) version for those who need it. This is a nice short work that is often played by students and professionals. You can also find the tab as a hardcopy in my Classical Guitar Tab book on Amazon. Join the Email Newsletter to get updates on free sheet music and more. Please consider donating to the site to keep the free sheet music coming.
Free Sheet Music Edition
Free Unfingered Edition
Buy the TAB Edition (PDF)
Or in my Grade 4 Repertoire Lessons Book
Video Lesson & Performance
This piece is available as an individual selection or in my grade 4 book (see below). YouTube Video Lesson Link. This iconic piece is part of many professional guitarist's repertoire, so congratulations on reaching this level. You will notice some difficult sections in this short and sweet work, but don't get discouraged. I've taught this piece to many students, in fact I make every grade 4 student play it. Since it is such a popular work, there are thousands of examples of students playing in on YouTube and at recitals. I assure you that the difficulties can be overcome with patience and practice. My lesson covers: Some note and scale review for fingerboard knowledge. Playing the melody to help your phrasing and to orient yourself before playing all the accompaniment. Three ways to practice the difficult part from bar 5-7.
Below is the past video for the individual piece. Youtube Video Lesson Link.