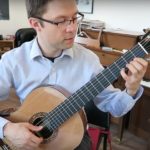 This is a lesson from my eBook:
Easy Classical Guitar Pieces- Volume One
PDF Download with Notation & Notation + TAB Edition
15 Easy Songs Ranging from Renaissance to Romantic
Fingering, Online Video Lessons for Each Piece
Approximate Grade Level: Post-Method Book to RCM Grade 3
Andantino Op.50, No.1 by Mauro Giuliani (1781-1829). This is a great piece for learning about the classical texture and melody with varied accompaniment. It's pretty easy once you get a handle on the fingering. Make sure to shape the melody in a similar way in both the first half and second half.

Video Link & Source: https://youtu.be/n7oXrmiuuoU