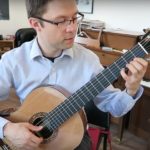 This is a lesson from my eBook:
Easy Classical Guitar Pieces- Volume One
PDF Download with Notation & Notation + TAB Edition
15 Easy Songs Ranging from Renaissance to Romantic
Fingering, Online Video Lessons for Each Piece
Approximate Grade Level: Post-Method Book to RCM Grade 3
Moderato by Ferdinando Carulli (1770-1841). This is one of those pieces from the classical guitar repertoire that truly is better on guitar than other instruments. The piece is essentially just arpeggios but for some reason they sound good on guitar despite the lack of more musical content and students tend to like it. I've included it in the book for its exciting pace, simplicity of technique, and etude quality.

Video Link & Source: https://youtu.be/OeXfTI2QH0Y