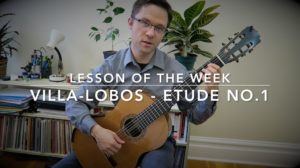 A full video lesson tutorial for Etude No. 1 by Heitor Villa-Lobos (1887-1959) for classical guitar. I go through 4 main ideas, the right hand fingering, left hand fingering, how to navigate from chord to chord, and differences between editions. Along with Sor, Giuliani, Carcassi, and Brouwer, the Villa-Lobos etudes are the part of the core etude repertoire.
Sheet Music: I recommend this edition: Villa-Lobos Etudes (Zigante). Or you can get the old version (some differences and errors) but has the complete solo works including the preludes, suite, and etudes: Villa-Lobos complete works for solo guitar.

Video Link & Source: https://youtu.be/7h3nnroK85o
---
Technique Time
You might also want to study a technique book to pump up your skills, you can check out my review of classical guitar technique and exercise books.
Additional Videos from Others
Sanel Redžić plays Etude No. 1 by Heitor Villa-Lobos

Video Link & Source: https://youtu.be/2rDACGrwHoU
Denis Azabagic teaches Etude no 1 by Heitor Villa Lobos Lobos

Video Link & Source: https://youtu.be/own-HFbRVzA
Jorge Caballero plays Villa-Lobos Etude No.1

Video Link & Source: https://youtu.be/DkT8-5lZ-Jg