Prelude from Cello Suite No. 1, BWV 1007 by Johann Sebastian Bach (1685-1750) – PDF sheet music for classical guitar with free video lesson and performance. Includes both a notation-only edition and a tab edition. Prelude edited for guitar in D Major. Originally in G Major for Unaccompanied Cello. The level is around Late-Intermediate (Grade 7).
My PDF Sheet Music Edition
I'm offering a few editions here: a free unfingered edition, fully fingered notation edition, tab edition, and two non-editorial editions of the entire suite so players can compare their scores to the originals. This iconic work is great for performance and also a favourite for gigs and weddings, in particular, the signing. You can have a free pdf unfigerned edition here. Here's the YouTube Lesson Link if you want to watch it there.
---
Samples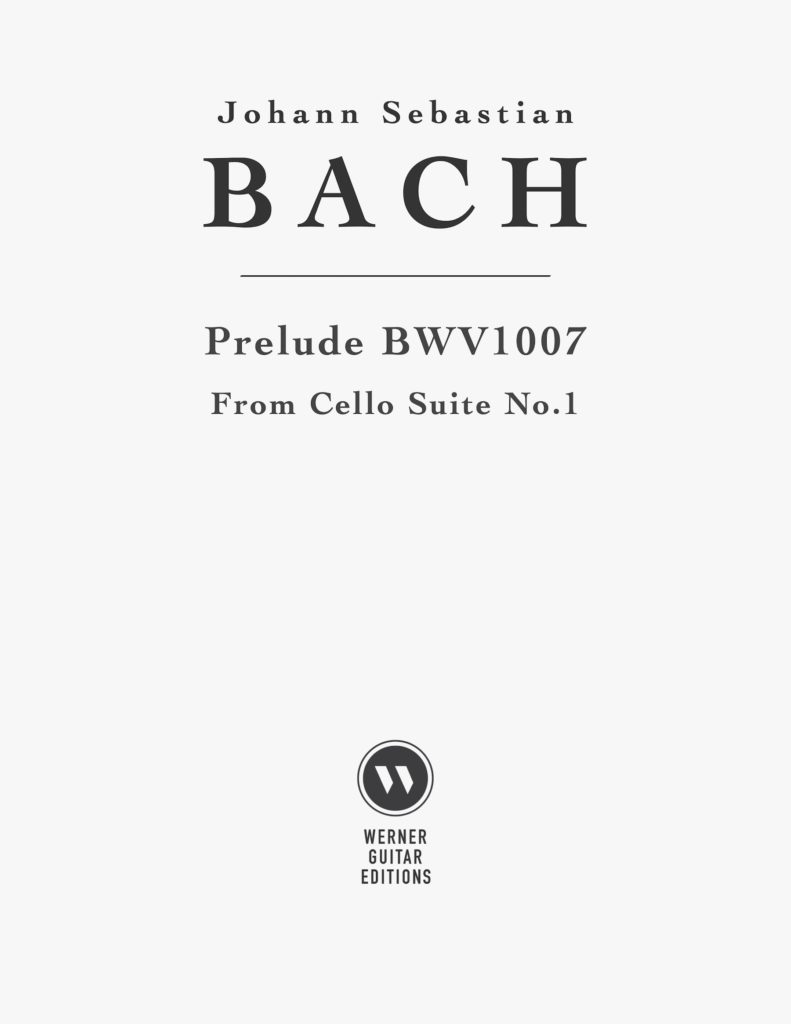 ---
Free Non-Editorial Score (Entire Suite) – Presented in treble clef and transposed to alternate keys. No fingerings or unnecessary octave transpositions. Useful as a reference, comparison score, a basis for your own arrangement, or a simple clean score for performance. However, I would recommend you look at an editorial edition or consult your teacher if you are not comfortable making informed decisions about Bach on the guitar. I don't consider this an "edition" at all, just a transposed facsimile.
---
Free Cello Score References for errors and bowings/slurs:
For bowings and other reference please see the following editions. Students are highly encouraged to look at bowing for clues as to how they contribution to interpretation, articulation, and motivic and compositional devices used by Bach.
Cello Suites: Bach-Gesellschaft PDF
Bach-Gesellschaft Ausgabe, Band 27.1 (pp.59-94)
Leipzig: Breitkopf & Härtel, 1879. Plate B.W. XXVII (1).
Editor: Alfred Dörffel (1821-1905)
Cello Suites: Anna Magdalena Bach Copy PDF
Manuscript, n.d.
Public Domain
D B Mus. ms. Bach P 269
Cello Suites: Johann Peter Kellner Copy PDF
Manuscript, n.d.(ca.1726).
Kassel: Bärenreiter, No.5215/5216, 2000.
Public Domain
More versions/editions can be found at:
http://imslp.org/wiki/6_Cello_Suites,BWV_1007-1012(Bach,_Johann_Sebastian)