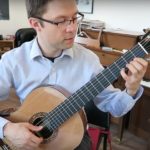 This is a lesson from my eBook:
Easy Classical Guitar Pieces- Volume One
PDF Download with Notation & Notation + TAB Edition
15 Easy Songs Ranging from Renaissance to Romantic
Fingering, Online Video Lessons for Each Piece
Approximate Grade Level: Post-Method Book to RCM Grade 3
Andante (from Schule für die Guitarre) by Johann Kaspar Mertz (1806-1856) for classical guitar. This is a great little piece reminding me of Chopin with some Schubert in there too! Great melody with some lush chords to fill out the texture. Make use of the dramatic gestures and accents and shape the melody as you might sing it.

Video Link & Source: https://youtu.be/Fld5D0E5_Z8