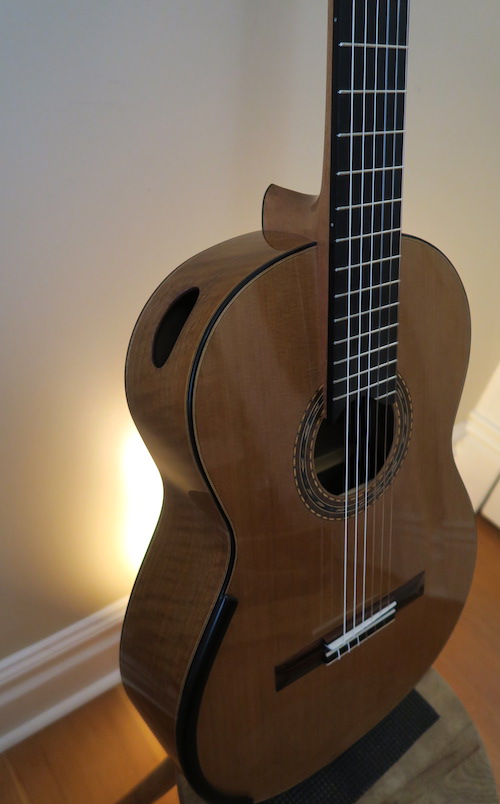 My experience with soundports: Sound portals are a bit strange at first because you'll hear a whole new range of overtones, not to mention a volume increase while you play. However, I find it a bit odd because who ever hears a guitar that close-up? It's like putting your ear right next to the sound hole. Nevertheless, it's great for chamber music so the other musicians can hear me on the stage (or so I can hear myself!). Since the portal projects sound in a direction other than straight toward the audience, everyone on stage can hear me. However, this often made me feel as if I was playing too loud all the time. Some observers in audiences have commented on increased volume when I opened the portal but I suspect this aspect is minimal at best. Maybe sound waves bounce around the room a bit more in different directions?
Maybe the best reason to have a sound portal is that it gives you a confidence boost. It might deceive you too, making you think you are playing loud when in fact you are not. However, it sure can be nice if you're practicing in a dead sounding room.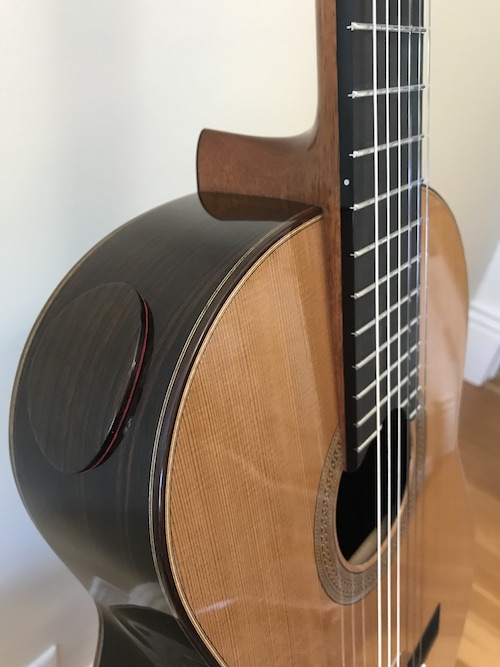 Magnetic Portal Covers: An excellent solution to the pros and cons are to get a magnetic portal cover so you can close the portal or even have it half open. Then you have the option of the portal but only when/if you want it. See a small video of the magnetic soundport on my Scott Guitar via Instagram.
Please note: The quotes below are brief and therefore often a bit out of context so follow the source link and read what the luthier or player has to say.
Stephen Connor (luthier) on Sound Portals:
The sound portal is something that I have been experimenting with for years, the prototype developed in the 90's. It consists of an elliptical opening in the side of the guitar facing the player which increases the volume of the instrument to both the player and the audience by reducing the cancellation of sound waves making the instrument more efficient. It can be closed, partially or fully, with a door that is held on using magnets. Closing the portal can be advantageous during duets with a quieter instrument. The bracing patterns developed in tandem with the portal feature interlocking braces of the highest quality-bracing stock. This system creates a guitar that is exciting to play, extremely RESPONSIVE, with amazing volume and all the tonal colors found in the finest traditional guitars-perhaps even more…. from Connor Guitars

Photo via Connor Guitars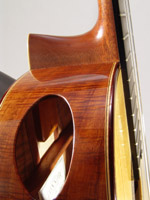 Fritz Mueller (luthier) on soundports:
Acoustic ports function something like the soundhole in that they work in partnership with the inner air resonances of the instrument to release sound from the instrument. But the sound that comes from the port is primarily (if not entirely) for the player's benefit, allowing the player to hear the sound of the guitar more completely. In modern, highly projecting guitars, this is particularly beneficial.

Acoustic ports on the sides near the neck have little or no effect on the sound that the audience hears at the front of the guitar. This is perhaps surprising and somewhat counterintuitive, as most people (myself included) initially think that there would be a loss of sound. This is easy to test, however, by covering and uncovering the acoustic port while playing. via Fritz Mueller's website

Photo via Fritz Mueller's website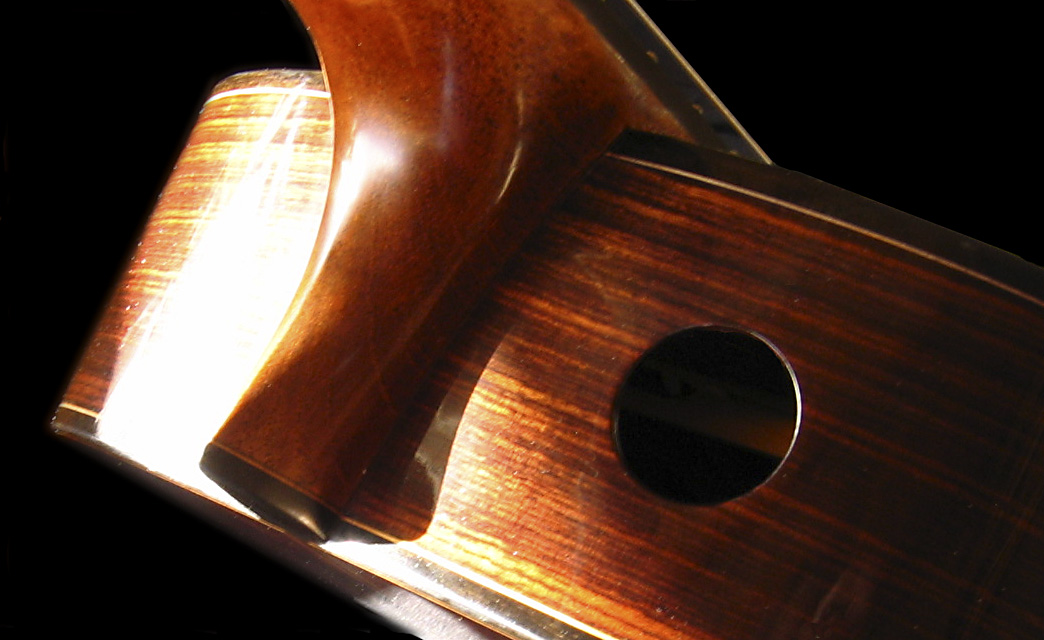 Marcus Dominelli on Soundports
Soundports help the player hear the guitar, obviously. This can be useful in ensemble situations, on stage, or if the player simply wants to hear more of the guitar.

Good concert guitars are built to project the sound outward, and sometimes this can compromise the "near field" sound. Soundports can help compensate for any near field weakness. Guitars made with really thin sides, like those built on a Torres design, do not really need a soundport, because the sides are so thin that they already resonate quite a lot of sound toward the player. Guitars with thicker solid sides, laminated sides, or that have a laminated back, will sound better to the player with a soundport.

I decided to make my soundports available with a magnetically fitting cover, so that the player can fine tune the amount of sound coming out. Fully open, ports can sometimes be too loud or distracting to the player, so it's nice to be able to fine tune the sound by sliding it to the desired openning. This photo shows the port half covered. via Dominelli Guitars

Photo via Dominelli Guitars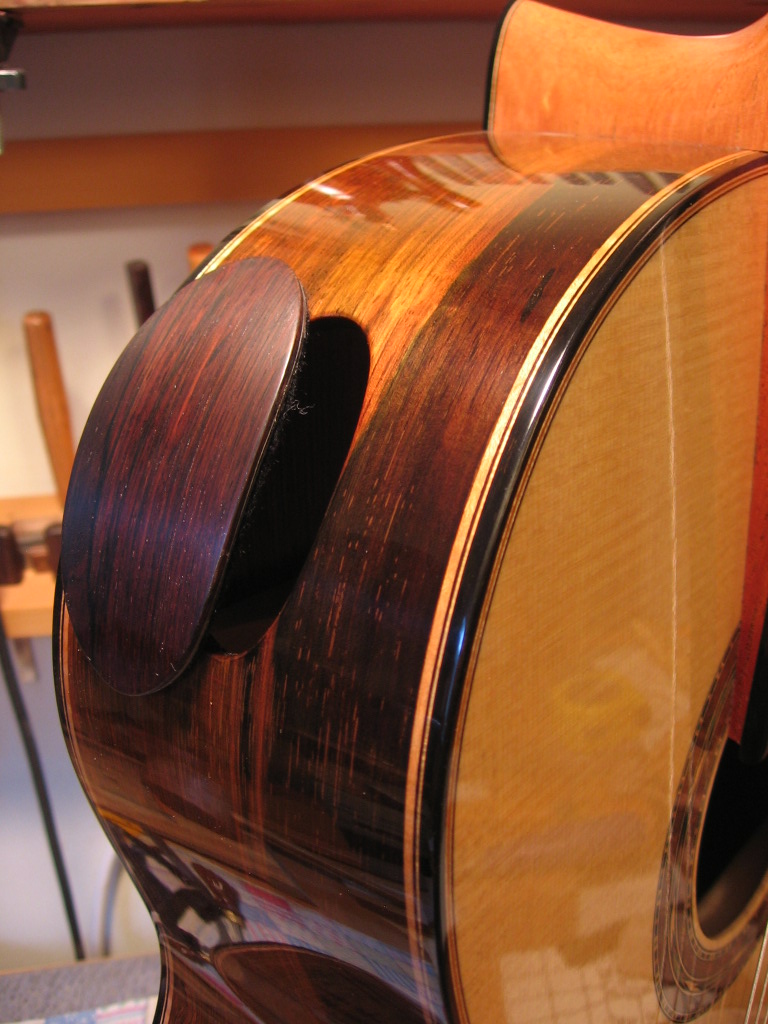 ---
In perspective:
Peter Oberg (luthier):

In the last ten years I've built at least 60 guitars with sound ports in them, which clearly suggests that I believe in them. There is no empirical evidence that ports in the sides bleed sound away from the soundhole. You have to remember that there is also sound coming off of the top, not just out of the soundhole. My personal instruments will always have ports-I can't imagine not having them. It's kind of like high speed internet in that way. via Peter Oberg via Delcamp
Alan Carruth (luthier):

The overall result was that opening a port seemed, in my tests, to give perhaps a 1-2% increase overall in power. This is not much: it takes a near doubling of power for a sound to seem twice as loud if the spectrum remains unchanged. Interestingly enough, the amount of the volume change did not seem to vary much with increasing port size. Apparently the broad band decrease tends to balance out any narrow band increases.

Since our ears are set up to detect changes (things that don't change, like rocks, won't eat you, and you can't eat them, so why bother?) people in listening tests will often react very strongly to the opening of a port. The immediate impression is that the guitar is much louder. However, once they get used to the change, people are not so sure. We're going to do some more testing on that one soon, I hope. via Alan Carruth on Delcamp [follow this link for a pretty big comment by Alan with lots of info…]
---
Have you read this?
I found this abstract and citation via liutaiomottola.com, if anyone has read the article leave a comment below.
Abstract
A blind listening evaluation of classical guitar soundports was performed to ascertain whether players could hear the difference between an instrument with an open port and the same instrument with a closed port, all in a context that is representative of a player's instrument selection decision. The study was conducted to comply with the specifications detailed in standard ASTM E 2139-05, Standard Test Method for Same-Different Test from ASTM International (formerly called the American Society for Testing and Materials). Twenty four guitar player subjects were recruited to play a single guitar twice while blindfolded. In each of these two trials the open/closed port configuration of the guitar was selected at random. After playing the instrument in each port configuration the subject was asked to indicate whether there was or was not a difference heard between the two configurations. Results of this experiment indicate that the port open and port closed states are not perceivably different.

Citation
Mottola, R.M. "Blind Listening Evaluation of Classical Guitar Soundports" American Lutherie #96, 2008, p. 54.
---
What has your experience with soundports been?
If you are a player or luthier please leave a comment below.