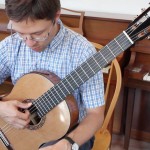 This is a new video lesson for my ebook: 20 Favorite Exercises for Classical Guitar – For beginner to intermediate classical guitarists (Includes: notation, TAB, fingerings, practice tips). I've been meaning to re-record some of these with better video quality.
This exercise & lesson, No. 15 – All in One Arpeggio Pattern Classical Guitar, is a great way for intermediate guitarists to practice a number of difference arpeggio patterns all at once. The video walks you through the exercise and gives a small lesson.
When watching the video click the cog button to view in HD.

Video Link & Source: This is Classical Guitar on YouTube