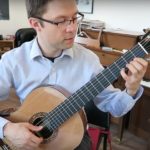 This is a lesson from my eBook:
Easy Classical Guitar Pieces- Volume One
PDF Download with Notation & Notation + TAB Edition
15 Easy Songs Ranging from Renaissance to Romantic
Fingering, Online Video Lessons for Each Piece
Approximate Grade Level: Post-Method Book to RCM Grade 3
Waltz Op.121, No.1 by Ferdinando Carulli (1770-1841). This is a quintessential classical era piece with a nice melody and arpeggiated accompaniment. Make sure to phrase and shape the melody and have it come out more than the accompaniment and bass. From loudest to softest: melody – bass – accompaniment.

Video Link & Source: https://youtu.be/PdiM-T3LSoQ