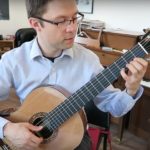 This is a lesson from my eBook:
Easy Classical Guitar Pieces- Volume One
PDF Download with Notation & Notation + TAB Edition
15 Easy Songs Ranging from Renaissance to Romantic
Fingering, Online Video Lessons for Each Piece
Approximate Grade Level: Post-Method Book to RCM Grade 3
Andante Op.35, No.1 by Fernando Sor (1778-1839). This one is a classic Sor study and an interesting study of right hand fingering. The left is fairly straight forward and melodic but work out the right hand fingering to always be alternating the fingers.

Video Link & Source: https://youtu.be/KPmJamf_zt0