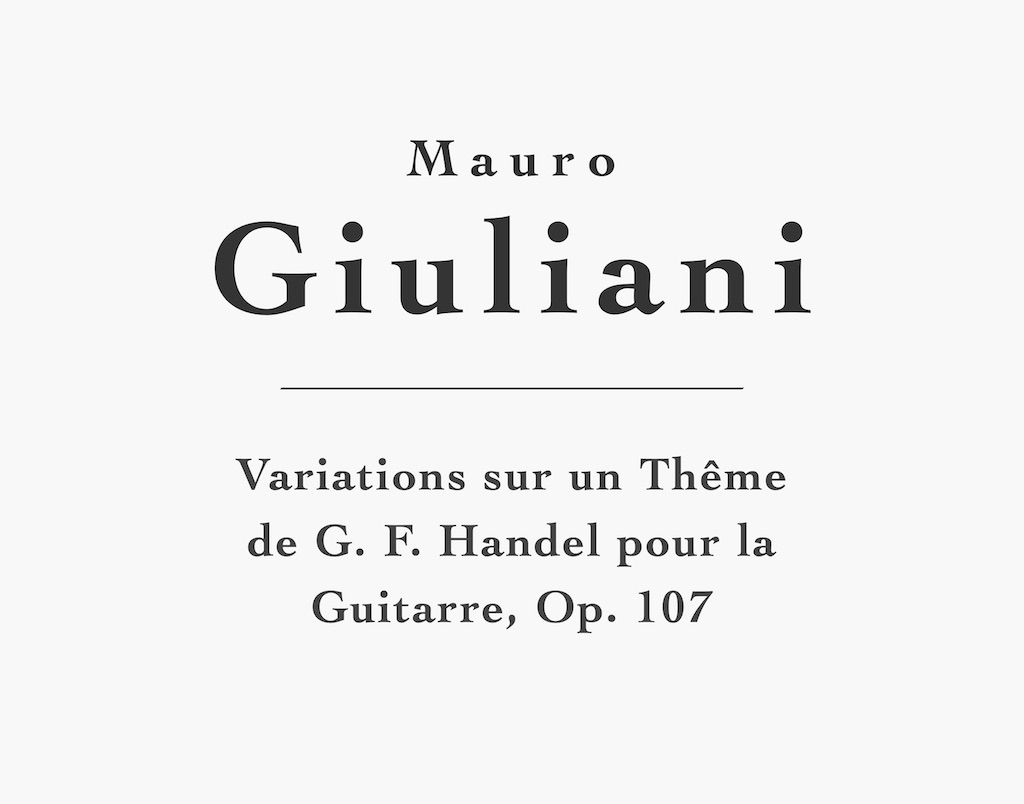 Variations sur un Thême de G. F. Handel pour la Guitarre, Op. 107 by Mauro Giuliani (1781-1829). Sheet Music & Tab for Classical Guitar with both a Notation-Only Edition and Notation + TAB Edition. Left hand fingering. PDF Download. Depending on your tempo I'd say the level is late-intermediate (Grade 7) in terms of basic playing but performing the whole work at a pro tempo is advanced (Grade 9-10).
Sheet Music or Tab (PDF)
Variations on a Theme by Handel Op.107 is one of Giuliani's most popular set of variations. The theme comes from popularly nicknamed The Harmonious Blacksmith, the final movement, Air and variations, from Suite No. 5 in E major, HWV 430, for harpsichord by George Frideric Handel (1685-1759). Giuliani does not follow Handel's variations but simply uses the theme and writes his own set.
Performance Video
Here's my video using the same fingerings as the edition. Youtube Link.
I grew up listening to John Williams play this piece so I'm very settled into his tempos and articulations. The musical ideas are clear and exaggerated.
Pretty clean and clear playing with a rushed feel (not in a bad way). Almost a Glen Gould approach! Some intense tempos in the later variations!