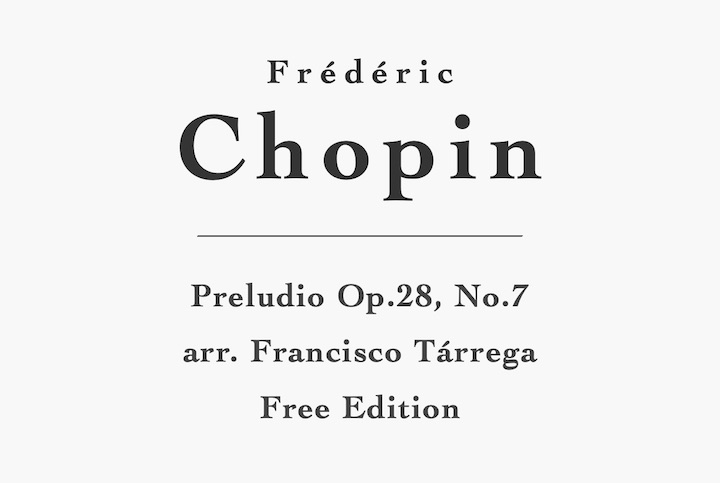 Preludio No.7, Op.28 by Frédéric Chopin (1810-1849) – Arranged by Francisco Tárrega (1852–1909) for Classical Guitar. Free PDF Sheet Music and TAB, comes with both a notation-only edition and a TAB edition. Left hand fingering. The level is mid-intermediate (Grade 6). PDF download. Tarrega made a number of arrangements of Romantic composers and quite a few of Chopin. If you want to follow the piano version and original intentions of Chopin you can eliminate some of the glissandos and harmonics. The extra bass notes make sense to keep the sustain going. This one is free but if you want you can support the site here.
Free PDF Sheet Music & Tab – Includes both notation-only and tab editions in one PDF.
Video Performances & Lessons
My video lesson and edition follows Tarrega's fingering and glissandos which you can choose to include or not depending on your preference. YouTube Lesson Link.
Huge thanks to Matthew McAllister for playing from my score. It's such an honour to hear my edition played by one of the world's greatest professional guitarists. His musicality is beautiful here and has a perfect sense of space and pacing. Keep in mind that he's changed some fingerings since he's not playing the glissandos.
You Might Also be Interested In