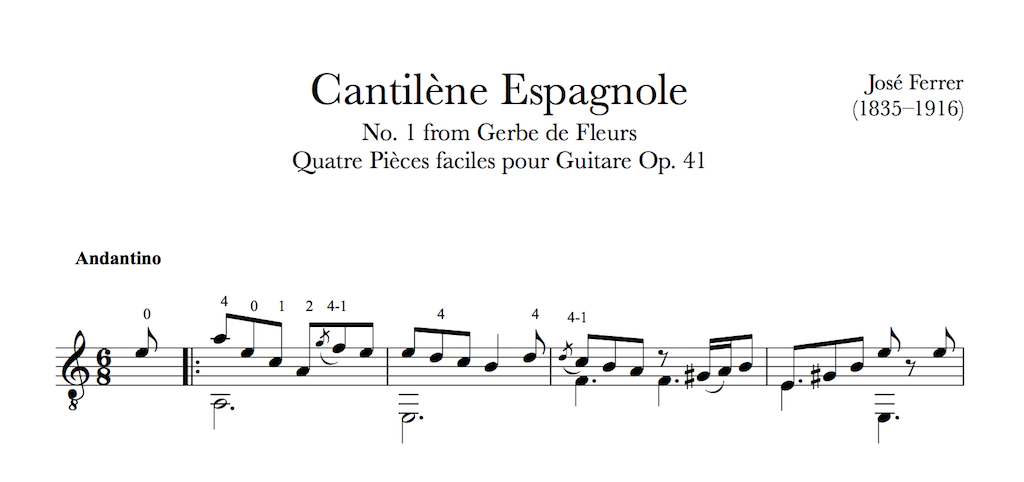 Cantilène Espagnole by José Ferrer (1835–1916), from No. 1 from Gerbe de Fleurs Quatre Pièces faciles pour Guitare Op. 41. Free PDF Sheet Music or Premium Tab for Classical Guitar. Intermediate (Grade 4). José (Joseph) Ferrer (1835–1916) was a Spanish guitarist and composer. This is a great little piece with lots of Spanish charm. It's a good playing level firmly in the early to mid-intermediate level. Beginners can take out the thirds to make it easy but intermediates should be able to play them with a bit of practice. I've made a free notation version so please enjoy. Join the Email Newsletter to get updates on free sheet music and more. Consider donating to the site if you like the free sheet music.
Free Notation Only Edition
TAB Edition (PDF Download)
Video Performances and Lessons
Here's a video lesson where I perform the work and give a little lesson and walk through. YouTube Lesson Link.
Also see this excellent performance from my edition by the great Matthew McAllister via his YouTube.