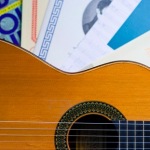 This is Classical Guitar offers webcam lessons for classical guitar via Skype or other platforms. We welcome students of all levels and ages from absolute beginners to high level players looking for performance feedback. It's easy, just email us, find a time, and go! The lessons are friendly, productive, and educational. We believe every student should leave the lesson feeling optimistic and enthused. Feeling hesitant? Email us and chat about it, we don't bite.
Contact Bradford for Info & Availability
Email: bradford@thisisclassicalguitar.com
FAQ:
Who offers the lessons?
Bradford Werner (your host here) will be offering lessons based on his availability. Overflow students will be recommended to Natasha. I've recorded videos with Natasha, seen her teach classes, and regularly interact with her. I completely trust Natasha to offer quality lessons and provide positive and constructive feedback.
What timezone will we use?
All lessons will be scheduled by Pacific Standard Time and the Daylight Savings Time equivalent. In other words: the time of Vancouver, B.C., Canada. Here is a link to a site that gives the current time.
How are payments handled?
All payments are made through PayPal or Online Banking and due before the lesson begins. Regular weekly lessons will be billed at the beginning of the month. Payments and all agreements are made between the teacher and the student and do not directly involve This is Classical Guitar in any way.
What are the rates?
The rates vary depending on the teacher, regularity of the lessons, and length of time. Please contact for more info. All rates will be in Canadian dollars so US customers essentially get 20-30% off!
What happens if the connection get interrupted? 
If our connection gets lost we can just try again in a few minutes. Partial refunds might be available for the remaining minutes if the tech lets us down.
Skype or Google? 
Skype delivers the best results and connection speeds on average. However, Google Hangouts and other services might be possible.
I'm terrified of playing for you? Can I still take lessons?
Yes. We are professional teachers so making people feel comfortable and creating a positive educational experience is very important to us. We can start out with some warm-ups and small sections of your piece if you feel nervous. Don't worry, we don't bite (even if we did, we can't bite through a webcam!).
What levels do you teach?
We teach a variety of levels and ages. Everything from beginners to professionals looking for feedback. As long as you have an open mind and are willing to gain from outside advice and opinions than we am happy to teach you.