Over the past 8 years guitarist Adam Levin has been working on a 21st Century Spanish Guitar commission project to be released in four volumes via Naxos Records. This is a large project involving the commissioning of 30 new solo guitar works. Stemming from his Fulbright research and study abroad he's been fortunate to receive works from four generations of living Spanish composers. After returning from Spain, Naxos decided to catalogue all the works across four albums. To date, he has released two volumes with two more are on the way.
I've listened to the albums, top notch playing with interesting repertoire. You'll definitely want to check these recordings. You can look at the below links or check out his first volume on Spotify.
Learn more, listen, or buy:
Vol. 1 – Naxos, Amazon, iTunes
Vol. 2 – Naxos, Amazon, iTunes
Naxos Promotional Info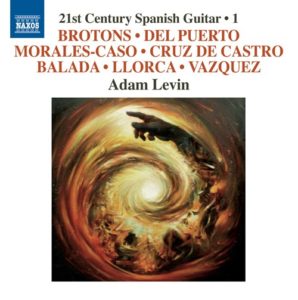 21st Century Spanish Guitar, VOL. 1
This first of four volumes represents award-winning guitarist Adam Levin's major collaboration with the new century's 'Spanish Masters'. Bridges to the past include medieval sources in the Secuencia Sefardita and Baroque in the unconventional variations of Handeliana . These stand alongside pastoral scenes in Viento de Primavera and a celebration of Albéniz from Leonardo Balada. From contemplative moods to spectacular virtuosity, this is a musical voyage both unexpected and unforgettable. Adam Levin has been acclaimed for his 'enviable technique' and a 'high musicianship which shines like a beacon through his performances'. (Classical Guitar magazine)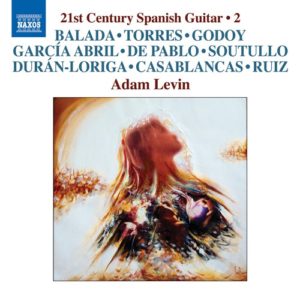 21st Century Spanish Guitar, VOL. 2
This is the second of a four volume series presenting new Spanish works for solo guitar commissioned as part of the acclaimed guitarist, Adam Levin's residency in Spain. Amongst a wealth of exciting new names there are also some established composers such as Balada, whose imaginative re-invention of Granados's Danzas españolas opens the recording, García Abril and Casablancas, already made familiar through an extensive catalogue of recordings on Naxos. Volume 1 [Naxos 8.573024] was hailed by Scene Magazine as "one of the essential collections of solo instrumental performance released in the past 50 years".