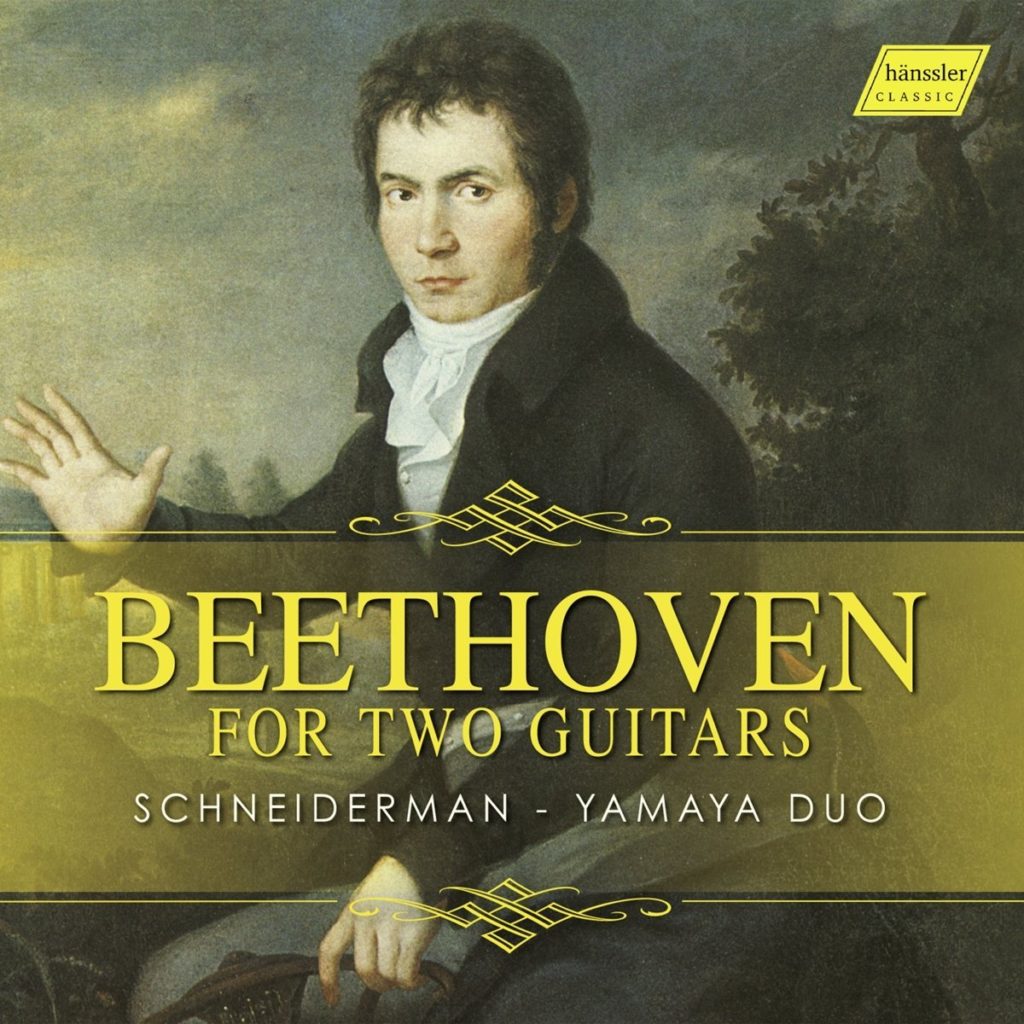 Last year the Schneiderman-Yamaya Duo (John Schneiderman, Hideki Yamaya) released a duo album of 19th-century guitar arrangements of Ludwig van Beethoven (1770–1827). Great playing as usual from the duo and an interesting history of period arrangements. Here's a brief intro about the album via Yamaya's Discography page on his site (also visit his site to see the review by Classical Guitar Magazine).
While Beethoven never wrote a note of music for the guitar, there is a handful of masterful arrangements of his music, mostly of piano works and string quartets, from the early 19th-century. This recording explores the best of these arrangements for two guitars by Ferdinando Carulli, Vincenz Schuster, et al. Recorded on historical instruments using no-nail technique.
Buy or Listen to samples on Amazon: Beethoven for Two Guitars
Label: Hänssler Classic
Release Date: 07/07/2017
Live Promo Video via Schneiderman's YouTube
Works by Arranger
Arranged by Ferdinando Carulli (1770-1841)
Fantasy, Op. 157 (Fantaisie tirée des ouvrages de Beethoven), based on Sonata Op.2 No. 2, Variations on a Theme of Paisiello, WoO 69, and Andante favori, WoO 57.
Variations and Rondo, Op. 155 (Andante varié et Rondeau) based on Piano Sonata No. 12, Op. 26–the first movement Andante con variazioni and its final Allegro
Arranged by Vincenz Schuster (1800-?)
Variations, Op. 3 (Variations favorites pour deux Guitarres, tirées d'un Gran Septour de L. van Beethoven) based on Septet, Op. 20
Variations, Op. 4 (Variations tirées d'un Quatuor de Louis van Beethoven) based on String Quartet Op. 18 No. 5
Andante, Op. 5 (Andante favorit tiré d'un Quatuor de Louis van Beethoven) based on String Quartet Op. 59 No. 3
Arranged by Alexandre Heeser (19th c.)
Four Walzes (Quatre Walzes composées par L. van Beethoven) based on Six Waltzes, Anh. 14
Arranged by Ivan Klinger (?-1897)
Rondo, Op. 23 (Rondo von L. van Beethoven) based on Rondo for violin and piano, WoO 41
Anonymous Arrangement
Andante (Andante ur Sonate Op. 28 af L. van Beethoven) based on Piano Sonata Op. 28
For more info on these arrangements see the album liner notes.
Album Artwork
Out of interest, here's the cover painting by Joseph Willibrord Mähler (1778-1860) where Beethoven is almost holding a guitar (a lyre is the best we get!). Via Wiki:
Mähler was introduced to Ludwig van Beethoven by Beethoven's school day friend Stephan von Breuning (de) around 1803. One year later already, he painted his first portrait of Beethoven, which shows three quarters of the composer's body in an Arcadian landscape, holding a lyre-guitar in his hand. (Today, the painting is located in the Beethoven Memorial, the Pasqualati House in Vienna.) In the 19th century, this illustration – one of just a few depictions of Beethoven when he was young – mainly became famous due to a lithograph by Josef Kriehuber.

Around 1815, Mähler produced a series of portraits showing contemporary Viennese composers. As written in the Allgemeine Musikzeitung (General music journal) in August 1815, "all of them distinguish themselves in a most creditable way through the effectual brush stroke, the descriptive resemblance and the distinctive expression of their soul". A half length portrait of Beethoven was part of the series. The painter created several versions of this portrait.