Boyd Meets Girl (guitarist Rupert Boyd and cellist Laura Metcalf) perform their own arrangement of Arabesque No.1 by French composer Claude Debussy (1862-1918). This recording is featured on their new album Songs of Love & Despair. Beautiful performance and arrangement by Boyd and Metcalf. The sustain and warmth of the cello with the drifting droplets of the accompaniment and solo flourishes from the guitar work wonderfully. Wonderful new album release with a wide range of composers and songwriters from Debussy, Beaser, and Messiaen to The Beatles, Beyonce, Radiohead and many more.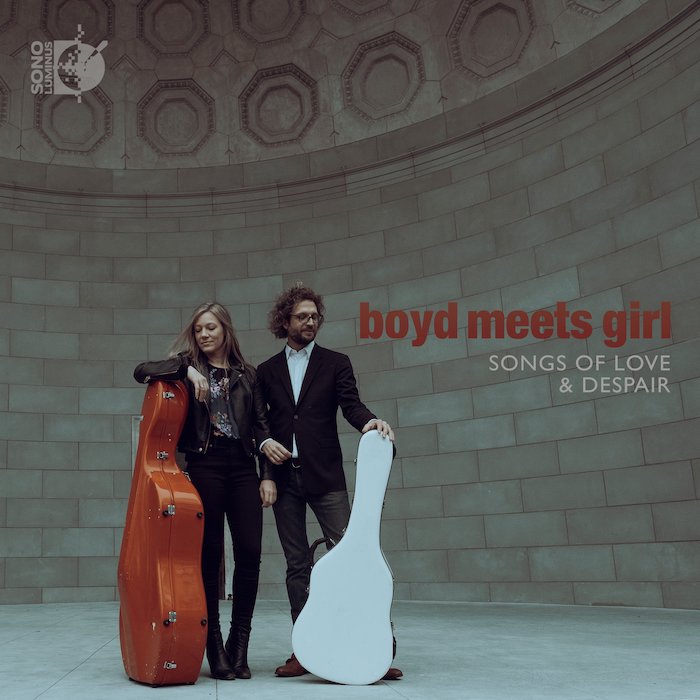 Album info and sales: Songs of Love & Despair
Sono Luminus, March 2022.
This is an album of love. But also of despair. And some things in between.

Largely conceived, arranged, rehearsed and recorded during the Covid-19 pandemic, Songs of Love & Despair contains the music that we were drawn to during this time — a time of unprecedented stillness and solitude, traveling at most a few miles from our home for months on end. As a married couple we were fortunate to be able to play music together every day, and this collection of repertoire is half love, half longing; from the delicate beauty of Debussy and the joyousness of Boccherini, to the anguish of Messiaen and heartbreaking Appalachian folk songs, which tell the stories of love, life and loss.

The album is a testament to this time, and we welcome you to join us as we traverse the emotions that have enveloped us all.

– Rupert Boyd (December 2021)

via Sono Luminus