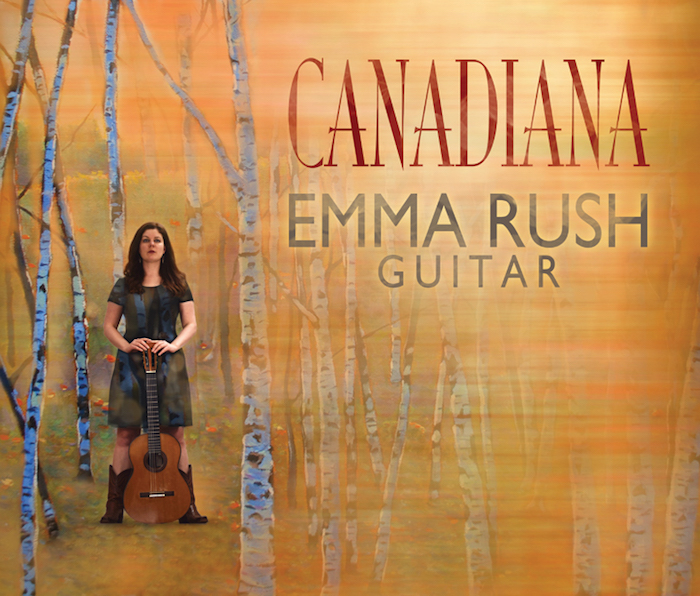 Canadiana by Emma Rush
Recorded at Central Presbyterian Church in Hamilton, ON. Produced and engineered by Kirk Starkey. Art, photography, and design by Richard Talbot.
Buy or listen at: Emma Rush or Amazon
Canadian guitarist Emma Rush recently released a fantastic album of pop and folk arrangements by Canadian artists. The album also contains a new work by composer William Beauvais (dedicated to Rush). Speaking of creating new music, way back when Lightfoot's Canadian Railway Trilogy was actually commissioned by the CBC for a special broadcast in 1967 to start Canada's centennial year and we are coincidentally celebrating Canada's 150th right now.
With beautiful playing and thoughtful arrangements, Canadiana by Emma Rush combines the best of classical guitar with beloved songs that stir the heart.
Repertoire
*arranged by Floyd Turner
**dedicated to Emma Rush
Blue – Joni Mitchell (b.1943)*
Canadian Railroad Trilogy – Gordon Lightfoot (b.1938)*
Pussywillows, Cattails – Gordon Lightfoot*
Marcie – Joni Mitchell*
Appalachian Colours (Gold, Red, Green, Blue)- William Beauvais (b.1956)**
Northwest Passage – Stan Rogers(1949-1983)*