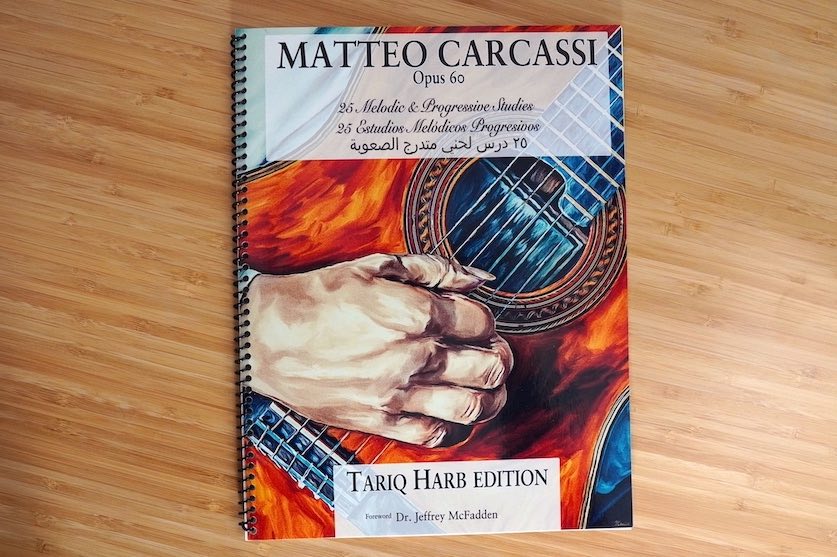 Matteo Carcassi, Op.60: 25 Melodic & Progressive Studies
Tariq Harb Edition
De Oro Music, 2019
I've been working on my own edition of the 25 studies, Op.60 by Matteo Carcassi (1792-1853) and whenever I work on a collection I purchase every edition I can find to see what is out there. Of all the editions I've been exploring, the best one so far is this excellent collection edited by Tariq Harb and published by De Oro Music.
If you follow this site you've seen many wonderful performance videos of Harb so you know you're getting an edition by a fantastic down-to-earth player. He holds a DMA and teaches at Concordia so you get athe academic and educator as well. Harb also has an educational video package on his site with over 6 hours of videos, play along tempos, and more. His edition comes in hardcopy or digitally as a PDF in notation with fingering. He also has a recorded album of the studies. There are various packages to choose from that combo or separate the book and videos so explore your options before making a quick purchase.
High quality fingering and editorial work from a modern professional player along with a beautifully printed spiral bound book make this edition of Carcassi's Op.60 by Tariq Harb an important contribution to these essential studies.
Learn more or buy via these options: