Ethan Lorentz performs Erstarrung and Der Lindenbaum from the song cycle Winterrise (D. 911) by Franz Schubert (1797-1828), arranged for solo guitar by Ethan Lorentz. This comes via his YouTube channel (go subscribe). The Winterreise (Winter Journey) is a song cycle for voice and piano by Franz Schubert (D. 911, Op. 89 in 1828), a setting of 24 poems by German poet Wilhelm Müller.
Listen to his new album: Schubert Lieder on Guitar by Ethan Lorentz on Spotify
Lorentz just released an album of 12 of his own arrangements of Schubert lieder. The first six tracks were originally arranged by Mertz and revised, while the second half of the album is all new arrangements. He based his arrangements mainly on Schubert's originals, but also referenced Franz Liszt's solo piano arrangements which Mertz also referenced. He's also published the scores for his original arrangements with Bergmann Editions.
Schubert Lieder on Guitar by Ethan Lorentz is filled with thoughtful and expressive performances and a historically interesting arranging process. The beautiful music of Schubert is presented with a clear melodic focus and careful balance of the texture. Between Mertz and Lorentz's own arrangements, we have a newly expanded collection of lieder to enjoy.
Check out some of the programme notes below:
Schubert's relationship with the guitar is somewhat ambiguous and has been a source of contention. Some scholars believe that Schubert was in possession of a guitar and played the instrument himself in some capacity (though accounts of him primarily composing at the guitar are completely unsubstantiated). Whether or not he was a player himself, Schubert was undoubtedly familiar with the instrument, and multiple guitar arrangements of Schubert lieder exist, most notably J.K. Mertz's arrangements of six Schubert lieder. Sonically, Schubert's music seems to be a perfect match for the guitar. His compositions seamlessly blend folk-like simplicity and pure expressive melodies with a rich harmonic language. The intersection between folk and classical styles lends itself beautifully to the timbre of the guitar, which itself has deep roots in both folk and classical styles. This album hopes to contribute to the tradition of playing Schubert's music on guitar by presenting 12 arrangements of Schubert lieder. The first 6 tracks are revisions of Mertz's arrangements, while the second half of the album is entirely new arrangements.
Album Cover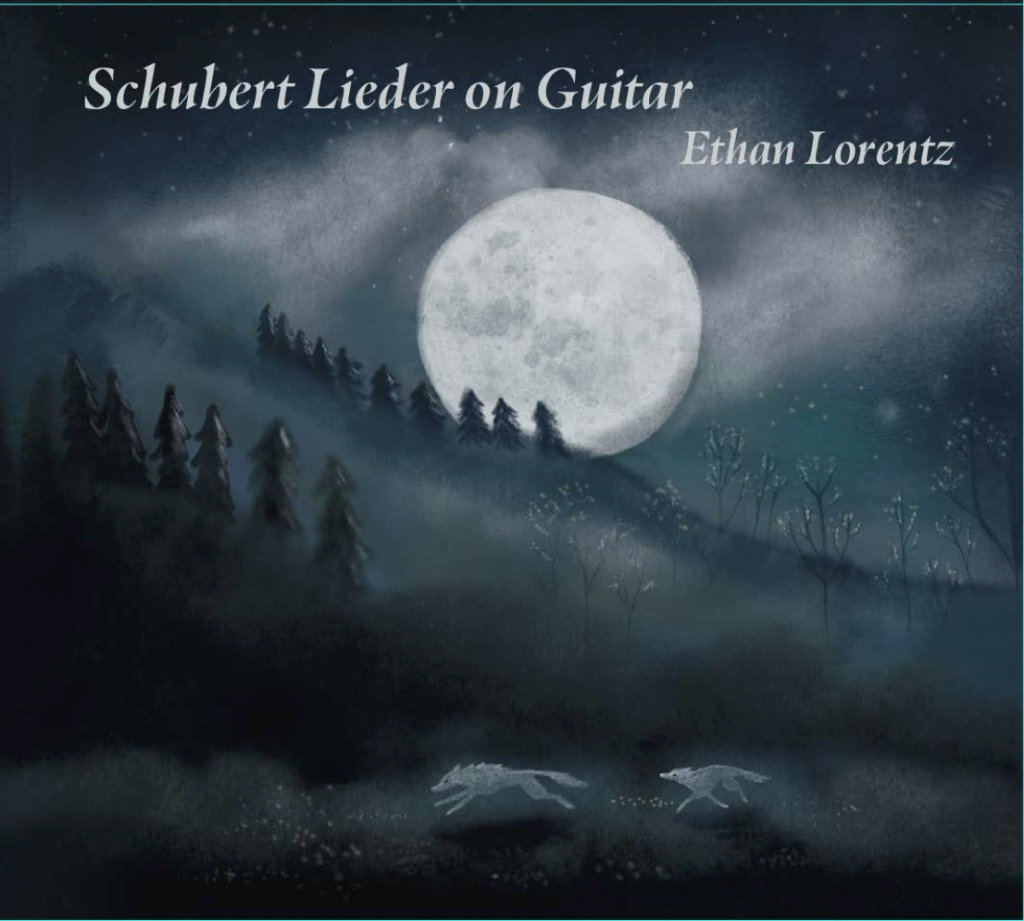 Tracklist
Das Fischermädchen Arr. J.K. Mertz/Ethan Lorentz
Libesbothschaft Arr. J.K. Mertz/Ethan Lorentz
Lob der Thränen Arr. J.K. Mertz/Ethan Lorentz
Aufenhalt Arr. J.K. Mertz/Ethan Lorentz
Ständchen Arr. J.K. Mertz/Ethan Lorentz
Die Post Arr. J.K. Mertz/Ethan Lorentz
Die Taubenpost Ethan Lorentz
Errstarung Arr. Ethan Lorentz
Der Lindenbaum Ethan Lorentz
Wasserflut Arr. Ethan Lorentz
Auf dem Flusse Arr. Ethan Lorentz
Die Sterne Arr. Ethan Lorentz